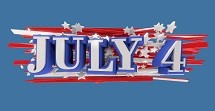 Wednesday, July 4, 2012 marks our Independence Day and millions of Americans will be celebrating by having their friends and family over for BBQ's, pool parties and other various summertime activities.
Plan the perfect Fourth of July party with your friends and family by using DialMyCalls' automated party invitations. Record an entertaining message to send out to your party guests and get them excited about attending your Independence Day 2012 bash.
Import the phone numbers of the guests that you wish to attend your party, record a voicemail invitation and then let your system do the calling for you – your message will be sent to everyone in a matter of minutes.
DialMyCalls wants to wish everyone a Happy Independence Day 2012, have a great 4th of July and remember to party safely!
Sign up for a free account today and start preparing for your fourth of July party by sending out event reminders to your friends and family.
← Previous Article
Next Article →
Sign up now and try our services for free!
Use the promo code DMCBLOG and get 25 free extra credits