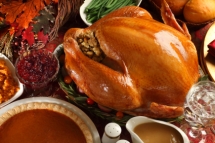 Invite your friends and family to Thanksgiving dinner with our automated holiday calls and text messages.
When is Thanksgiving 2011? On Thursday November 24, families will break out their traditional Thanksgiving recipes and have a feast with one another. After everyone has eaten entirely too much, most people will get a good night's rest and get ready to wake up bright and early for Black Friday 2011 sales. DialMyCalls wants to help plan both your Thanksgiving dinner and Black Friday sales strategy with our voice broadcasting system.
If you are not inviting more than 25 people to your Thanksgiving dinner then you will be able to send your family and friends voice message invitations fore free! By signing up for a free account with DialMyCalls you have the ability to send a voice message to up to 25 people a week. Make sure that nobody in your family is left out and that everyone gets the chance to stuff their face with your traditional thanksgiving recipes.
Once you have eaten your fill of Thanksgiving day classics, a good night's rest is in order for the Black Friday sales and deals the next day. Use DialMyCalls to coordinate a sales strategy with your friends and family to make sure you all get your hands on the best deals of the year. Send out a voice or text message with a detailed itinerary of what stores and items each person will be responsible for – this way you don't have to run to a million different stores yourself!
Use DialMyCalls' voice broadcasting system for your Thanksgiving 2011 dinner invitations and Black Friday sales strategy by signing up for free today!
← Previous Article
Next Article →
Sign up now and try our services for free!
Use the promo code DMCBLOG and get 25 free extra credits