Automated Volunteer Communication
Coordinating volunteers can be challenging to say the least. Now with DialMyCalls you can easily send phone calls or texts to all your volunteers to alert them of volunteer opportunities and get immediate feedback.
Acquire Volunteers with Phone Calls & Text Message Alerts
It takes dedication to set up and sustain an outreach program. These types of volunteer programs are serving hundreds of causes around the country, helping under-privileged children, single parent households, and the elderly along with dozens of other groups in need of special attention. Help your program reach even more with a volunteer communication system that helps to get everyone involved when you need it the most.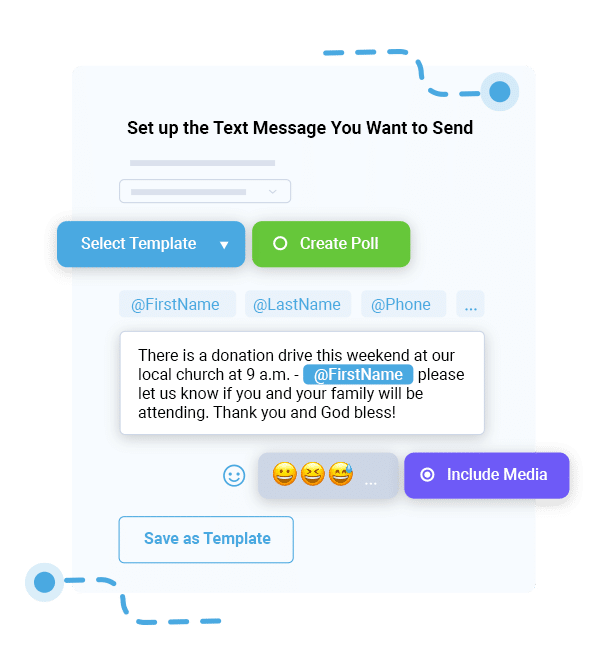 To reach as many individuals as possible, your outreach program needs an abundance of volunteers. Mentors for young people, cooks and servers for soup kitchens, and educators to provide tutoring are only a few examples of the dedicated people involved in making your outreach program work.
Each program is unique and dependent on different services, but one factor is consistent: volunteers drive the organization's success.
DialMyCalls can help contribute to the success of your outreach program by assisting you in volunteer communication and volunteer acquisition. At any given moment, you could need one or a dozen volunteers to help run your program. The volunteer communication service that DialMyCalls provides allows you to reach all of your volunteers at one time to find the help you need when your program needs it the most.
Sudden inclement weather can be disastrous for some of the persons assisted by your outreach program. If a bad storm is imminent, log in to your DialMyCalls account and send a phone call or text message to all of your volunteers, asking them to help you find your neediest outreach recipients and ensure that they are safe before the storm hits.
Easily Create A Volunteer Communication System
Setting up a DialMyCalls account for your volunteer outreach program is easy. There is no hardware or software installation involved. Simply log in, set up your personal account, and begin adding your volunteers' contact information.
When you need them most, all it will take is a few clicks and your recorded voice message or text message and everyone will be called to action at one time.
You can use DialMyCalls when you need individualized help as well. Maybe you found yourself in sudden need of a math tutor for your youth program. With DialMyCalls you can send a message to all of your volunteers asking if any have the skills needed to tutor the class. Those that do can respond back with the Push-To-Talk feature. The right person for the job simply pushes a button on their phone to be transferred back to you, or any other number you assign.
This allows you to find the specialized help you need fast, without it taking too much time away from your other important tasks.
There is no limit to the way DialMyCalls can help your organization with volunteer communication. With a telephone polling feature you can invite ideas from your volunteers about fundraising events or programs that could be of benefit to your organization.
You record the message.
they answer back by pressing the corresponding number on their phone keypad.
Your detailed broadcast report will keep track of the answers for your so you can get a clear picture of what your volunteers are advising.
Animal Shelters Send New Pet Adoption Alerts
A great example of nonprofits using DialMyCalls is that our service allows animal shelters to send citizens looking to adopt a pet new text message alerts as they receive new animals.
Are you an Animal Shelter with an overwhelming amount of cats and dogs that need to find a happy home? The amount of pet adoptions that occur on a daily basis is pretty amazing and here at DialMyCalls we can offer a way to increase it even more. Pet adoption alerts would utilize our voice broadcasting system and send out text message alerts every time a new puppy, kitten, cat or dog was in search of a new loving home.
An animal shelter can sign up DialMyCalls with a few simple steps and start sending out pet adoption alerts instantly. Once your account is created, you can set up a text message campaign within your members area. You will pick a keyword such as  "ADOPTNOW" and then an SMS shortcode (80123) which best suits your needs. Upon creation, you are now ready to start collecting the phone numbers of people interesting in receiving your pet adoption text message alerts.
Animal shelters can start advertising their alerts on billboards, commercials, fliers, websites and social media sites with the message: "Text 'ADOPTNOW' to 80123 to receive alerts when new pets become available for adoption." You could even go as far as setting up to separate ones for those who prefer to adopt either a cat or dog. ("ADOPTCATNOW" or "ADOPTDOGNOW") Everyone who opts in to receive these pet adoption alerts will now be added to the shelters contact list within their DialMyCalls control panel.
These contact lists can now be used by the shelters to send out the actual pet adoption alerts. You will create a new text message that reads something like the following: "DMC Shelter has a brand new black lab puppy that is in need of a home – call (800) 928-2086 for adoption info." Once the custom message is created, you can send the text message out to everyone in your contact list, instantly.
Animal shelters across the country should start using DialMyCalls and our pet adoption alerts to find those cute little kittens and puppies a nice home to live in!
Using a nonprofit notification service for volunteer communication in your program is a modern solution to a classic problem. It is not easy to motivate people to reach out and help, but when you use a communication system that can reach hundreds in minutes, you increase your chances of finding those volunteers who have the same level of dedication to the outreach program as you do.
Send Thousands Of Phone Calls, Text Messages, or Emails Per Minute!