Property Management Inspection Notification
Landlord inspections are part of renting, but make sure residents are aware when property inspections are taking place. When it's time for routine inspections of the property, give residents a heads-up of when to expect the staff to be entering their unit.
Landlord Inspection Notice: Follow the Law While Protecting Your Investment Property
Most states require that a landlord give notice to a tenant within a reasonable amount of time before entering the rental — except in the event of an emergency.
As a landlord you have to respect that right, but at the same time exercise yours in conducting periodic checks on your property's condition.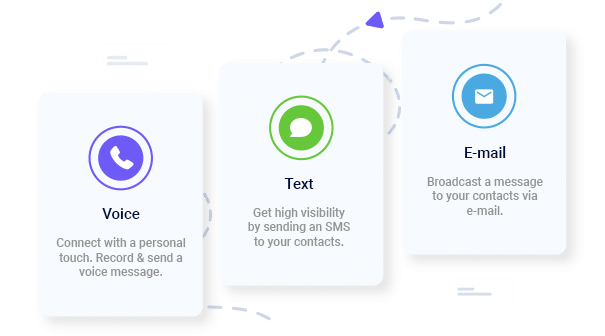 To do this while not violating any rental laws, you need a reliable way to ensure that your tenants know of your intent beforehand. You can use DialMyCalls SMS messaging and voice broadcasting tools to make landlord inspection notice easier than ever.
Why Do You Need Inspections?
Your rental property is an investment that you need to protect. Entrusting its care to tenants and earning money off of your investment is a good idea, but you also need to be aware of the possible pitfalls.
A tenant may not want to share with you that the shower is leaking or the stove is broken out of fear that he will be charged for the repair. Meanwhile, your bathroom drywall is becoming more and more damaged each day.
If you are looking for a new tenant or trying to sell the property, you will also need to be able to enter it in order to show it. You want to make sure that your tenant is aware of this beforehand and has left the rental in a condition that makes it marketable.
Your Legal Rights and Responsibilities for a Landlord Inspection Notice
Although the amount of time varies, most states have laws in effect that protect the tenant from you entering the premises at will except in the case of an emergency. To protect yourself you need to abide by those laws and provide timely notice to tenants of when you plan on doing the inspection or walk through.
Sending a certified letter can take days before you have verification that the tenant has received your notice. If you send them a voice message outlining you intent, not only is that recorded but the DialMyCalls broadcast stats will show whether or not the message was received. Even if the tenant does not respond, you have proof that they know when you are coming. The laws are that they be notified, not that they have to agree to the inspection.
In addition to the voice message that your tenant will receive, DialMyCalls will send a second notification to their email account. This is a double assurance that you are respecting their rights while acting within yours.
If you see that they have heard your message but have not yet responded, be courteous and send a two-way text message a few hours before you plan on entering. This gives them one last opportunity to respond to your notice.
Don't wait for tenants to move out before checking on the condition of your rental. Property ownership is a major investment and you are doing yourself a disservice if you leave it solely under the care of your tenants.
Use DialMyCalls' voice and text message broadcasting to exercise your rights as the property owner while at the same time respecting those of your tenants — the landlord inspection notice.
Remember: It is important as a property manager to follow all the FCC and your state laws regarding sending automated phone calls or texts. Make sure your residents know that they will be receiving your alerts when they sign a lease agreement or have them opt-in to your own custom keyword by texting your keyword to 80123.
Send Thousands Of Phone Calls, Text Messages, or Emails Per Minute!