Communication App for Landlords
The DialMyCalls landlord communication app is a great tool that allows landlords to improve communication with their tenants easily, efficiently and affordably. Send important reminders by text or phone call, and be more readily available when tenants have questions, comments or concerns.
Why Use a Landlord Tenant Communication App?
There are many tools for landlords, so why are landlord communication apps so important to use?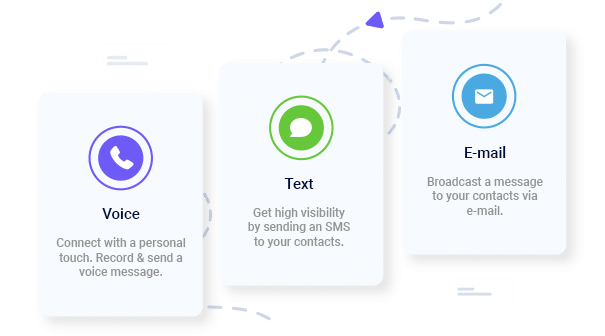 A landlord tenant communication app allows landlords to communicate with all of their residents within seconds. Mass communication is key to ensuring that your property runs smoothly and that your tenants are well taken care of. Whether landlords are at home, on the office, or on the go, a landlord communication app allows them to be always available and in closer communications with their tenants.
Used in combination with other free landlord tools, communication apps can be invaluable for running a successful rental property. They help keep your personal information private while still being available, organize tenant correspondence, and broadcast important information.
Keep Your Personal Information Private
Using online landlord tools can be daunting if they require you to reveal your private contact information. While you want to be readily available to the needs of your tenants, you also want to keep your private data protected.
A landlord communication app, however, allows you to be available whenever you choose while  keeping personal information private. Instead of sharing your personal account information, it creates a special venue of communication for professional conversations between you and your tenants.
For example, landlords using the DialMyCalls app can send messages from a unique business phone number. Vanity phone numbers or local business phone numbers appear on caller IDs, not your personal home or cell phone number. You can easily send out voice broadcasts or texts messages without worry.
Make yourself available 24/7 or during specified office hours. Simply open the DialMyCalls app when you want to view or listen to new messages.
Organize Your Tenant Correspondence
A landlord communication app can also help keep tenant and landlord texts and calls organized, even when multiple tenants are trying to communicate with you at the same time.
These apps can compile responses to user-initiated conversations or to ongoing hotlines or short codes. They keep all tenant and landlord communication in the same place for easy reference later on.
It's easy to see why these apps are one of the most important property management tools for landlords: there's plenty to be communicated, and without a solid organizational system, it's easy for some conversations to slip through the cracks.
Broadcast Alerts and Rent Reminders
Some of the many necessary conversations that can be started via online landlord tools include rent reminders and emergency notifications.
A landlord text message is an easy and low-key way to remind tenants of important information. Reminding all your tenants that rent is due by the third of each month or that the snowplows will come by in the morning takes the same amount of time as reminding a single individual, making mass communication more efficient and effective for landlords.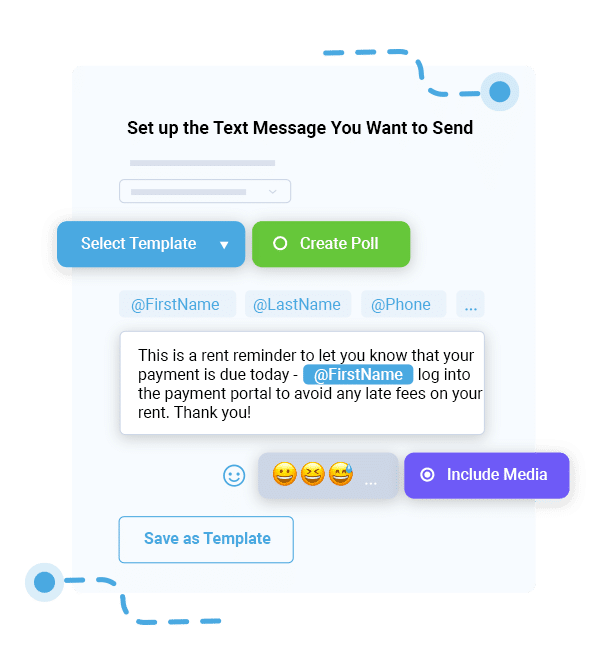 The ability to send the same message to many people at once can also help when the information is time-sensitive. You can record, write, and even schedule messages straight from the app to send out later.
As a result, you don't have to worry that your tenants won't get important messages. Everyone should know that the pool is closed until further notice or that the leasing office has closed early unexpectedly.
The best part? Using a landlord communication app, you can send these messages quickly from any location and field responses just as easily. The messages go straight to your tenants' phones, reaching them wherever they may be.
Becoming a First Time Landlord
Becoming a landlord for the first time means taking on a lot of responsibility and a lot of work. However, first time landlords don't need to do it all themselves. There are a variety of resources for landlords that make it easier to stay on top of your game.
Consider the following three tips for landlords who are just getting started:
Be available. Make it easy for your tenants to communicate with you. You'll stay on top of maintenance issues or complaints, and you'll build a more positive rapport with your tenants in the long run.
Create limits. Being available doesn't mean working 24/7. In fact, doing so could cause you to burn out quickly and be unable to do your job well. First-time landlords should make sure to set a schedule of normal business hours while maintaining an emergency communication line. They should also make their formal relationships with tenants clear from the beginning so that personal relationships don't interfere with payment or other interactions.
Stay organized. Landlords juggle a lot of tasks and responsibilities. Finding ways to prioritize, focus, and get things done efficiently is key to serving your tenants well while taking care of yourself.
Landlord communication apps like DialMyCalls are one of many tools to help bring these three goals within reach.
Such apps help landlords stay available by creating consistent and reliable routes of communication. They provide tenants with options to stay in touch while compiling important information for the landlord. They also help landlords create limits to access work-related communication on their own terms.
Staying organized is easier with DialMyCalls' landlord communication app because communication is compiled and analyzed all in one place. Information is available for access later on and allows landlords to maintain multiple channels of communication with each tenant within the same platform.
Create An Account Today And See Why 1,000's Of Landlords Use Our App
DialMyCalls' landlord communication app can be an important starting point in any landlord's organizational system. Landlord software for a smartphone can increase a user's efficiency and effectiveness.
See for yourself how beneficial DialMyCalls can be⁠—create a free account today.
Send Thousands Of Phone Calls, Text Messages, or Emails Per Minute!