Tenant Communication App
Send rent reminders and tenant communication using phone calls or text messages. Communication with tenants has never been easier, making for a happier and more informed community.
How to Remind a Tenant to Pay Rent: Communication is Key
A good landlord knows that the best way to optimize their properties' earning potential is by keeping turnover at a minimum.
Finding new tenants is costly and time consuming, while keeping good ones ensures that your rental property is well maintained. To do this, you must learn how to be an approachable and friendly landlord while at the same time maintaining a business relationship and keeping up on rent reminders.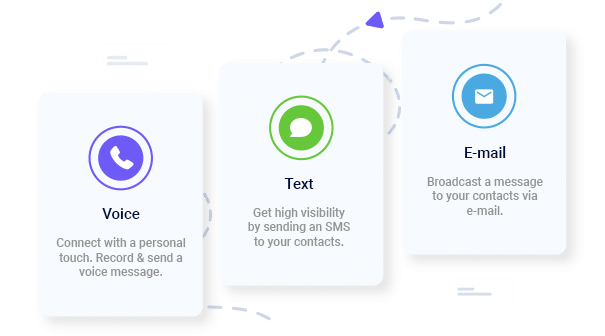 In order to balance that with your personal life, you will need the assistance of DialMyCalls' property management notification system. You can use the system to send rent due reminders via text message, take incoming calls from tenants and more.
Follow these guidelines as a landlord to keep tenant turnover low, rent paid on time and your personal time your own:
Be clear from the start
Be clear about any rules or regulations in your building before a new tenant signs the lease.  Once they do sign, give them a copy of these rules as a reference. Include your contact information, including your DialMyCalls SMS text message keyword and vanity phone number.
Now they have an easy way to send you important messages which you can access through your DialMyCalls account at your convenience. Giving out your personal numbers is not a good idea. You should be accessible, but you shouldn't have to sacrifice your free time to accomplish that.
Set good expectations
Make sure that your new tenants are moving into a clean apartment with fresh paint and no broken appliances. The quality of the apartment will directly reflect the quality of your tenants — and their willingness to pay rent on time, consciously or not.
Hold up your end
Be timely about making repairs. Check in with your DialMyCalls account daily to check for messages and respond immediately to any maintenance requests.
Send 'rent due' reminders
Towards the end of each month use the DialMyCalls voice broadcasting service to remind all of your tenants that the rent will be due in a few days. Be polite in your wording and mention where the payments should be sent or dropped off.
Have an SMS text message in place and ready for those tenants who are late in their payments. With the two-way texting feature they can respond back giving you reason for the late payment and letting you know when you can expect it.
As nice as you may want to be, never waive the late charge for your rental payments. If you set the standard that late payments are acceptable, you can expect them to go past the first every month.
Follow up
If good tenants do decide not to re-sign their lease, take the time to find out why. Learning what they didn't like about your accommodations will only make you a better landlord in the future.
It's not just about how to remind a tenant to pay rent. As a landlord, you need to view your contact with your tenants as a relationship. Like all good relationships, this one depends on clear and easy communication to thrive. Let DialMyCalls be your cost-effective and convenient means of being an approachable landlord without that role invading your personal time.
*It is important as a property manager to follow all the FCC and your state laws regarding sending automated phone calls or texts. Make sure your residents know that they will be receiving your alerts when they sign a lease agreement or have them opt-in to your own custom keyword by texting your keyword to 80123.
Send Thousands Of Phone Calls, Text Messages, or Emails Per Minute!