Rent Reminder Text Message Solutions
Make rent collection easier than ever before with DialMyCalls rent reminder text message service. Every property has residents who need a friendly reminder to get their payment in. See why so many properties are turning to SMS text messages and phone calls to issue friendly late rent reminders.
Rent Reminder Texts and Calls: Automate the Process
Being a landlord can be a lucrative primary or secondary career. Owning a property can be an excellent investment, and collecting rent can seem like an easy way to earn a living or some extra money.
Although this can all be true, landlords also have the responsibility of ensuring that rent notices are sent out regularly and that late rent is collected in a timely fashion. After all, if you can't collect rent, not only do you fail to earn a living, but it becomes a challenge to take care of your property's regular operating expenses.
By utilizing rent reminder texts, you can ease some of this burden every month. Start by using a text to give a friendly reminder to all your tenants that their monthly rent is coming due soon. After you've secured all the on-time rent payments, you can use a late rent notice template to inform those tenants who still have not made their monthly payments.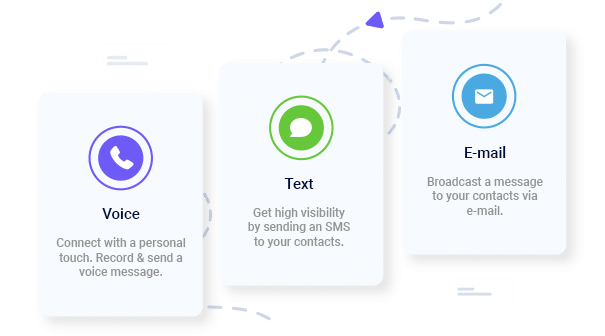 DialMyCalls offers a rent reminder app that can automatically send SMS text messages, emails or voicemails to help you stay on top of regular monthly collections.
Friendly Reminder to Pay Rent Examples
It's human nature to be a little uncomfortable asking your tenants for their rent month after month. In an ideal world, everyone would simply pay their rent on time with no need for a rent reminder text to let them know that their rent is due. The reality, however, is that many people need a friendly reminder to pay rent so it appears on their short-term radar and list-of-things to do today.
Here are some rent reminder text message samples to help you jog their memory:
Text to be sent one week before rent is due: "Just a friendly rent reminder that your payment is expected in our office by next Friday."
Text to be sent the day before rent is due: "This is a friendly rent due reminder notice. Please pay rent by tomorrow."
Reminders such as these are simple to generate with a service like DialMyCalls. Our rent reminder app allows you to customize the recipient list to only reach out to those tenants who have not yet paid their rent.
Example Rent Past Due Notices
Unfortunately, even if tenants are reminded several times before their rent is due, some will still forget and fail to pay their rent on time. A friendly rent reminder text can help you easily and affordably reach out to those delinquent tenants in a timely way.
Here are some late rent notice samples to consider using in these situations:
Text to be sent the day after rent is due: "Just in case you're asking yourself 'when is rent due?' The answer is yesterday! Please drop your payment today."
Text to be sent two to five days after rent is due: "This is your past due rent notice. Please pay your rent upon receipt."
The DialMyCalls' rent reminder texts make it quick and easy to send these notices to only the recipients you specify. Create a list of people who still owe you rent, use our rent due reminder text, and send to your tenants to encourage their payment.
How DialMyCalls Can Help You Start Sending Reminders for Tenants
Using a rent reminder app is simple. Just head to a site like DialMyApps and sign up for a free account. Then, either enter or import your tenant list for easy ongoing communication. You can create unique lists that are based on which tenants have not yet paid rent so that your text and phone messages are on-point. Rent reminder notices are easy, cost-effective and accurate when you use a rent collection app to manage them.
Keep Up on Maintenance
Besides helping you send rent reminders to your tenants, DialMyCalls' rent reminder app can  help you keep your property well-maintained. Reach out regularly by sending an SMS message asking if tenants have any maintenance requests. Use two-way texting so that tenants can immediately respond by texting you back about the leaky pipes they forgot or the ant trail they found in their kitchen.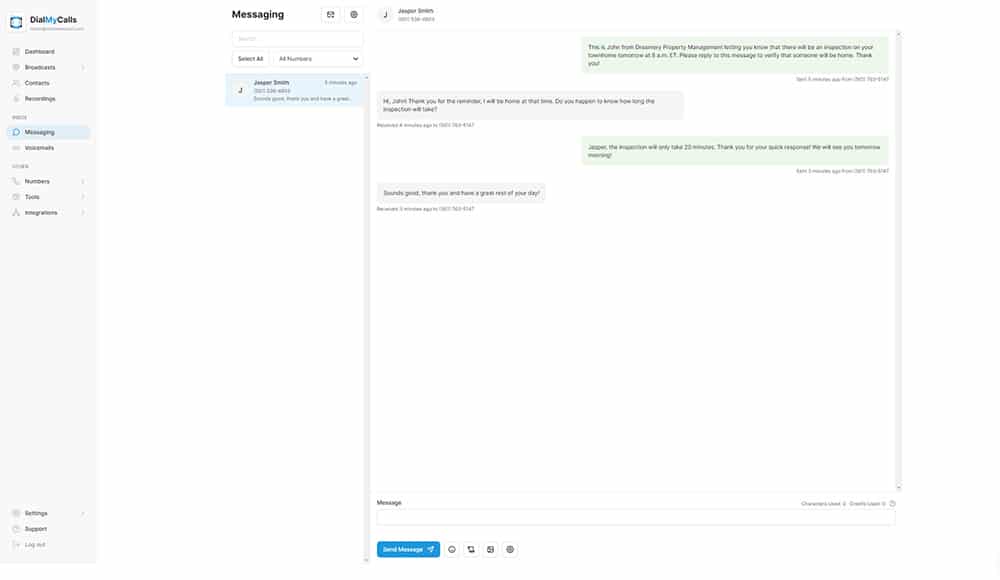 Learning about such issues and attending to them quickly can minimize serious damages and save you money in the long run.
Keep Up on Tenant Communication
Communication can be a challenge if you are an off-site landlord or even have limited office hours. Tenants may have wildly different schedules for work, school or recreation, which can make touching base during move-in and move-out dates difficult.
In addition, there may be other times when you want to reach out to everyone on your list. For example, if you host regular social events or need to schedule an all-building inspection. DialMyCalls can help you reach out to all your tenants, a special subgroup, or even an individual renter around the clock to coordinate your rental business through our rent reminder app.
Keep Up on Rent Reminders
Although maintenance requests and other tenant communications can be sent quickly and easily on a rent reminder app, the primary use for this tool will be to keep up on rent collection.
By relying on a rent manager app such as the one offered by DialMyCalls, you'll be able to regularly and easily send rent due reminder notices to your tenants as well as past due rent notices if needed.
Remember that it's important as a property manager to follow all the FCC and your state laws regarding sending automated phone calls or texts. Make sure your residents know that they will be receiving your rent reminder app alerts when they sign a lease agreement or have them opt-in to your own custom keyword by texting your keyword to 80123.
Send Thousands Of Phone Calls, Text Messages, or Emails Per Minute!