Your Guide to SMS (Text) Marketing for Bars
Whether you are the owner of a local corner tavern or a popular bar and grill franchise, SMS marketing for bars may be a great addition to your advertising and communications efforts. Nearly everyone is addicted to their smartphones today. That means it's extremely easy to reach both prospective and long-term customers on a regular basis.
Text message marketing for bars is a great way to share news about your bar, introduce new drinks or menu items, promote happy hours or other special events, or share great specials with your best customers.
You can also use this channel to collect feedback about your establishment, its service, and your current food and drink offerings as well as solicit new ideas to make your bar an even more popular place to be. Use text marketing messages to promote the special of the day or announce local entertainers who have a gig for the upcoming weekend. It's an affordable, easy-to-use communication channel for today's bar owner.
Why Bars Should Use Text Message Marketing
When you consider that half of all millennials visit a bar at least once a week with other age groups also stopping by, you'll realize that there's a huge potential market for your establishment. At the same time, depending on your geographic location, you may have some significant competition for that drink tab revenue.
In order to become a top customer choice, you'll need to not only provide excellent drinks, food,    service, and entertainment, but you'll need to remain top of mind when it's time to decide where to gather for that Friday evening drink. SMS marketing for bars is an excellent way to do that.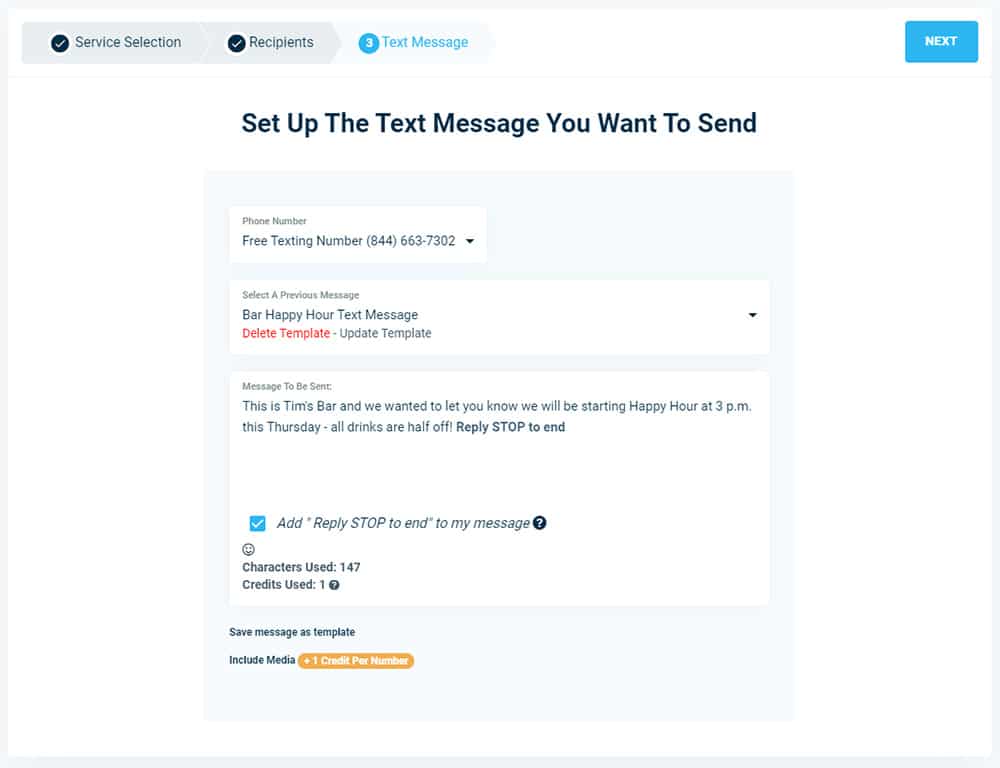 Text messages are fast and easy to send, and you can engage your prospective and steady clientele on a regular basis. Since customers must expressly opt in to receive marketing messages, they will naturally be more attentive to your establishment's efforts to reach out to them.
Send Out Offers
Consumers love great deals. Be sure to reward your subscriber list with plenty of coupons, discounts, and specials that are designed just for them. Remember it's much easier to keep current customers than to attract new ones.
You can use a special offer to entice prospective customers to opt in to your subscriber list. Once they send a keyword like JOIN to your short code, automatically send them a free drink coupon. If you have an established marketing list, be sure to treat these attentive customers well. Perhaps you can offer regular discounts for the weekly special or a 50 percent discount on a drink purchased for a friend. If you are introducing a new meal or drink, consider offering a sneak peak and first-time discount to your subscribers.
Make your communication more personal by acknowledging special events such as birthdays and anniversaries, offering special discounts to celebrate these life events. Once you have these special dates, discounts can be automatically sent from your text messaging system.
Want to use your SMS marketing for bars system to collect feedback or ideas? Use special offers to boost participation. For example, entice customers to complete a survey by offering a chance to win a weekly free drink for a month.
Happy Hour Reminders
There are plenty of reasons to celebrate the end of the workday. Bars and taverns have historically taken advantage of this period between the end of the workday and dinner by promoting happy hours. Happy hours can be a great excuse to unwind with a drink and a snack and friendly conversation with a friend, business colleague, or stranger after a long day of work.
Using SMS marketing for bars is the perfect way to remind your subscribers of approaching happy hours and redirect their route after work to your establishment. Although you wouldn't want to overuse this channel by sending daily reminders even if you offer daily happy hours, it's a great way to tie happy hour reminders to special discounts or entertainment offerings.
Notify Customer of New Specials
Whether you offer timeless drinks like old-fashioneds or margaritas or pride yourself in carrying a large assortment of local craft beers, you probably know which drinks are most beloved by your customer base. Perhaps your establishment offers some creative snacks like fried pickles or favorite standbys like barbecue chicken wings to go with those favorite beverages. Text message marketing for bars is the perfect messaging vehicle to notify customers of these specials.
Running regular specials on some of these items, especially during slower weekdays or lagging hours, can help increase your foot traffic. Is Tuesday evening too slow for your liking? Text a Tuesday special perfect for a party of four and encourage your subscribers to grab some colleagues for an evening relationship-building event at your bar.
Remember that your subscriber list is an attentive audience. While you don't want to become known as a bar that spams, you can use SMS marketing for bars to creatively share specials and drive traffic throughout the week.
Special Events
Does your bar run special events? Whether you provide a venue for up and coming local talent or bring in more well-known popular entertainment, SMS marketing for bars is an excellent way to publicize those events and, by association, your bar.
Although you must obtain express written permission to send text messages to your text subscriber list, you can always ask your customers to share these special events on their personal social media feeds. Remember your current customers are your best advocates, encouraging their own friends, families and colleagues to sign up and subscribe to your bar's text message marketing list.
For particularly popular events, you may want to give priority to your subscribers by offering them the first chance at limited tickets or seating through SMS messages.
Don't forget about personal special events such as birthdays and anniversaries. Collecting these dates from your subscribers gives you a great opportunity to reach out personally to help celebrate these milestones through a bar's text marketing system.
New Drinks or Menu Items
Sometimes the monotony of life can make small changes exciting. When it's time to introduce a creative new cocktail or a delectable snack, you can use SMS marketing for bars to advertise those new creations to your subscriber list.
Such a little novelty from a favorite bar may be enough for a loyal customer to pop in for an extra visit after work. They can also be a great excuse for a regular customer to invite a friend or colleague to join them to check out the new drink or food offering.
Don't forget that this is a great opportunity to share a special discount with your subscriber list through your text marketing for bars system. One idea is to offer a larger one-day discount on the release date of your new menu item. Creating a time-limited offer can create a sense of urgency to stop in today.
Build Customer Loyalty
Everyone is looking for relationships these days. A bar's SMS marketing system creates a great opportunity to build customer loyalty by engaging subscribers regularly. Although you don't want to send unnecessary or purely promotional texts all of the time, you can easily build loyalty by providing great discounts, sneak peeks at entertainment and new menu items, and content that would be appreciated by subscribers.
Use SMS marketing for bars to fashion your establishment's brand. Perhaps your bar owner has a popular and unique persona that can be incorporated into each of your SMS text messages. Creative, humorous, or entertaining text messages, although short, can go a long way in building those relationships.
If you have a tight regular community that frequents your bar, you may be able to share community news through text messages as well. By building a loyal customer base, you'll have a core group that will choose your establishment first when they are looking for a spot to have a drink and a snack.
Keep in Touch with Staff
Finally, having an SMS messaging system set up can help you to keep in touch with your staff. Use SMS messages to communicate important news, emergencies, or share improvement ideas with bartenders, servers and other staff.
A two-way SMS communication channel is a great way to collect feedback and ideas from your employees as well. Link to a satisfaction or idea survey and ask employees to reply and share thoughts and suggestions.
You can use text marketing for bars to streamline scheduling shifts. Link to a page that asks for available hours, and once a schedule for the week is created, it can also be shared by an SMS message. Schedule changes are also much more efficient. For example, if one bartender is experiencing an unexpectedly busy evening, that individual can text other team members for SOS support. Everyone can also see which employees come to the rescue and when the extra service needs have been filled.
How to Start With SMS Marketing for Bars (with Examples)
It's easy to get started with SMS marketing for bars. First, you'll need to establish your overall goals, which may be to grow the overall number of customers, boost traffic on slow evenings, or sell more food along with drinks. Then, you'll need to select a platform like DialMyCalls to facilitate your SMS efforts.
Once you select a platform, you'll need to create a subscriber list. Invite opt-ins through existing channels such as tabletop displays, posters, email communications, and social media posts. Offer a special or discount for opting-in, and start building your list of loyal customers. Be sure to take advantage of DialMyCalls ability to segment your subscriber lists so that you can reach out to new customers differently than to ones that have been frequenting your bar for years.
Many options exist if you're looking for SMS marketing for bars examples:
Sign-up Discount – Bar Text Message
Thanks for signing up! Enjoy 10% off your favorite drink this week when you stop by.
New Menu Items – Bar Text Message
Introducing our Tropical Splash cocktail this Friday! Bring a friend for a 50% discount on Friday only.
Entertainment – Bar Text Message
Check out the local band, The Tuners, who will be playing on Saturday evening. Join us at 8 p.m. for great entertainment.
Feedback – Bar Text Message
Thanks for coming in! How was your experience? Share your thoughts for a chance to win a free weekly drink for a month! LINK
Contest – Bar Text Message
We're looking for a creative name for our new fried pickle appetizer. Enter a naming cost to win a free appetizer pass card! LINK
Special Event – Bar Text Message
Happy Birthday, [NAME]! Have one on us tonight!
Want to give SMS marketing for bars a try? Check out DialMyCalls today. We offer many features that will help bars attract and maintain relationships with their clientele. Sign up for a free account and trial period and experience flexible, affordable text messaging today.
Send Thousands Of Phone Calls, Text Messages, or Emails Per Minute!