Text Message Marketing for Car Dealerships
Whether you're running a new, used or combination car dealership, it's critical for you to be top-of-mind when prospects are ready to begin a car-buying journey. It's a big-ticket item, and opportunities come around rarely. Text message marketing for car dealerships is a great way to stay on your prospects' radar during the browsing and decision-making process.
One predictor of long-term success of car dealerships is how quickly you can move your inventory on and off your sales lot. Since text messages are instantly sent, this channel can reach a vast number of potential customers quickly and frequently, helping to keep your churn rate high.
In addition, text message marketing for car dealerships can help you develop long-term relationships with your customer when it comes to service. Providing maintenance reminders, customized service deals, and recall notifications through auto dealership SMS marketing helps keep your customers engaged, even after the initial purchase.
The Benefits of Text Marketing for Auto Dealers
Text message marketing for car dealerships delivers many benefits for auto dealers. Not only can you improve sales through promotions, reminders and discount text offers, but you can build that lifelong relationship through personalized, attentive service.
Mobile marketing for car dealerships is an easy way to keep your prospects and customers engaged in an ongoing conversation, which may include soliciting opinions for new programs or services or feedback after sales and service interactions. Be sure to keep customers informed about dealership news, changes in inventory, or upcoming sales in your SMS marketing for dealerships program. Don't forget to issue special rewards for those who have opted-into your text marketing programs–they are your most attentive and loyal audience from your car dealership text marketing program.
Improve Sales Through Promotions and Text Offers
Car dealerships today have more competition than ever. Besides the dealership down the road, they are finding themselves fighting for sales with online sellers as well as an immense used car market fueled by easy-to-use online buy-and-sell platforms.
Text message marketing for car dealerships can help you build an attentive prospect list, always ready for your next promotion. Simply assign a contact group to help segment your subscriber list such as vehicle make or type of car. When you're ready to run a promotion, just select your subgroup and reach those prospects in seconds.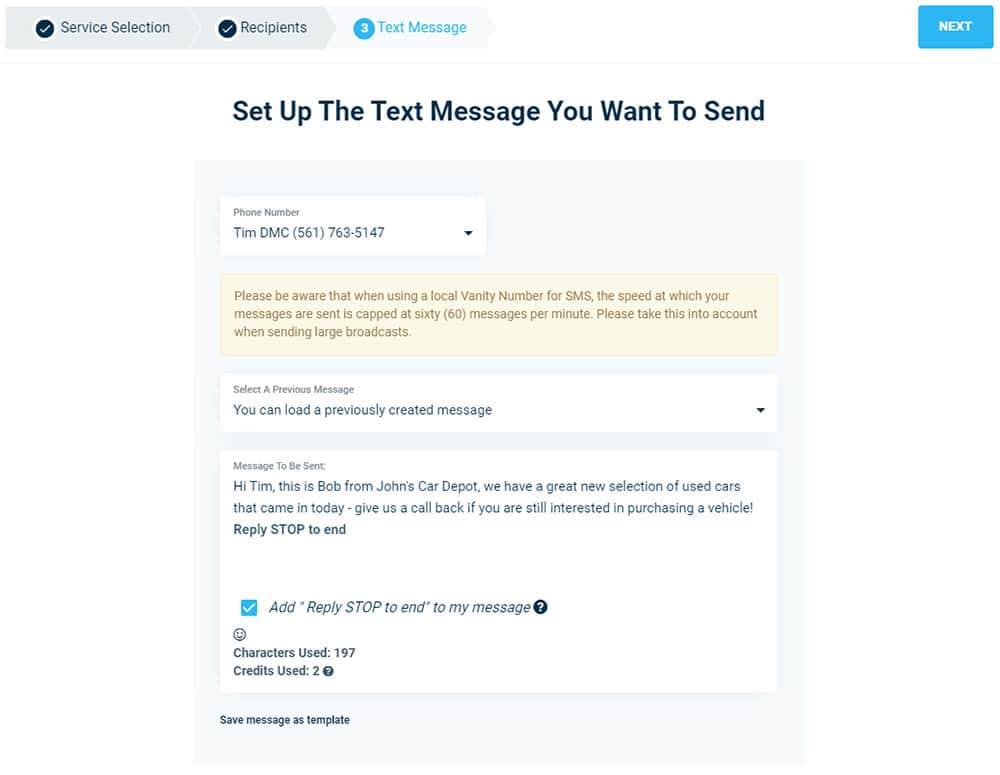 SMS marketing for car dealerships can be particularly helpful as you receive new inventory. For instance, if you have a ready-and-waiting subscriber list for a new model year, just send a text offer as soon as those vehicles hit your lot as part of your auto dealership text marketing program. Trying to clear out last year's cars before the holidays? Send flash deal offers to your prospect list to drive traffic to your ​​dealerships through your SMS marketing for auto dealers program.
Increase Engagement
Since text message marketing for car dealerships is a two-way communication channel, it's easier than ever to increase engagement. Consider using MMS marketing, which allows for longer text as well as images, to show off the latest features of a new line of cars.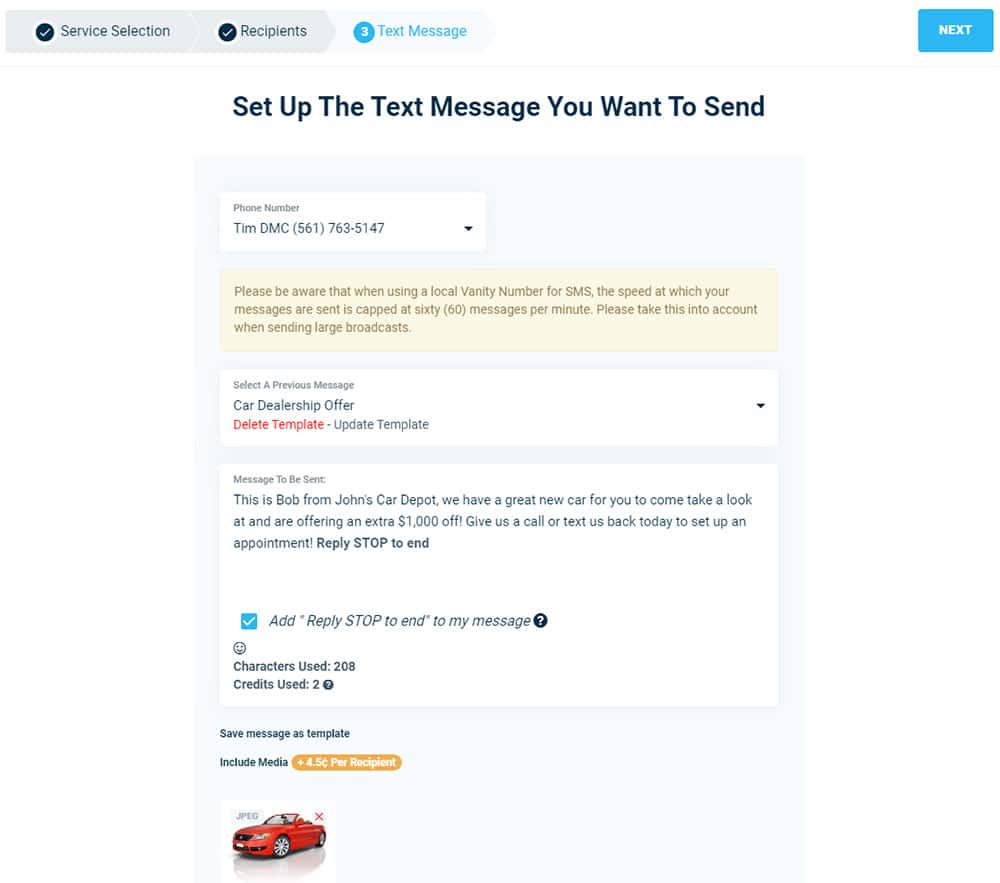 Ready to run a new program or campaign? Get some feedback from your subscriber list that allows your most loyal fans to have a say as part of your text marketing for car dealerships program. Provide useful content, answer puzzling questions, and essentially become the first place your subscribers come to when they need vehicle information or assistance through your SMS marketing for dealerships effort.
Text marketing for auto dealers is also a great way to handle transactional relationships. A quick text can remind a prospect of a scheduled test drive, an expiring discount, a payment deadline, or a service appointment. Mobile marketing for car dealerships can help you nurture an ongoing, mutually beneficial long-term relationship with customers, prospects, and those they refer as a result of your car dealership text marketing program.
Auto Service Promotions
According to Edmunds, 44 percent of a car dealership's revenue is generated by its parts and service department. By using text message marketing for car dealerships, you can easily promote regular service business from both recent customers and others in the community.
One of the easiest ways to do so is to schedule regular text messages for those customers who have recently made a purchase. For example, three months after a closed sale, your service department can send an oil change reminder with a special discount code or free extra service for customers who return to the dealership for the service work.
These auto dealership SMS marketing promotions can be even more lucrative when they occur on larger service items such as brake service or timing belt changes.
Not only will customers appreciate any special discounts or coupons, but they may face fewer emergency repairs if they adhere to good maintenance practices as a result of your service promotions.
Keep Customers Informed
Car dealership SMS marketing is a great way to keep customers informed of all sorts of important information. One of the most important is in the area of service recalls. Although these occur relatively infrequently, when they are issued, time is of the essence to protect the health and safety of your customers. Being able to text a recall notice minutes after the dealership is notified can help front-load any work you may need to provide customers as well as minimizing risk for those on your subscriber list.
General dealership news such as changes in hours; announcements about new programs, inventory, or deals; and helpful content about vehicle care and maintenance can be easily shared through text messages and build customer loyalty.
Transactional communication such as appointment reminders and payment notification as well as customized inventory news are also welcomed in the form of text messages.
Gather Client Feedback
Customers appreciate being asked for feedback. One advantage of text message marketing for car dealerships programs is that you can easily gather this feedback throughout the customer journey and after multiple interactions through surveys and reviews. This not only allows you to stay engaged, but also provides you the information to deal with any issues, problems or disputes before they become significant.
Ask for feedback after a sales meeting or test drive, after an actual vehicle purchase, or following a sales call. Make it easy for customers to reach out with questions, concerns, feedback and suggestions with text links sent regularly.
How to get Started with SMS Marketing for Car Dealerships
The first thing to remember when beginning a text message marketing for car dealerships program is that you need to secure express written permission to share marketing text messages. You may need to build a subscriber list through other communication channels first such as on social media, through email or direct mail campaigns, or on your website.
Be sure to offer incentives to your potential subscribers so they see the value of entering such a close-knit relationship with your dealership in an SMS marketing for auto dealers program. This could be in the form of discounts and specials for purchase or service or simply advanced notification when popular new vehicles hit your lot.
Once you have established a subscriber list, subdivide your groups so that marketing communication can be personalized. For example, you may have a list of potential buyers interested in new trucks, a list of owners who faithfully service their cars, or a list of folks interested in only used sedans. Designing each campaign so it fits the list of recipients will make your text message marketing for car dealerships program more effective than ever.
SMS Marketing Strategies for Dealerships
The best car dealership text marketing ideas revolve around providing the information when and where customers want it. Here are some basics to consider:
Personalization. Be sure you understand what each customer wants and place that individual in the correct SMS marketing list. Sending new car promotions to someone who bought a vehicle last week will probably result in an opt-out. Instead, send a service reminder right before service is due, or a notification when that new model year car arrives to those anxiously waiting.
Timing. Balance sending texts between too few and too many. If you don't send enough messages, you'll quickly fall off the radar for customers anxious to make a purchase, but you don't want to be associated with text spamming either.
Value. Even though text messages are short, be sure to add value in every communication, either with content, news, or a discount.
CTA. Remember your end goal when you start a text message marketing for car dealerships program. Be sure to ask for a call-to-action whether that be making an appointment for a test drive, scheduling a service appointment, or paying a bill.
Examples of Text Marketing for Car Dealerships in Action
To help you get started, take a look at these car dealership text marketing ideas in action. These text marketing for car dealership examples can help you plan your first dealership campaign in a matter of minutes:
Car Dealership Text Message – Appointment Reminder
Don't forget you have a date with [YEAR MAKE MODEL] tonight at 5 p.m. It's ready and waiting for your test drive!
Car Dealership Text Message – Service Reminder
How time flies! It's time for an oil change again. Take advantage of a 20% discount today.
Car Dealership Text Message – Recall Notice
There is a safety recall on [MAKE MODEL with LINK]. Happy to schedule a no-service repair at your convenience.
Car Dealership Text Message – Feedback
Thanks for coming in. Tell us about your experience for a $10 service discount at your next visit.
Choosing an Auto Dealership Text Marketing Platform
When you're ready to get started, sign up for a free account at DialMyCalls. Our platform offers a free trial and all the features you need to start your text message marketing for car dealerships program today. Establish your subscriber lists quickly and easily.
You'll be able to reach out effectively and efficiently to prospects and customers in a matter of seconds with a car dealership SMS marketing program. Watch engagement rise and loyalty build when you use this affordable channel to manage these relationships on a regular basis.
Send Thousands Of Phone Calls, Text Messages, or Emails Per Minute!