SMS Marketing for Churches
In today's increasingly digital world, people are seeking true connection more than ever. Most churches are trying to provide that human connection along with spiritual nourishment and a sense of community. By using SMS marketing for churches, these organizations can more successfully accomplish their mission.
SMS marketing for churches provides the means for these organizations to connect with their employees, volunteers, and most importantly, their congregation, for a wide variety of purposes quickly, easily and affordably. By using a text marketing platform, churches can segment their audience and send regular, relevant communications to each group as needed.
Whether churches are sharing service meeting reminders, soliciting volunteers to help a needy member, or providing daily inspirational thoughts, text marketing can help.
How Churches Can Use & Benefit from SMS Marketing
Churches can garner many benefits from a text marketing program. Since most churches have limited budgets, text marketing for churches is a flexible, affordable, and simple way for them to communicate with all their key audiences.
For example, church SMS marketing can be used to remind people about regular weekly services or about special events, especially for those who have not formally joined the church. Simply knowing when regular services or meetings occur may help increase attendance and boost participation.
Text marketing for churches can be used successfully for gathering everything from monetary or other donations to prayer requests on a regular basis. For those who have time, talent or treasure to share, digital text messages are an excellent way to learn about new opportunities.
Many of us could use inspiration throughout the week, not just during church meetings or services. SMS marketing for churches can help share daily scripture readings or passages, content from a priest or pastor's sermon, or just inspiration. This regular connection between church and people may build a greater sense of community as well.
Send Reminders & Updates about Events
Once you receive express written permission to send text messages to your subscriber list, it's easy to use text marketing for churches to send reminders and updates about events.
Perhaps you have some interested people who don't attend your church regularly. Text messages can pique their interest about an upcoming sermon, special event, or educational opportunity.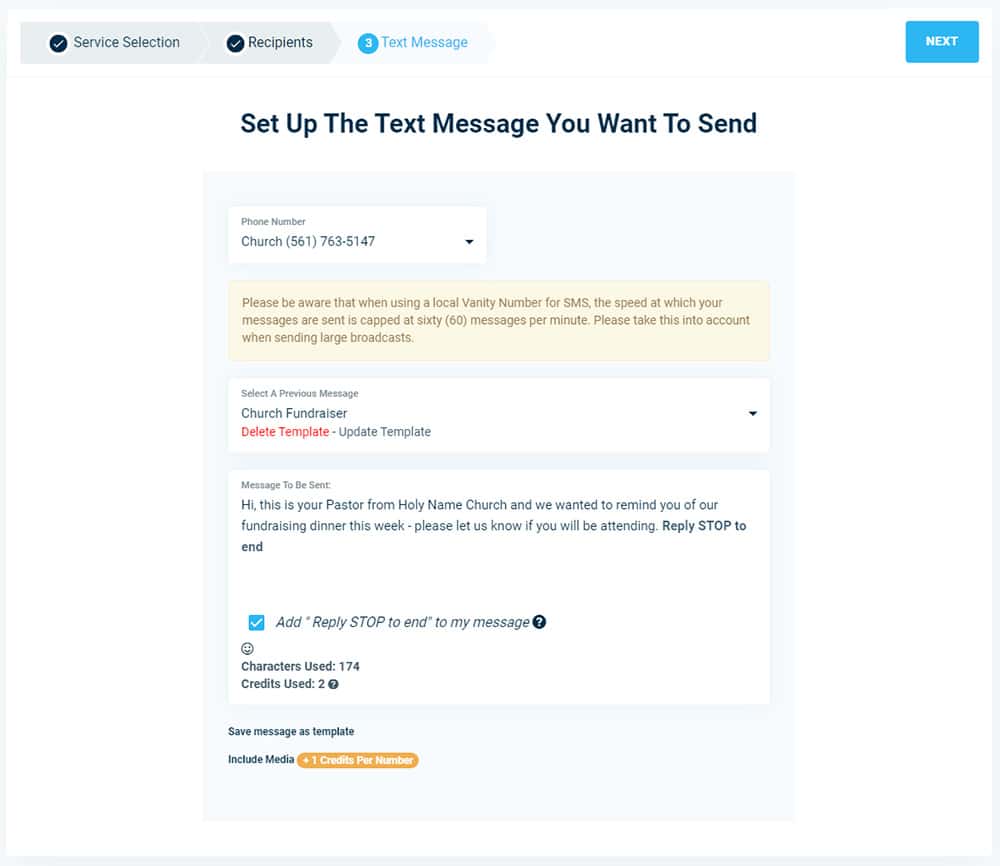 If your church hosts a wide variety of events for different segments of your congregation, text messages are an excellent way to get the word out. Create a separate list for those interested in family events, children's programs, young single mixer opportunities, or senior groups. As your volunteers plan events for those groups, you can use church SMS marketing to reach only those interested in those particular activities.
Increase Attendance
Grow your church membership through text marketing for churches. Consider using your website, email communications, snail mail campaigns, or community signage to encourage interested individuals to subscribe to your text messages.
It's easy to use this communications channel to invite people to participate in weekly services by highlighting upcoming sermon topics, scripture study or book study themes, or special music offerings. By keeping your church top-of-mind to those interested in your community, you may be able to attract future members with this technology to participate more fully in your church's life.
Encourage Donations
Raising funds is a necessary part of any church's mission. Whether money is necessary to meet regular operating expenses and staff salaries or to help those in need, effective fundraising is critical to the viability of any church.
Not only solicit donations for special needs through text marketing for churches, but you can use it as an effective guide for reminding your members of their regular pledged donations. For example, you may have an annual fundraising drive and ask for a monthly commitment from each member. Text messages are a great automated way to send reminders to ensure that those financial promises are met.
Prayer Requests
Whether someone is suffering from a long-standing illness or a tragic unexpected accident, prayers from a church community can bring a great deal of comfort.
Text marketing for churches can help spread the word whenever someone in your congregation is in need. You may want to create a segmented list of volunteers who want to be contacted with any prayer requests if you experience a high volume. If you run a small church, a weekly summary of prayer requests can be sent to all subscribers, building a greater sense of church community.
Inform Members of Volunteer Opportunities
Inform your members about volunteer opportunities through text marketing for churches. Whether you're looking to fill positions such as ushers or hostesses for regular services, a leader for small group Bible studies, or a coordinator for an annual fundraising event, using text messages helps you reach potential volunteers is invaluable.
You can also use text messages to coordinate those major events that require many people to volunteer for certain hours or days. For example, if you offer a free meal to the poor, you can use text marketing for churches to coordinate volunteers to set-up, serve and clean-up the event.
If you are hosting an annual fundraising festival, text messages can help volunteers remember which shift and station they signed up for as well as solicit help for any booths that might be short-staffed during peak times.
Share Bible Passages
Share Bible passages or other inspirational tidbits with your congregation to improve their spiritual practices through SMS messages. Since you're limited to 160 characters per message, these passages can serve as a little pick-me-up during the day or a small way to connect your members to your church throughout the week.
Stress seems to be a regular part of life today, and receiving a comforting word of encouragement or a passage that can help you keep going through a difficult situation can mean a great deal to your church text subscribers.
One of the many church SMS marketing ideas can be using a keyword like BIBLE to invite your subscribers to join a segmented list to receive these passages on a daily basis. Text messaging platforms can be automatically programmed so that you can add several months of messages at one time, and passages can be sent at a regular and predictable time on a daily basis.
Promote Special Events & Holiday Sermons
For those who are not regular church goers, the holidays can be a special time when these prospective visitors may seek out a church community. Text marketing for churches is an excellent way to attract this group of individuals by promoting special holiday events or sermons.
Introducing your church to these individuals during holiday events may encourage them to join on a long-term basis. However, even if they do not choose to come regularly to your church, you may be able to secure additional donations of money, toys, clothing or food during these events to help those less fortunate. Holidays seem to bring out the generous nature of human beings, and you can be a conduit to help connect that generosity to those who are in need through your church events.
Create a Stronger Community
Many people seem to be seeking community these days, and text marketing for churches can help. The reality is that the more frequent people receive communications, the closer they feel to an organization. If your church only engages with its congregation during weekly services, it's easy to see how distance can result.
However, if your members have agreed to receive text messages from your church, you have the opportunity to engage in different ways throughout the week. In some cases, certain members of your church may want to hear from you multiple times a day if they are very involved.
For instance, elderly members may choose to receive daily Bible passages each morning. If those members need extra prayers or assistance with an errand, they may be able to engage in a two-way text exchange to secure that help. In addition, they may enjoy getting updates about the latest activities or news from the church as well as prayer requests they can offer. These and other church SMS marketing samples can contribute to a stronger community.
Church SMS Marketing Best Practices
One beautiful thing about text marketing for churches is the ability to customize the amount and type of communication to each member of your congregation. Best practices revolve around using this channel to personalize communication, offering as much or as little communication as desired.
For example, those interested in your church from afar may only want notifications about special events that might be interested in attending. Young adults may want to be notified of events related to their age group as well as opportunities to volunteer. Certain subscribers may want to receive fundraising requests only. Be sure you set up your SMS program to segment these and other groups within your church appropriately.
In addition, be sure to formulate clear, concise messages, and add value to each communication. In some cases, you may just be sharing desired news like an inspirational passage, prayer request or church announcement. In other cases, you will want to present a clear call to action such as making a donation or signing up to help at an event.
Be respectful of the times that you send messages, and titrate the number of messages you send depending on the individual preferences of your subscribers.
Church Text Marketing Examples
To help you get started, here are some church text marketing examples:
Church Text Message – Prayer Requests
John Smith requests prayers for his mother who was just diagnosed with a serious illness.
Church Text Message – Volunteer Requests
We're serving dinner for the homeless on Thursday evening. Please sign up to help!
Church Text Message – Bible Passages
2 Corinthians 5:7, NIV: "For we live by faith, not by sight."
Church Text Message – Church News
Don't forget the south parking lot will be closed this Sunday due to repaving.
Church Text Message – Holiday Service Reminder
We'll be adding two extra services on Christmas Day at 10 a.m. and noon, in addition to our regular 8 a.m. service.
Church Text Message – Fundraising
A local company has agreed to match donations made by midnight tonight for our new parish center. Please donate!
If you think text marketing for churches is for you, check out DialMyCalls today. Signing up for an account is free, and we have a no-fee trial so you can try our services with no risk. We'd be honored to help your church make a positive contribution to your community by improving communication. Contact us today.
Send Thousands Of Phone Calls, Text Messages, or Emails Per Minute!