SMS Marketing for Ecommerce Guide
Perhaps the most obvious pairing of SMS text messaging with an industry is with ecommerce. After all, both are heavily technology dependent and grew up around the same time in the modern era. SMS marketing for ecommerce programs are an excellent way for businesses to engage with their best and most loyal customers today.
What is SMS Marketing?
Before we get into the details, it's important to understand the definition of SMS for ecommerce marketing. SMS marketing is using standard text messages to regularly communicate with a subscriber list that has opted in to receive your marketing messages.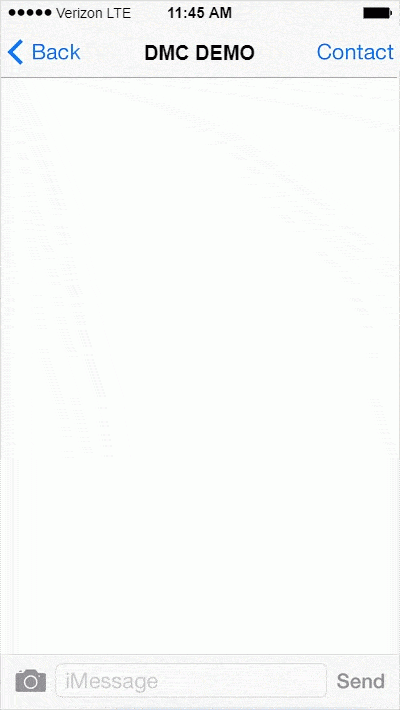 While ecommerce SMS marketing must conform to regular text requirements including a limit of 160 characters, MMS messages have a 1,600 character limit as well as the capability to include images and videos. This provides you with more creative tools to increase engagement and conversions. Both give today's ecommerce businesses the ability to build trusted, long-term relationships with both prospects and customers.
Why Use SMS for Ecommerce?
SMS ecommerce text message marketing is simple, affordable, and extremely effective when done strategically. Nearly everyone owns a smartphone today, and the vast majority of text messages are opened within minutes of receiving them.
The majority of other forms of advertising are essentially unwelcomed. Billboards take your attention off the road. Commercials interrupt your favorite programs. Print advertising gets in the way of the article you're reading, and pop-up ads on websites clutter up your computer screen. Even social media feeds bombard you with notifications every moment of the day.
SMS marketing for ecommerce messages, however, are requested. Interested individuals or existing customers are asking for marketing communications from your organizations because they want to hear the latest news, take advantage of the newest discounts, or be the first to hear about your events. This alone makes the channel appealing to both businesses and consumers.
Improves ROI
Every company needs to watch their budgets, especially when it comes to marketing activity. SMS marketing for ecommerce is an affordable and easy investment to make, generating high return on investment in terms of building both engagement and conversion.
Online text message providers often offer a free trial so companies can see how the service works. Once you select one, a monthly fee allows you to send a set number of text messages; different packages may be available for your expected usage.
Considering that open rates are steadily at 98% and conversion rates hover around 50%, the ROI on that monthly fee can be significant.
Higher Open Rate than Other Forms of Marketing
With an open rate at 98%, SMS marketing for ecommerce is head and shoulders above other forms of marketing when it comes to this metric. Furthermore, most users open ecommerce SMS messages within minutes of receiving them.
Many marketing organizations still rely on email to communicate with customers, but today's email boxes are flooded with spam and 35% of emails are never opened at all. An email open rate of 20% is considered to be high these days.
With online communications overwhelming most of us, some marketers are turning back to old-fashioned ways of communication such as direct mail campaigns. Although open rates for direct mail campaigns can be as high as 90%, only 42% of recipients say they scan or read the material and the average response rate is under 5%.
Improves Audience Targeting
Online tools designed for SMS marketing for ecommerce allow you to create multiple subsets of contacts. As a result, it's easy to improve audience targeting in an SMS ecommerce text message marketing campaign.
For example, if you create a complementary ecommerce sms marketing campaign that invites new customers to check out your business for the first time with a keyword, you can create a prospect list from these opt-ins and send regular deals and discounts to introduce your brand.
SMS ecommerce examples also include reaching out to long-time subscribers or those who haven't made a purchase for six months or more. You can create a list of long-time customers that have been a subscriber to your text list for more than a year, and offer them premium discounts, special packages, or one-time deals to show your appreciation for their loyalty. Or, invite those customer who have been quiet back with a special deal.
You may be able to pull out a sublist of subscribers who have purchased a particular type of product to cross-sell a related item, or invite those who have not engaged with you recently to share feedback about their current needs.
Improves Customer Engagement
SMS marketing for ecommerce can be a two-way communication channel and easily used for soliciting feedback, comments, questions and concerns. People have been conditioned today to take a few seconds to text back quickly when a small piece of information is requested.
Text message marketing for ecommerce can incorporate customer participation; ecommerce businesses can create a feeling of intimacy and a relationship between brand and customer. When customers feel an emotional tie to a company, brand or product line by offering feedback or participating in future offering or product decisions, they feel important and are more likely to stay engaged with your organization.
Reaches a Larger Audience
Nearly every individual has a device that can receive ecommerce SMS marketing messages so the potential to reach a large audience exists. Since text message marketing for ecommerce channels requires express opt-in permission, ecommerce businesses must incorporate invitations in other marketing channels such as physical signs, website links, email campaigns or social media reminders.
However, once a business has built a subscriber list, it becomes easy to reach this engaged audience regularly with a structured, frequent SMS campaign that can be flexible and easily updated depending on the current activities and offerings of a business.
Messages are Delivered Quickly
Since SMS messages must be brief, the time it takes to create a message is short and simple. Once you have 160 characters and have set up your distribution lists, messages are sent at lightning speed. The majority of the time, your recipients receive, open and read your SMS marketing for ecommerce messages within minutes.
No other marketing channel is quite so easy and fast once the initial legwork has been completed.
How to Get Started with Ecommerce Text Message Marketing
The most important way to get started with ecommerce text messages marketing is to understand your overall business goal. Are you trying to drive website visits and increase customer acquisition? Sell more products? Build long-term customer loyalty? Once you understand the direction and objective, you can build your campaign to help meet those goals
Then, you'll want to select an online SMS service for ecommerce that can provide the structure, service and features that will make your  SMS marketing for ecommerce effective and simple to implement. Do some research online and sign up for a free trial with a service like DialMyCalls.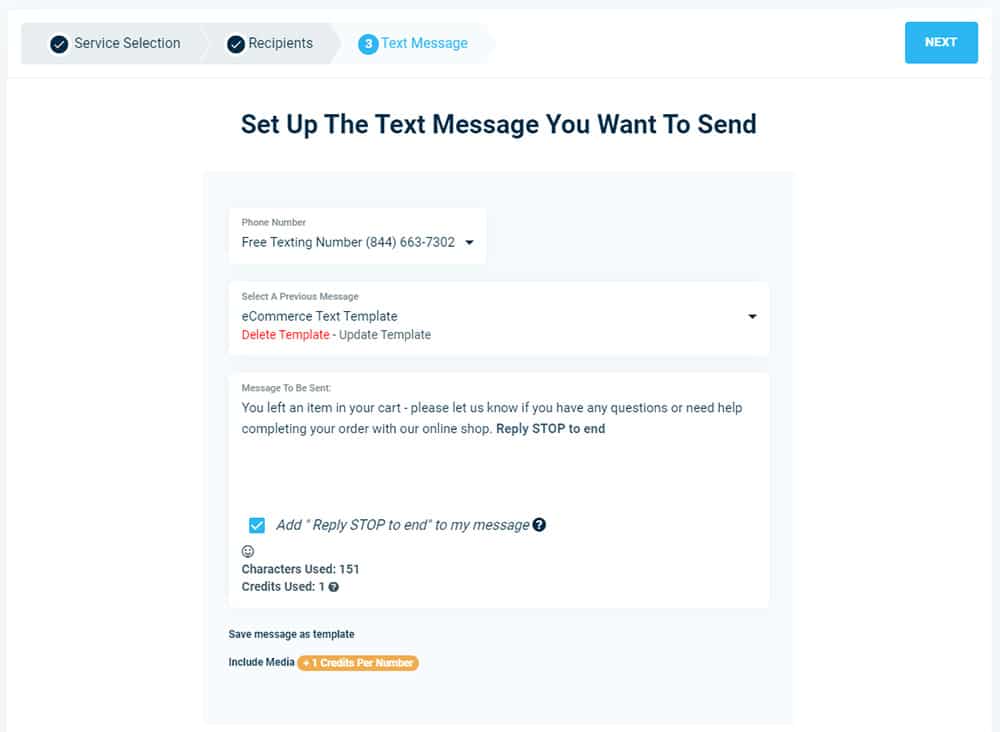 Once you have those pieces in place, be sure to build a subscriber list that has given you express permission to send them marketing texts. This can be created through complementary campaigns in other marketing channels such as websites, social media and email campaigns.
Finally, create short, relevant, concise  ecommerce SMS notifications that have a clear call-to-action. Remember to measure not only results but also how many subscribers join and opt-out in a given period so you can keep fine-tuning and improving your  SMS marketing for ecommerce campaigns.
Ecommerce SMS Marketing Best Practices
Be sure to adhere to ecommerce SMS marketing best practices to grow your subscriber list and keep prospects and customers engaged.
Get Permission. Remember that all-important opt-in permission. This is also a good time to set expectations about what kind of communication and how frequently your subscribers may hear from you.
Add Value. No one likes marketing noise. Be sure any ecommerce SMS notifications have a clear purpose and point and add value to your subscriber's life.
Respect Timing. It's important to respect personal time by sending your messages between normal waking hours of 9 a.m. to 9 p.m. local time.
Remember CTA. Remember the point of any marketing is to get your prospect or customer to do something, whether that be to purchase a product, answer a survey or look at a new release.
Be Personal. Everyone wants to feel known and heard. The more personal you can make your communication, the better. For instance, don't introduce your brands to a customer that has been purchasing from you for five years.
SMS Ecommerce Examples & Ideas
The list of ideas for SMS marketing for ecommerce messages is nearly endless, limited by only your imagination. Here are some common SMS ecommerce marketing ideas to help get you started:
New Product. Use ecommerce SMS templates to give your subscriber list a "sneak peak" at a newly released product or service and encourage a purchase immediately.
Flash Sales. Nothing prompts purchasing like the fear that you'll miss out on a great deal. SMS messages are great for time-limited flash sales.
Content Reputation. Use SMS messages to develop a reputation or brand personae that entertains, provides creative ideas, or solve problems. Highlight that in content-related communications.
Reminders. Another SMS ecommerce example is to use texts as a reminder tool, whether it's to let customers know they forgot a shopping cart or haven't reordered a regular item.
Alerts. Use this channel to let your important subscribers know about back-ordered items or products that may be low on stock.
Feedback. SMS templates for ecommerce can also gather feedback from subscribers. Whether you're looking for comments on a recent purchase or ideas on a new product offering, SMS messages can help you generate that easily and quickly.
Measuring the Success of Your Ecommerce SMS Campaign
Finally, be sure to measure each of your SMS marketing for ecommerce campaigns for their effectiveness in reaching their particular goal. For example, if you send a coupon, how many subscribers redeemed it? If you asked for survey feedback, how many individuals completed the questions?
In addition, you'll want to keep track of your opt-in and opt-out rates. If you see many subscribers suddenly unsubscribing, you may want to reevaluate the types and content of messages you're sending. Are they spammy? Too frequent? Too few?
By closely monitoring your  SMS marketing for ecommerce programs, you can fine-tune future campaigns to be even more successful.
Ready to get started? Check out DialMyCalls, an online service that can help you launch your  SMS marketing for ecommerce program today. Signing up for an account is free and you can try the service at no charge for a trial period before making a commitment.
Send Thousands Of Phone Calls, Text Messages, or Emails Per Minute!