Your Guide to SMS Marketing for Travel Agencies
As the travel industry continues to move to online platforms, travel agencies face pressure to add more value than ever to keep their clients. Using SMS marketing for travel agencies is one way to do just that. Text messages are not only a great way to share and communicate travel details to customers but also an excellent method to develop long-term, trusted relationships that are so critical to the long-term success of travel agencies today.
By providing confirmation details regarding flights, hotels, tours, and tickets, you can put your customers' mind at ease that you have all the details under control. Text message marketing for travel agencies is also a great channel to communicate last-minute changes, cancellations or other updates during a trip itself.
What is SMS Marketing?
SMS marketing for travel agencies is using an online text platform, which allows you to send mass text messages, subgroup-specific communications, and individual SMS notes as well as receive feedback from your target audiences.
This channel requires travel agencies to obtain express written permission to send marketing messages to subscribers, so you need to create a way to invite subscribers to join your list.
Once you have a subscriber list built, these individuals are usually anxious to receive news and information from you, making them one of the most engaged audiences for any travel agency.
The Benefits of Using Text Message Marketing for Travel Agencies
Since the majority of people have close relationships with their phones, SMS marketing for travel agencies can generate many benefits for you both in terms of attracting new prospective clients as well as serving your current clientele in a personal, attuned manner.
The brief and concise nature of SMS messages means that travel agencies can easily send multiple text messages, when appropriate, quickly and easily. You'll be able to build your brand and encourage interested travelers to use your services as well as ramp up the personalized touch when working with current clients who are in the middle of planning their trips.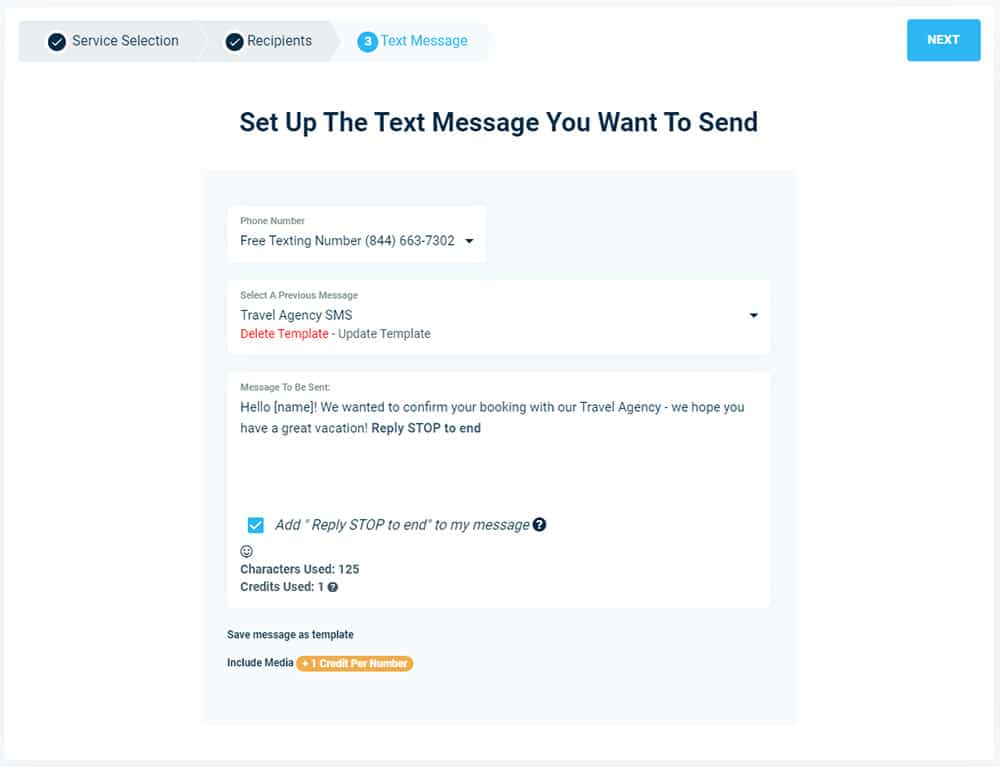 This channel is an excellent way to communicate trip-related information immediately, which may mean a much smoother and less stressful trip overall.
Helps to Build Your Brand
SMS marketing for travel agencies can help to advertise your brand in a competitive market. Begin your SMS strategy by inviting interested travelers to join your subscription list through existing channels such as your website, direct mail campaign, posters, social media, or email blasts.
Once you have a dedicated list of interested subscribers, you can easily subdivide your list by travel interest, giving you an opportunity to promote new trips and tours immediately to an engaged audience. Soon, your travel agency will be viewed as the expert and the place to go for any business or vacation travel arrangements.
Be sure to incorporate your brand logo, marketing messaging and slogan in your text communications when possible. Using MMS marketing can increase the latitude you have by adding videos, images and additional text.
Send Boarding Pass Information
Most people are now accustomed to downloading airplane boarding passes onto their phones, which makes check-in simpler and faster at airports. As a travel agency, you can do the same by sending boarding passes to your customers for not only flights but other transportation options as well. It's a great use of text marketing for travel.
Having all the details on their phone eliminates the stress of trying to keep track of paper itineraries, boarding passes, and ticketing information for customers. It's a great advantage of text message marketing for travel agencies.
In addition, using SMS messages can also mean these types of communications are easier to update and revise if needed.
Confirm Bookings & Itinerary 
For many travelers, a vacation may include a myriad of bookings and itineraries for flights, bus transportation, various hotels, tours, tickets and other activities. SMS marketing for travel agencies makes communicating all of these details easier than ever.
As soon as you have booked your customers' travel, lodging or entertainment, you can easily send booking confirmations by SMS message immediately. As a result, your customers will have transparency into their travel plans as they evolve, making them feel more part of the process and well cared for by your travel agency.
Since all this information exists digitally, it can be easy to resend any confirmations that somehow get misplaced or deleted. No need to manually sort through paper itinerary and booking files to copy and mail such information to customers with travel industry SMS marketing.
Keep Customers Informed of Changes
Especially in the current age of the global pandemic, travel changes can occur rapidly. Travel restrictions or other alerts need to be communicated to travelers so they can make the best decisions for their situation.
SMS marketing for travel agencies allows you to do just that. As soon as you hear of itinerary changes to flights, lodging, or availability of shows or entertainment options, you can immediately notify affected travelers. In addition, you can offer a link to a page that allows rebooking or changing plans if that is available.
Using text marketing for travel agencies messages to communicate in these situations may be the fastest way to get this information to your customer base. Most people check text messages within minutes of receiving them.
Improve Customer Loyalty
Consumers today have high expectations of what businesses will offer them in terms of products and services. They are often happy to share personal preferences and information in exchange for personalized offers and deals.
By using SMS marketing for travel agencies, you can boost customer loyalty because you can tailor your offers and invitations to the individual preferences of your customer base. If your clients know that you will send them every great deal on upcoming cruises because that's a preferred way to vacation, they will be happy to keep their business with you.
Loyal customers are much less expensive to maintain compared with finding new customers, and SMS campaigns allows you to nurture those relationships in a regular, effective, and appreciated manner.
Handle Emergencies
Although travelers hate emergencies during trips, they inevitably happen on occasion. SMS marketing for travel agencies can help you come to the rescue with the ability to rebook a cancelled flight, find a way to transport a sick guest home quickly, or deal with other unexpected happenings. Communication is always key in those situations, and travel industry SMS marketing messages are easy and fast ways to stay in close contact with your clients during an emergency.
Improve Productivity
The travel agency world is full of details. Before digital solutions, planning and communicating about trips required reams of papers, folders, and other materials that needed to be pulled together and organized for each and every client.
Today, SMS marketing for travel agencies makes that process so much easier. Not only can you reduce the amount of paperwork involved, but you can share things like videos of vacation locales, images of hotel choices, and tour details much more quickly.
Communicating details of bookings, tickets, lodging, rules and requirements all becomes a matter of sending text updates, which can be easily organized by tour group or other sub-category.
Gather Feedback
Finally, SMS messages provides an excellent means for gathering feedback and information from your clientele. Whether you're exploring new packages to offer and want to see which ones are most popular with your current prospect base or you want feedback after a completed vacation package, SMS text messages are an affordable way to collect that information.
Be sure to solicit reviews from your clients as well because regular positive public reviews can do a great deal to boost your business to new customers looking for a travel agency partner.
Finally, SMS text messages can be a channel for you to hear about customer problems and concerns before they have a chance to fester. Use the two-way ability of text messages to nip problems in the bud, providing a solution or offering an apology as soon as they are needed.
How to Get Started with Text Marketing for Travel Agencies
The first thing you need to do to get started with SMS marketing for travel agencies is to select an online provider like DialMyCalls. Signing up for a free account is easy, and the platform provides you with many features to get started quickly.
Then, you'll want to build a subscriber list for your text marketing for travel agencies strategy by soliciting prospects and customers to join through complementary channels such as your website, social media feeds, posters, billboards, brochures or direct mail campaigns.
Once you establish some keywords for particular campaigns, possibly by vacation location or specialty travel package, you can start building segmented lists for very targeted SMS marketing for travel campaigns.
Be sure to measure things like opt-in and opt-out rates as well as how successful various campaigns, promotions and other marketing efforts turn out to be. Over time, you'll be able to see which travel industry SMS marketing strategies are the most successful for your clientele.
Travel Agency Text Messages in Action
To help get you started, here are some examples of SMS marketing for travel agencies:
Booking Confirmation – Travel Agency Text Message
Thanks for booking with Carnival Cruise Lines! You're confirmed for the Caribbean cruise from May 1 to 10.
New Deals – Travel Agency Text Message
Interested in touring Italy? We've just opened a tour package for Nov. 10-24. Reach out for more information.
Travel Updates – Travel Agency Text Message
The WHO has just issued travel advisories due to a COVID outbreak in Japan. Click here to reschedule your trip.
Emergency Notification – Travel Agency Text Message
The bus for tomorrow's tour is no longer in service. Please click here for alternative activities.
Collect Feedback – Travel Agency Text Message
Welcome home! We hope you had a fabulous trip to Disney. Please let us know how we can improve. Take this survey and earn a $10 gift card.
Want to give SMS marketing for travel agencies a go? Sign up for your free DialMyCalls account today. We offer many features that will help you attract new travelers and maintain relationships with current ones.
Send Thousands Of Phone Calls, Text Messages, or Emails Per Minute!