Library Phone & Text Message Service for Overdue Book Notice
Use DialMyCalls to send an automated overdue book notice by automated phone call or text message.
Send Library Overdue Notices and Reminders to Your Members
The local library is a nonprofit organization that provides a valuable service to the community. The major objective is to provide books and other reading materials on loan for people to use and enjoy at home.
As a librarian, you know that one of the most frustrating parts of your job is making sure these materials are returned on time for others to enjoy. DialMyCalls is a cost-effective way of alerting your users of overdue books and the possible fines.
You may be wasting time and money with mailed notices regarding overdue library books. DialMyCalls provides a more efficient and cost-effective way to handle the problem. This saves the librarian time while still ensuring that members are notified of overdue books.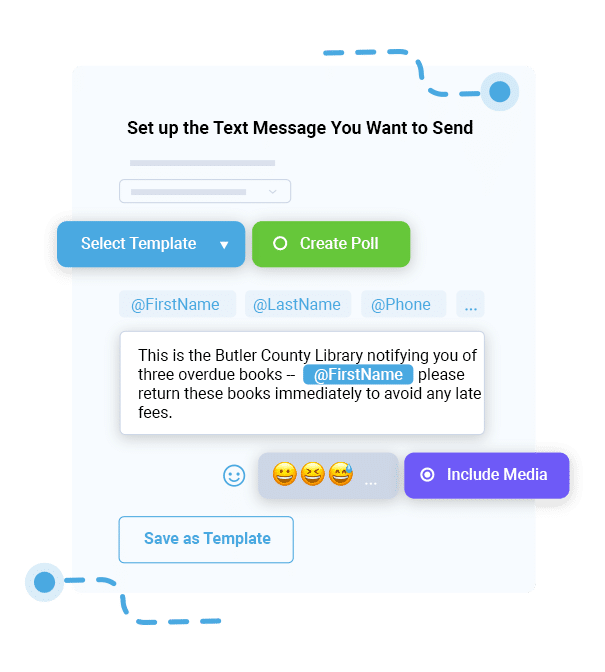 To set up the system in your library takes only a few minutes. There are no hardware or software installations. You only need to create a DialMyCalls account and begin collecting contact information from your members.
As your members are checking out their books, ask them to please update their contact information to include a phone number.  Once you have that information you can enter it into the DialMyCalls mass notification system. Make sure that they understand that you will be using that information to send them a periodic message from the library or to send them an overdue book notice.
At this point, all you need to do now is wait until a book or other item is late being returned. Look up the borrower's contact information in your DialMyCalls account and send an SMS overdue book notice. Briefly mention the fees that they are accruing as they keep your item for longer than the time agreed upon.
Send Text Message Notifications To Your Library Members
Using DialMyCalls to send out an overdue book notice via SMS text message as opposed to mail saves you both time and money. You can conduct all of your messaging right from your desk, eliminating the need to go to the post office. There are no addresses to fill out or stamps to buy. You only have to log in, pick your message, choose the contacts, and click send. You can send an overdue book notice in a matter of minutes.
If you have multiple borrowers who are overdue you can send the same message to each of them at the same time. Instead of filling out 5 separate overdue book notices, you only need to choose the 5 individuals from your contact list. From there, DialMyCalls will send the message to everyone you have directed it to.
You can even save time by having your message saved in your DialMyCalls account. Then all you have to do is choose the SMS text message and recipients and your message is sent.
Don't waste your precious resources tracking down delinquent borrowers. Use the features of DialMyCalls to your library's advantage and keep your shelves stocked and ready for the next book lover by sending an automated overdue book notice.
Send Thousands Of Phone Calls, Text Messages, or Emails Per Minute!