Union Member Notification Service
Union management can be challenging at times, especially keeping the members informed of meetings, special events, and votes that require their participation. DialMyCalls is used by unions all over the U.S. to help manage union members and notify them by phone call, text message, and/or email.
Unions Keep Members Involved with Automated Phone Messages
Union leaders face the unique challenge of having to secure the rights of their members while on the job. This includes important issues such as health and safety, pay rates, and medical leaves. In order to be effective, they must have active participation from their members. DialMyCalls can be valuable in helping promote that participation and build the strength in numbers your union needs in order to ensure a fair work environment for all of its members.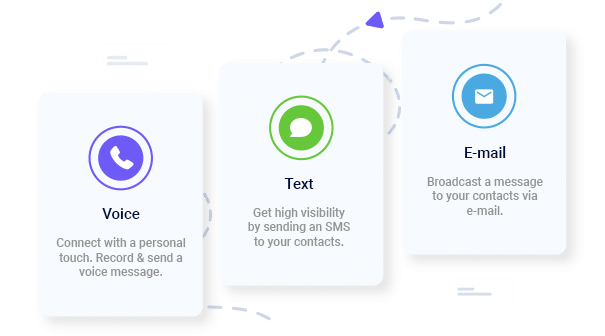 Union meetings are a fundamental part of their success as it is here that important issues are raised and resolutions discussed. Unfortunately many members skip these meetings, feeling that they are pointless. The best driving force in encouraging participation is to address the "what's in it for me?" question. DialMyCalls will help you answer that valid question before a planned meeting.
Your busy schedule does not allow the time needed to reach out to union members individually. This is where DialMyCalls steps in. By creating a message for all of your members, your meeting goals can be shared within minutes. Answer "what's in it for me" in a recorded voice message. Talk about the meeting goals and how the members will be affected by the subject at hand. Than with just a few clicks, every one of your union members will receive that message and know the answer to that important question.
By motivating your union members you are creating the united force you need to insist on important changes within your company. By using DiaMyCalls to help you achieve this, you are streamlining your communication efforts thus allowing you extra time to take care of the other important responsibilities that come with your role.
DialMyCalls makes it easy to use their services to help you fulfill your union's needs. You control your communications through a central database where all of your contacts are stored. You can even store pre-recorded messages to help you prepare for emergency situations, such as if your company is not going to open due to inclement weather.
Send Attendance Reminders to Union Members
To encourage union meeting attendance, create a message that talks directly about the meeting goals. Make sure to stress how union members will be affected. Remind them that in order to promote positive change in their workplace, they need to participate and show a united front. Members are most likely to attend your meeting if they can be made to understand why their presence would make a difference.
You have the option of phone calls or SMS text messages when you use the DialMyCalls union notification service. Either way, all of your members can be reached with the same message in just minutes.
The success of your union is reliant on the members working as a team. You can encourage this through positive, productive meetings that address the needs of the workers. To get those workers to sit in on your meetings and participate, effectively communicate your goals using DialMyCalls and the many features that come with it.
Send Thousands Of Phone Calls, Text Messages, or Emails Per Minute!