Set Up Recurring Phone Calls, Text Messages & Emails To All Your Contacts
How can you set up a message to go out to all your contacts on a daily, weekly, monthly, or yearly basis? DialMyCalls 3.0 introduces a brand new feature to our mass notification platform - Recurring Messages! Customers now have the ability to set up a voice broadcast, SMS text message broadcast and email broadcast to go out on a set schedule - you no longer have to go into your account and set up the same message every day - recurring messages take care of all that for you!
Let's take a quick look at how you can set up and manage recurring messages with DialMyCalls 3.0.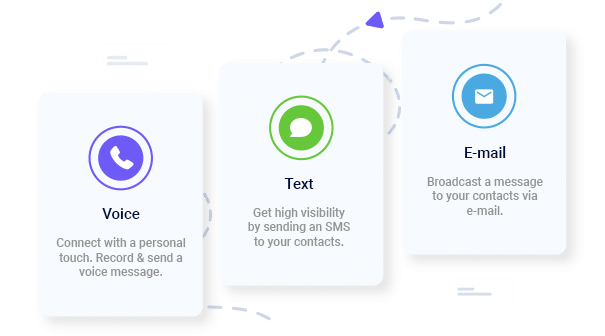 How To Create A New Recurring Message
Setting up a recurring message is quite simple as we have added it to the existing DialMyCalls "New Broadcast" process. Once you have selected the type of message(s) you'd like to send, you will come to the "Broadcast Options" step. On this step is where you will choose when you send your message(s) out – you can choose "Send Now", "Send Later", or "Recurring". Select the "Recurring" option to open up the recurring messaging options. A recurring message can be set up to go out daily, weekly, monthly, or yearly with the option to cancel on a specific date or after a certain number of occurrences.
*Customers will need to agree to our new recurring messages ToS which will open in a pop-up once "Recurring" is selected – credit users will need to set up "Auto-Replenish" while monthly plan users will need to agree to pay an overage fee of 5 cents per message if you go over your monthly allotment of calls, texts, and emails.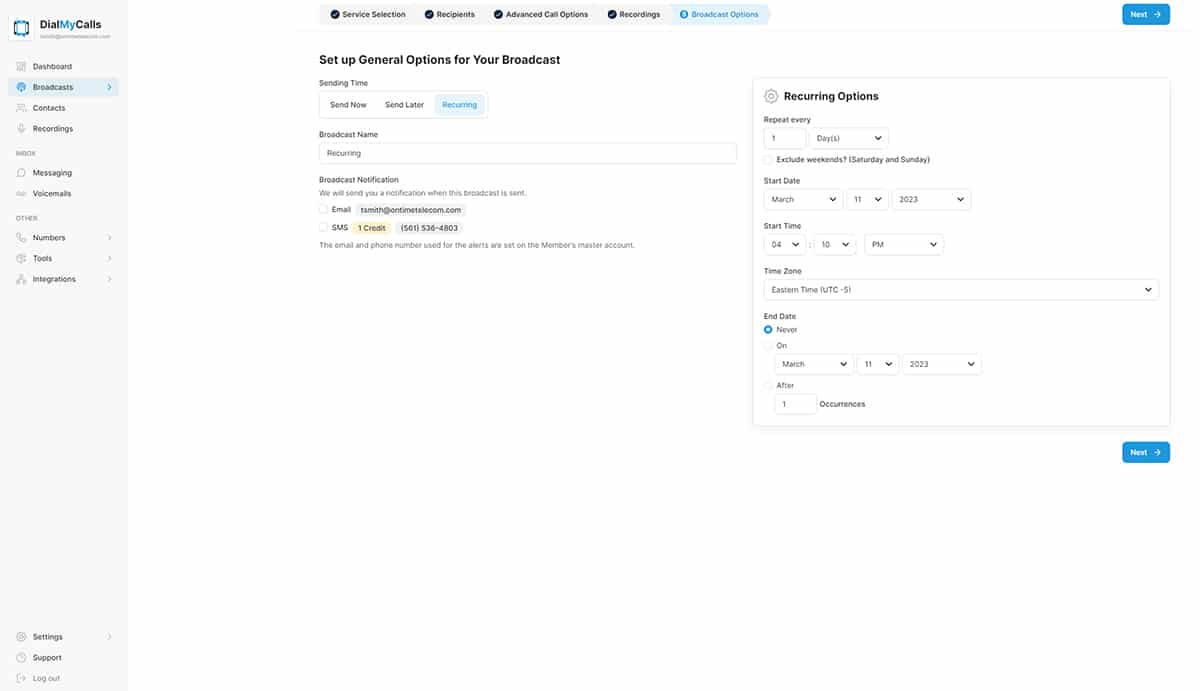 Once a recurring message or multiple recurring messages are set up your home dashboard will be updated and all of the upcoming messages will be displayed under "Upcoming Broadcasts". Every recurring message will show the date and time that it will go out, the name and then how many contacts that specific broadcast will be sent to.
Manage Your Recurring Messages
How do you manage your recurring message(s) once you have them scheduled? Once logged into your DialMyCalls account you will see a widget area that displays all active services – Recurring Messages will appear once one is set up. Click on "Manage" to open up the "Manage Your Recurring Messages" section of your account.
The "Manage Your Recurring Messages" section will display every recurring message that is currently set up in your account. The broadcast name, frequency of your message, and date of both the last message sent and the next message that will be sent are displayed. From this dashboard customers are able to edit, pause/resume, or delete recurring messages from the DialMyCalls account.
Clicking on "Edit" will allow you to edit the frequency and time that your recurring message will be sent out. If you'd like to change the message details and/or contacts for your recurring message then you will need to click on "Edit Contacts & Broadcast Content" at the bottom of the pop-up window.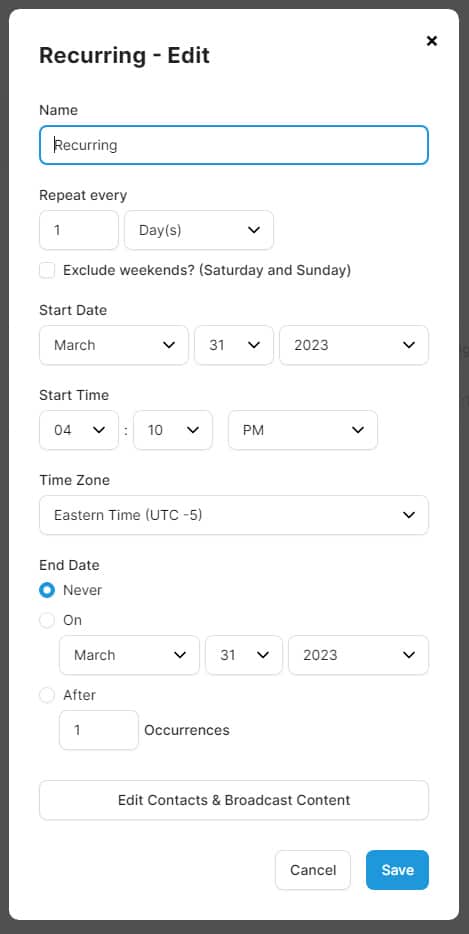 How Much Does It Cost To Create Recurring Messages?
Recurring messages is a brand new feature that comes with every DialMyCalls 3.0 account. In order to utilize recurring messages you will need to purchase credits or a monthly plan. Credit users will have to enable "Auto-Replenish" which will set your account up to automatically buy more credits if you get close to running out. Monthly users will have to agree to a new ToS that explains an overage fee will be charged if they go over their allowed broadcasts per billing cycle. Recurring messages will use credits or a monthly plan to be sent out – there is no additional fee to enable this feature.
With the launch of DialMyCalls 3.0, customers now have the ability to set up recurring messages to send out on a daily, weekly, monthly, or yearly basis. If you have any additional questions, please contact us for more information.