How to Send a Phone Call, Text Message & Email to All Your Contacts at Once
Customers now have the ability to send a voice broadcast, SMS text message broadcast, and an email broadcast to all of their contacts at the same time! Version 3.0 introduces a brand new, streamlined design that makes sending out mass notifications easier then ever before.
Upon logging into your DialMyCalls account and adding contacts to your account, you are now ready to send them a phone call, text message and email by following a few simple steps.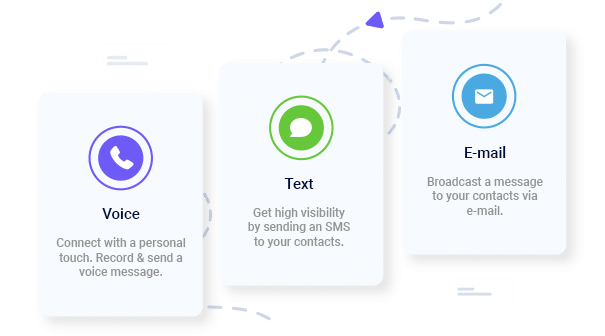 Select Contacts
Who do you want to receive your broadcasts? Easily select individual contacts, a certain group of contacts, or you can use our "Select All My Contacts" option to send a phone call, text message and email to everyone in your account – you must have an email address associated with your contacts in order to use the emailing feature.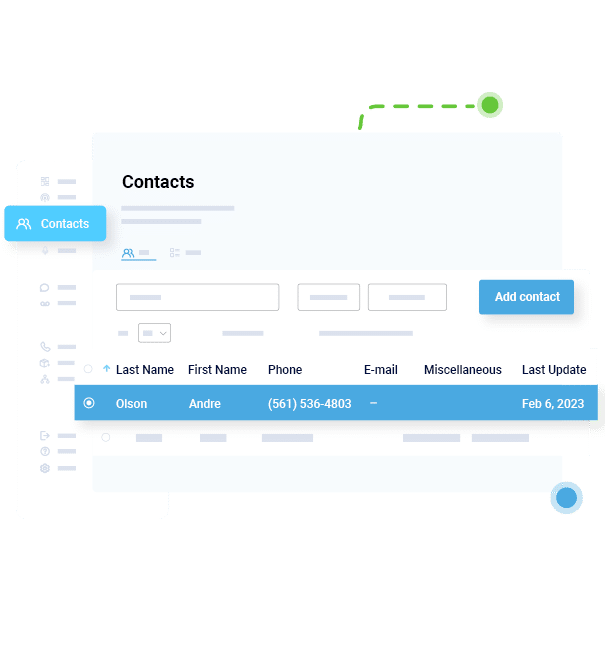 Set up Advanced Call Options
Let's go ahead and set up the voice broadcasting aspect of the notifications you are going to send out. The first thing you will want to do is select the Caller ID that will be displayed when your recipient receives a phone call.  You now have the ability to add our 5 advanced features (listed below) to your call – these features are completely optional!
DialMyCalls Advanced Calling Options:
Push To Opt-Out – Allow your recipients to press a key to be added to your "Do Not Call" list. (Free)
Push To Leave A Message – Allow your recipients to press a key and leave a message for you to listen to. (1/2 Credit Per Call)
Polling – You can ask questions and let recipients press a number to track and see their response. (1/2 Credit Per Call)
Push To Talk – Recipients will have the ability to be automatically connected to any phone number of your choice. ($0.05 Per Minute)
Push To Repeat – Allow recipients to press a key to listen to your message again. (1/2 Credit Per Call)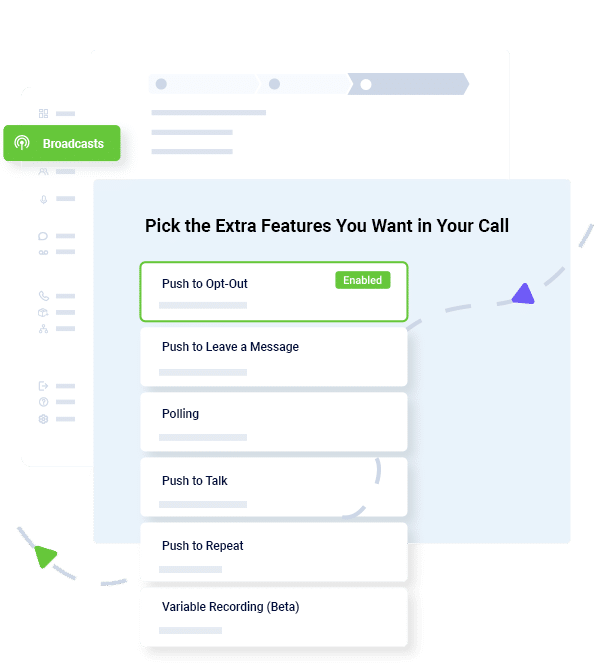 Select Recording to Send to Contacts
The final step for the voice broadcast portion is to select the recording that you want to send to your contacts – if someone answers the phone it will play back the recording immediately but if it detects an answering machine, it will wait for the beep and then leave the message.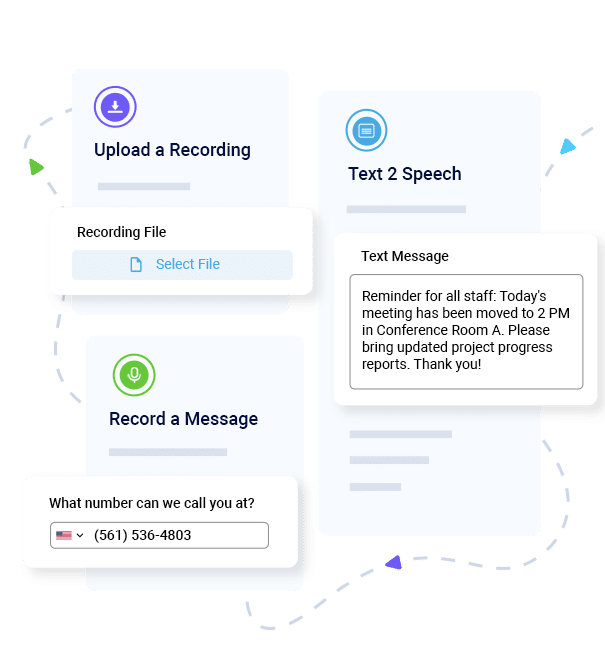 Create Text Message to Send Contacts
Now that we have set up the automated phone call aspect, let's go ahead and set up our SMS text message. You will be asked to select your "SMS Keyword" which is going to be your unique identifier when sending out a text message through DialMyCalls – all texts will come from our short code, 80123, and your keyword will be displayed in parentheses before your typed out message. Once you've selected your keyword and typed out your text message, go ahead and click "Next" to proceed to step 6.
Type out Email to Send
Version 3.0 of DialMyCalls now offers the ability to send out a customized email message. Previously, customers were able to send out an email but it was a template that did not have the option to customize the message being sent. Type out the email you'd like to send out alongside your phone call and text message – once you are done click on the "Next" button to proceed.
In addition to our free email service, Advanced Emailing is now live and allows you to customize your email even more by adding in a custom email domain, rich HTML email contents and image attachments directly into your email messages. For more information regarding our premium advanced email, head on over to the official Advanced Mass Email Service page now!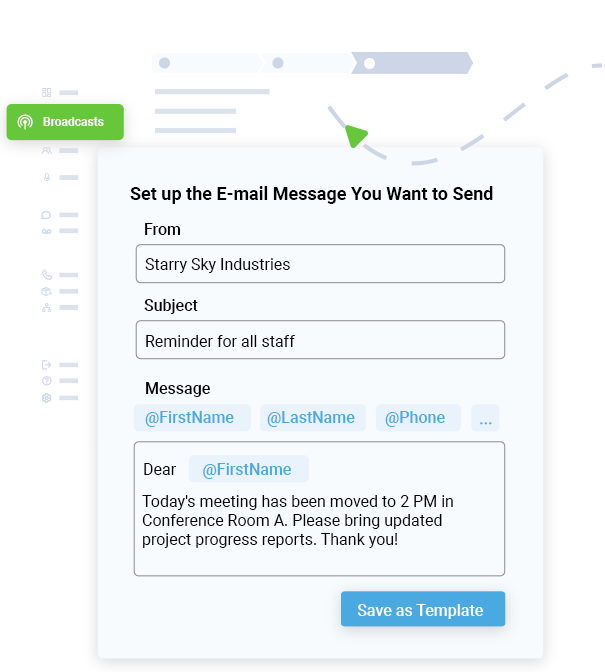 Send Broadcast Immediately or Schedule for Later Date/Time
Your automated phone call, SMS text message and email broadcast is now set up – the only thing left to do now is decide when you want to send it to your contacts. DialMyCalls will allow you to send your broadcast immediately or schedule it for a later date/time. From the menu, choose when you'd like your broadcast to go out – you also have the option to name your broadcast which is strictly for your records and will be used to view the detailed report.
Review Your Broadcast
You have reached the final step of setting up a broadcast with DialMyCalls! Keep in mind that on the confirmation step, your broadcast has not been sent out or scheduled yet, you need to review all of the information for the broadcast, including the contacts, phone call recording, text message, email, and the time that you are sending it out. If everything looks good you can scroll to the bottom and click on "Send Broadcast Now" or "Schedule Broadcast" to complete the process of sending out a phone call, text message and email to all your contacts.
Check the Status of Your Messages
Once the broadcast you just set up is complete you will be able to view detailed reports for the three types of messages that were sent to your contacts – there will be an individual report created for the automated voice broadcast, SMS text message broadcast and email broadcast.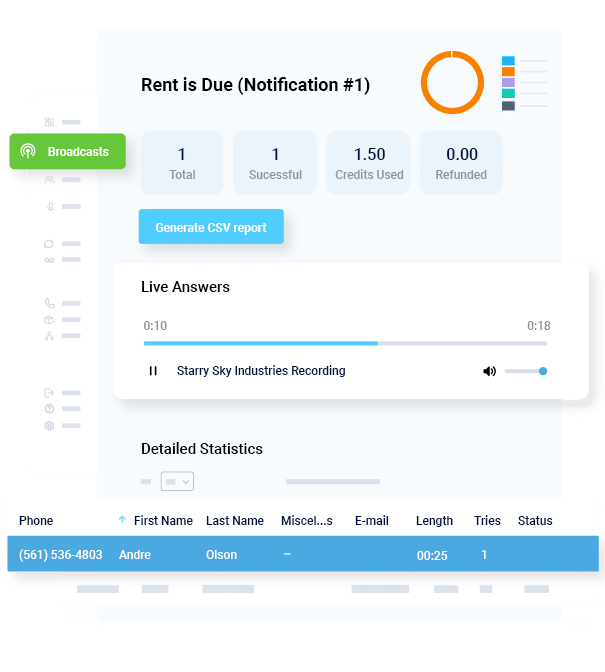 With the brand new version 3.0 of DialMyCalls it is easier than ever before to send out an automated phone call, text message and email to all of your contacts at once. Get started today by signing up for a free account! If you have any additional questions, please contact us for more information.