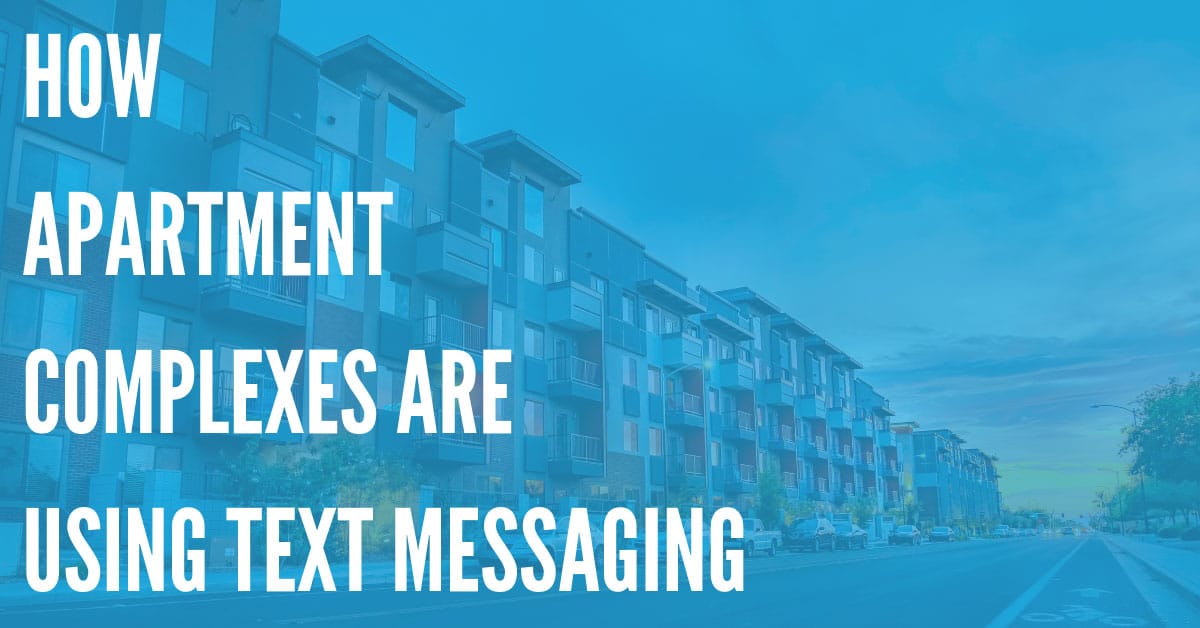 Anyone whose rented out property before knows that many of the biggest hassles involve communication with residents. Residents, too, know that many of the biggest hassles of living in a rented home come from communication with the landlord or leasing office.
Thankfully, it doesn't stop there. As technology has evolved, it has solved many of the hassles common to both sides. With the prevalence and ease of use of text messaging, landlords and residents can have an easier time than ever collecting and paying rent, submitting and responding to maintenance requests, alerting neighbors, and otherwise communicating.
Why Text Messaging for Apartment Complexes?
Electronic communication with apartment residents is nothing new. For years now, landlords and leasing offices have been able to communicate with residents via phone calls and emails. Over time, though, texting has come to be the more obvious solution.
Email, for example, seems a clear option for use in communication, especially for longer statements and to reach those who can't answer phone calls during the work day. However, only about 34% of consumers check their email throughout the day. And of course, there's always the risk that an email will be sorted into Spam or Junk Mail.
Phone calls are also a common communication method. However, many phone calls are ignored. Some of these are due to individuals simply preferring written communication over spoken.
However, people almost always have their phones within reach. And the vast majority of individuals use SMS text message services regularly. Sticking with a form of communication that's written, concise, and simple to respond to makes it all the more likely that the recipient will reply.
Sending Rent Reminders by Text Message
Rent reminders are one of the most pressing communication issues for those involved with apartment complexes. As such, there are many reasons that text messages can make this process easier, faster, and more efficient.
For example, many landlords are made especially uncomfortable when they need to confront tenants about late rent – especially when the tenant is a repeat offender.
Rent reminders via bulk text messaging allow landlords to remind all residents at the same time. They can also include all related information, such as how to pay rent or how much is due. On the resident's end, this can be made simpler if a link to an online payment method is included. Mass pre-recorded phone calls can also be useful for reminding tenants that rent is due in a timely manner.
Doing so may be easier than you think.
With DialMyCalls, you can schedule mass text messages or voice broadcasts in advance – even personalized to each individual recipient. Messages can be written, or formed from templates, and scheduled for release immediately or at a later date. These messages can be sent to every number on a specified list at the same time.
That means that personalized texts could make their way to each resident detailing the amount they have left to pay that month, when it's due, and how to pay it.
Also with DialMyCalls, responses to these calls and texts can be tracked in the DialMyCalls dashboard. This lets the sender know which texts were opened, which calls were answered, and how recipients responded to each.
Text Messaging for a Two-Way Conversation
Rent reminders aren't the only way that bulk text messaging and phone calls can benefit those working for or living in apartment complexes. There are many benefits to keeping up easy, constant communication between residents and management.
Maintenance Issues
For example, the status of maintenance problems and projects can be managed much more easily when both sides have access to quick, text-based communication. This communication can be two-way. Landine texting offers building managers the ability to have tenants send text messages directly to the building's existing landline phone – you no longer need to purchase a separate mobile number to let you tenants communicate with you via text message.
For example:
A sign is posted in a prominent place that says, "Maintenance issue? Text BROKEN to 77702 to notify support staff."
When this message is sent, it allows you to choose the severity of your problem and can put you in touch with a staff member immediately, if necessary.
Community Alerts
Additionally, mass text messages are a great way to send out community alerts about all sorts of things – construction, runaway pets, or recurring community problems, to name a few. Residents who have opted in to these notifications can receive important information, instantly.
For example:
South entrance (Hurley St) will be closed June 11-16 due to construction. Sorry for the inconvenience - new pool coming soon!
Tenant Recruitment
Apartment complexes can also use text messages to exchange information with prospective residents. A sign posted along the road, or a banner on the complex's website can direct interested individuals towards more information, or a conversation with a staff member.
For example:
A sign in front of the building advertises that there are vacancies and tells interested parties to text "SWEETHOME" to 77702.
Those who do receive this reply:
We currently have 3 vacancies at our Ponce Bridge location. All 2 bedroom, 1 bath. To speak with our leasing office/schedule a tour, call 555-4567.
The Bottom Line: SMS as a Tool in Your Toolbelt
SMS text messaging is just one part – but an important part – of an arsenal of technological tools that can be used to improve communication between apartment complex management and residents. Mass phone calls and emails are also important.
All of these communication types can be used as rent reminders, maintenance problem notifications, community alerts, and other conversation starters to ensure that nothing slips under the radar. Additionally, they can engage prospective residents and streamline the renting process.
If you think your management of an apartment building could be made easier with these tools, try a free trial of DialMyCalls. With our easy setup process and low prices, we'll have you sending important SMS broadcasts in no time. Try out DialMyCalls completely free right now click here to sign up.