SMS(Text) Marketing for Hotels & Hospitality
If you're in the hospitality business, you'll want to consider using SMS marketing for hotels. As a highly effective and affordable marketing channel, this tool can be extremely versatile. It provides you with an excellent way to connect with prospective and current guests, helping you build a strong relationship with them before, during and after their stay.
The Benefits of Text Message Marketing for Hotels
SMS marketing for hotels provides a wealth of benefits including attracting new customers, better serving current clients, collecting feedback during and after visits, and encouraging previous customers to return again as well as refer others.
By using text message marketing for hotels, you have the ability to reach thousands of potential customers. It's a far more effective way to advertise—instead of being yet another unwelcomed pop-up ad or distracting billboard, you can reach customers through the type of communication they prefer to use on a daily basis. Since customers must opt-in to receive SMS marketing messages, they will be much more eager to engage with you.
Text messaging can also enhance the experience of current clients by making communications personal. A welcome text, which contains the Wi-Fi password and the pool hours, can effectively improve guests' stays and start them off on the right foot. Throughout their time at your hotel, you'll be able to provide them with reminders and coupon codes that will make their stay as enjoyable as possible—and encourage them to return.
Additionally, after guests leave, you can use hotel SMS marketing to gather feedback. This is a great way to make customers feel heard, give you ideas for improvement, nip any incidents or problems in the bud, and obtain positive reviews to share.
Increase Customer Loyalty
SMS marketing for hotels is an extremely effective way to keep customers coming back for more. Be sure to give customers plenty of opportunities and incentives to opt-in to your hotel text marketing subscriber list. Offer a discount for their hotel booking if they opt-in before they call for a reservation. Ask them to accept text messages after making a reservation so they can receive important communications before they arrive. Upon check-in, invite them to opt-in to receive a restaurant discount during their stay. If they still haven't joined your subscribe list at check-out, encourage them to sign up to complete a survey for a chance to win a gift card.
Once you have established a subscriber list of past customers, regularly text them with special deals and discounts, helpful hospitality-related content, or survey requests. If you have a slow period, offer this group big discounts first. During peak periods, open up reservations early to your subscribers. Run surveys asking for input on new services, rewards programs, or amenities. Make your SMS subscribers a partner of your hotel.
Reservation Confirmation & Reminders
One of the incredibly practical hotel text marketing examples is sending reservation confirmations and reminders by mobile means. People are always checking their phone today, which means a high likelihood of seeing your message. This is not only an easy way to encourage opt-ins to your subscriber list, but it will provide them with an automatic reminder of their upcoming commitment.
If customers' plans change, SMS two-way communication channels can offer a convenient way to cancel or change their reservation from their phones. This makes it less likely that you'll have last minute cancellations and empty rooms on short notice.
Concierge Services
Top-notch hotels provide a variety of concierge services to customers, and SMS marketing for hotels is an excellent communication channel addition. During peak periods, sending a text message is often preferred over sitting on hold.
Not only can your concierge team work more efficiently from guests' text messages, but you can shift some common questions to automated responses.  For example, establish a keyword such as EVENTS that will automatically send a list of upcoming activities or a link to your event calendar by text.
SMS marketing for hospitality systems can be used to make local reservations, secure ticket purchases, request luggage assistance and arrange spa appointments, making it much easier to deliver stellar customer service on a consistent basis.
Requesting Valet or Taxi Service
If your hotel offers valet parking services, SMS marketing for hotels is a great way for guests to request their vehicles. When they are ready to leave for the day, they can simply text your valet services and have their cars brought around.
In addition, if customers require a taxi, these can also be requested through a hotel text marketing message to the front desk who can then make arrangements with the local taxi company. The key is to make valet and taxi services as simple and quick as possible.
Room Service
SMS marketing for hotels can help you streamline room service orders, ensuring that your guests receive hot meals as quickly and efficiently as possible. Customers can simply send a text order with any special requests. Your restaurant staff will have easy access and accurate information about each order as well as room number delivery data.
Offers & Discounts
Offering discounts to frequent guests is a great way to encourage customers to return again and again. An opportunity to save money can be a great incentive for customers to opt-in to receiving regular text messages as well as to stay at your hotels whenever they're on the move. Text message marketing for hotels is a great way to offer special rewards for returning customers to show your appreciation for their patronage.
Remember that your current customers are your best ones. If you want to run a special promotion during a slow period, extend the best offers to your subscribers first. If you'll be adding a new amenity or location, be sure to give your current customers a sneak peak and first-comer discount.
Spa Service
If your hotel offers spa services, SMS marketing for hotels can help you communicate with and schedule interested customers. Offer a spa discount for opting in, use text messages to upsell services, and send appointment reminders by text. Be sure to provide a link for appointment changes and cancellations to minimize or eliminate no-shows.
After your customer has enjoyed services, be sure to solicit feedback so you can address problems immediately or gather input for improving future services through your hotel SMS marketing system.
Gather Customer Feedback
Just about everyone turns to online reviews before making any decisions today. Positive customer feedback speaks volumes in advertising for your hotels. Although some guests will occasionally take time out of their day to write reviews, it usually seems to require too much effort. SMS marketing for hotels makes submitting feedback fast and simple; just a quick link to a short survey from a text message. It's a great way to boost positive reviews; many customers are happy to respond when they are asked.
Giving customers the opportunity to share feedback is also a great way to make them feel heard. If a complaint comes through your feedback channels, be sure to address problems promptly. You want your customers to walk away satisfied. Take to heart any ideas or improvements as well, especially if you hear the same suggestions repeatedly.
Restaurant & Bar Promotions
Do you have bars and restaurants affiliated with your hotel? If so, SMS marketing for hotels is an excellent way to promote these in-house drinking and dining options. Encourage opt-ins with a special dinner or drink discount. Announce the entertainment for the evening or spread the word about happy hours through text messages.
Other hotel SMS marketing examples may include reservation management messages. During peak restaurant hours, you can use text messages to contact guests when their tables are ready so they can stay in their rooms relaxing while they wait. Be sure to ask for feedback and suggestions after each dining experience.
How to Get Started With SMS Marketing for Hospitality & Hotels
One of the first things you'll want to consider before you begin an SMS marketing for hospitality program are your goals. Don't dive in without a plan; think about what you'd like to accomplish with SMS marketing for hotels first. Do you want to attract new customers? Improve your customer satisfaction ratings? Increase repeat visitors? Fill rooms during slow periods?
Next, you'll need to sign up for a text messaging platform like DialMyCalls. It's easy and free to sign up for an account, and you'll have a trial period to explore all the capabilities of the platform.
Once you've found the right service, you'll need to build a subscriber list. Remember, you'll need to obtain permission before you start sending SMS messages. You can encourage opt-ins through email and booking communications, on your website, in print or billboard advertising, or on bar or restaurant tabletop displays.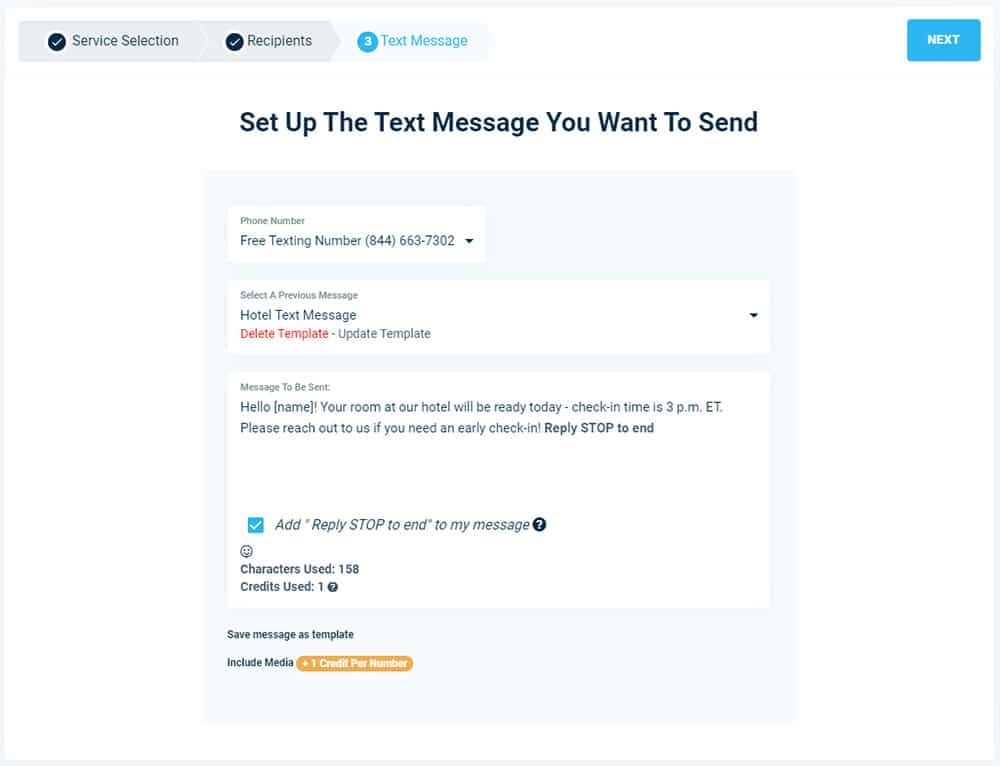 After you have created a subscriber list, DialMyCalls allows you to subdivide your lists so that you can make your communications extremely targeted. For example, potential customers can be on one list, ready for new discounts or deals while current customers at your location can be on a different list, ready for updates to pool hours or restaurant news. Recently checked-out customers may be on a third list, and you can send feedback requests or appreciate texts to them.
Make text messages short and concise; that's the beauty of the channel. Try to find a good balance between too many text messages, which can feel like spam, and too few, which will drop your hotel off your audience's immediate radar. Keep track of your data—such as when people tend to unsubscribe—and use it to improve future campaigns.
Hotel SMS Marketing Examples
If you're ready to get started, here are some hotel SMS marketing ideas to help you start building those long-term customer relationships:
Promotional – Hotel Text Message
If you're heading to Miami for spring break, be sure to book a room with us early! Take advantage of our early bird special.
Booking Confirmation – Hotel Text Message
Thanks for making a reservation for Oct. 1-3. If you need to cancel or change your booking, use this LINK.
Reminder – Hotel Text Message
Looking forward to seeing you on Saturday! Changes or cancellations? Click LINK. Check out our trip checklist! LINK
Welcome – Hotel Text Message
Glad you're here! Pool hours are 10 a.m. to 10 p.m. Stop down for a free drink during happy hour at 5 p.m.
Restaurant Promo – Hotel Text Message
Hungry yet? Stop down and enjoy a free appetizer with your meal or text us your room service order LINK.
Concierge – Hotel Text Message
Text us for taxi, laundry, or luggage service. See events for today at LINK.
Feedback – Hotel Text Message
Thanks for staying with us? Let us know how we did for a discount for your next stay. LINK
If you're ready to give SMS marketing for hotels a try, sign up for a free DialMyCalls account today. Explore our many features that will help hotels connect with and build loyalty with customers through flexible, affordable text message marketing for hospitality channels.
Send Thousands Of Phone Calls, Text Messages, or Emails Per Minute!