New Widget Offers Recording Playback On Your Own Website
Posted by Tim Smith in General Post on June 11, 2015
You now have the ability to add your latest DialMyCalls recording directly into your website with our brand new embeddable widget. Once you have sent out a broadcast through your account, visitors of your website are able to play back that message right from the embedded audio payer on a designated page of your choice.

Who Can Use The Latest Recording Widget?
Anyone with a DialMyCalls account has access to our brand new recording widget. Embedding the widget does require your own website – the widget is not able to be embedded into an email.
How Do I Use The Latest Recording Widget?
Once you have established an account with DialMyCalls you are going to want to decide where you will place the embeddable player at on your website. After selecting a location you will now need to copy/paste the embed code into your site. Log into DialMyCalls and then click on "My Account" -> "Integrations" -> "Embeddable Widgets" -> "Shows My Latest Recording".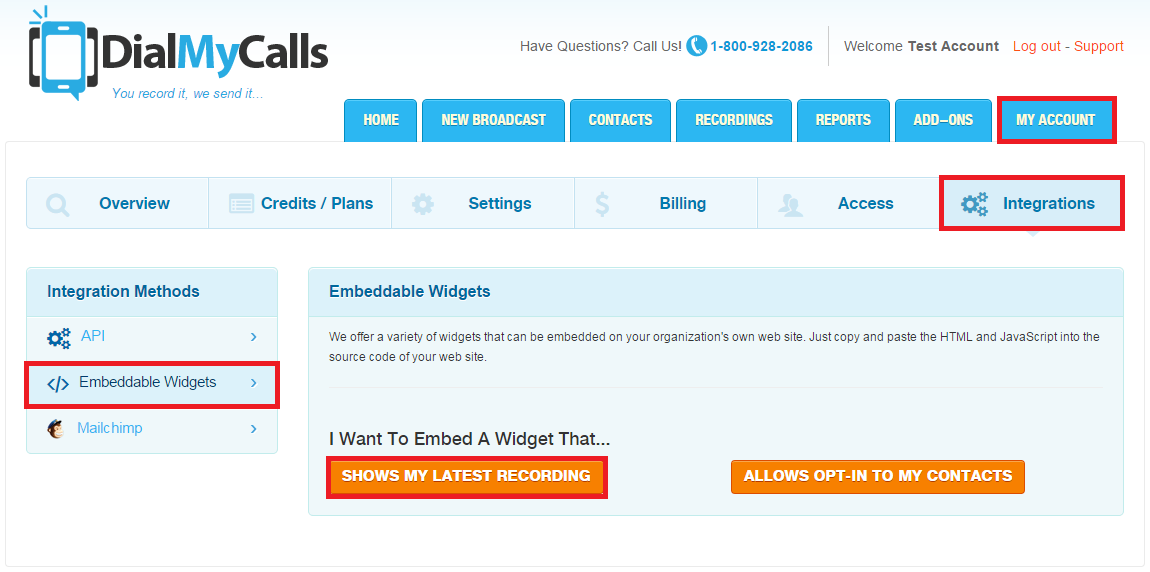 *Click Photo To Enlarge*
A sample player will be displayed along with the code for the player – copy/paste the embeddable code into your website and you are ready to go. Upon sending out a voice broadcast from your account the audio player will update and that recording will be available to play for all of the visitors of your website.

*Click Photo To Enlarge*
Why Should I Use The Latest Recording Widget?
The brand new embeddable recording widget gives you one more format in which folks can hear your important messages. In addition to sending out your recording via phone call and email you can direct visitors to your website for a daily, weekly or monthly update using the embeddable audio player. Make sure that no message goes unheard by utilizing our brand new widget on your website today! Check out our sample below to see how the widget looks when embedded into a website.
Latest Recording Widget Example – Sports Team Website:
A sports team can utilize the embeddable recording widget to keep coaches, players, and parents on the same page regarding upcoming games, cancellations, league registration, or other special events. Once a broadcast is sent out our widget can be placed on the team's website. From that point on the recording will automatically update whenever a new broadcast is sent out through DialMyCalls. This allows the coach to direct all of the coaches, players and parents to that particular page to check for weekly updates.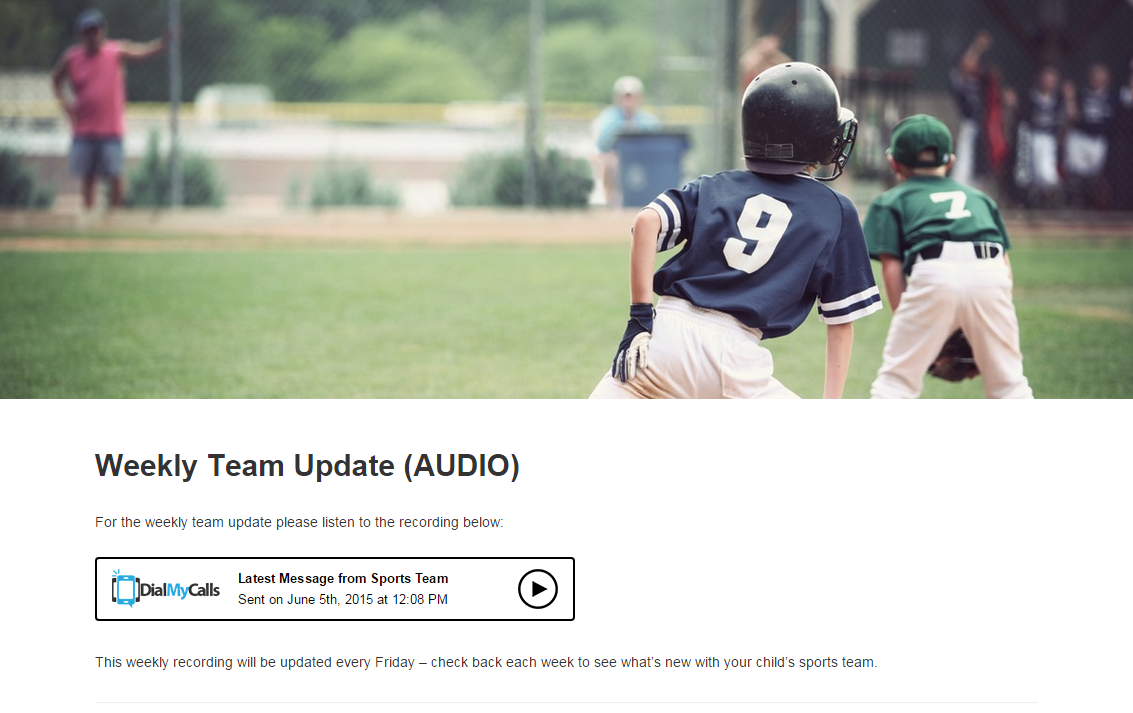 *Click Photo To Enlarge*
For more information regarding our brand new latest recording widget, please visit the official Embeddable Widgets page. If you have any additional questions, you can contact us 7 days a week!
*The recording only updates once a broadcast is sent out through DialMyCalls – creating a new recording in your account does not update the embeddable widget, it has to be created and sent as a broadcast.