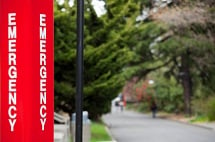 Today marks the five year anniversary of the Virginia Tech massacre in which 32 people lost their lives at the hand of Seung-Hui Cho.
Tragedy will forever live on at the Virginia Tech campus in Blacksburg, Virginia as the 2007 massacre is the worst mass killing in United States history. The campus will not be closed for the first year since the shooting took place and will be holding events all day long as they remember the victims who were taken from the world too soon.
While nobody wants to see a repeat of the Virginia Tech massacre, the devastation five years ago have made campuses all across the country beef up their emergency response systems. Emergency Notifications provide schools the ability to send out voice message, text message and emails to all of their students, faculty and their parents in a matter of seconds.
Nobody can ever predict that such a horrific event like the shootings in 2007 but it cannot hurt to be as prepared as possible by setting up emergency notifications.
Please take time out today and remember those 32 people that were killed in the Virginia Tech massacre.
← Previous Article
Next Article →
Sign up now and try our services for free!
Use the promo code DMCBLOG and get 25 free extra credits