School Emergency Notification System
Notify students, parents, teachers, and staff via phone or text using our school emergency alert system.
School Emergency Alert System
A college campus is like a very small town with a very young population. Trying to alert this large group of college students, their parents, and your faculty and staff in the event of an emergency can be a complicated and time-consuming task. In order to best protect its population, a campus needs to find a fast and convenient way of staying in touch with them.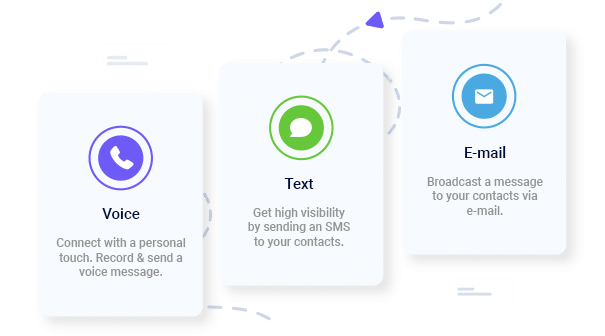 School Text Alert System
College students — and high school students — are more inclined to check a text message immediately as opposed to a voicemail, email, or even a phone call.
For this reason, many campus administrations are searching for ways to alert their students using this preferred method of communication. As they implement emergency alert systems with SMS text messages they find that this method works better than any other used in the past for a variety of reasons:
You will be hard-pressed to find a kid roaming your campus without a cell phone and experience with using SMS text messaging. Whether in class or in the cafeteria, one buzz from their pocket and they are pulling out their cell to check and see who is sending them a message.
A keyword in place of a phone number as the SMS sender lets your student body instantly know that this is emergency information that needs to be read immediately. Seeing that a message is coming from "UCLA ALERT" will let the student know that there is a campus emergency.
With a text message, you are assured that the alert is clear and easy to understand. A college campus is a noisy place where important details may be missed in a voice message. Having the alert written out allows the recipients to easily review what steps they need to be taking to protect themselves from harm.
Utilizing a system that college kids are more comfortable with assures that your bulletin will reach the overwhelmingly majority of them.
Setting Up a School Text Alert System for Emergencies
Executing a broadcast text messaging system on campus is easier than you might think. With a company like DialMyCalls, all the setup entails is signing up for the service and setting up your contact lists.
Once you have created an SMS broadcast message account, follow these steps to make sure that it works perfectly when you need it the most:
Place posters around campus that let the population know of your SMS emergency notification plan. On those posters the students should be encouraged to keep their contact information up to date. It should also share the personalized keyword that you will be using.
The "My Contacts" page has all the information you need in one place to add, delete, or edit each of your contacts. Organize lists of students by year or dorm and have separate groupings for parents, faculty, and staff.
When an emergency is imminent be prepared to provide different directions for your different groups. Students may need to be told where to go to seek shelter or the evacuation plan for the campus, parents will want reassurance that you are taking care of their kids, and your faculty and staff need to know what to do in order to help. With your contacts organized in groups, accomplishing all of this will only take a few minutes.
Set up and save messages in advance. This will save you precious time when you are facing an emergency.
A college community needs to grow with the times and adapt to the needs and preferences of the ever-changing student body.
When you adopt systems that are user-friendly to both you and them, you not only make it easier to keep your students safe, you show a higher level of care for their security. That's why an emergency notification system for schools is so important.
Send Thousands Of Phone Calls, Text Messages, or Emails Per Minute!