Campus Emergency Notification System
With almost all students carrying cell phones these days, setting up an effective on-campus emergency alert system is easier than ever before. Notify students directly to their phone about immediate danger or issues on campus & advise them of the proper steps to take.
Campus Alert System:  Emergency Notifications Enmasse
College and university officials are charged with the safety and security of thousands of young adults.
With midterms and dating and plans for Spring Break on their minds, getting their attention in an emergency is a problem. DialMyCalls is the solution.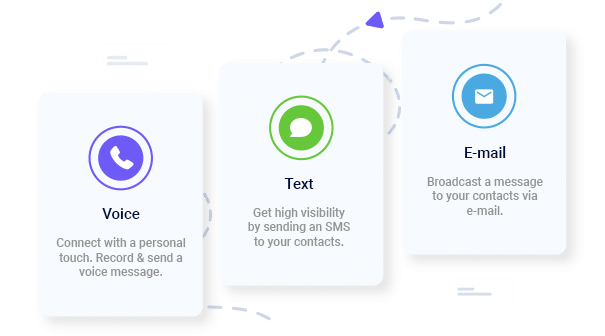 Campus Communications Solutions
Your college campus is a town all on its own. You have accommodations for sleeping, eating, and playing. You probably even have your own police force to help protect your students. As a small town, you are subject to emergencies and crises that can show up at any second. As the leader of this 'small town' you are responsible for diverting those dangers.
Bomb threats, intruders and fires along with dozens of other risks can all jeopardize the safety of your students. As an administrator, it is your responsibility to alert the students, faculty, staff and even the parents when there is a crisis taking place on campus. With DialMyCalls this can be done in seconds using voice messaging or SMS text messages for an easy-to-use campus alert system.
Health Warnings To Notify Students
With so many young adults living, eating and working in such close quarters, a viral outbreak could put the health of your entire student population at risk. At the first indication of a pandemic, you and your staff should be reacting by being proactive and alerting the students, faculty and staff of the potential risk and the steps that they need to take to avoid being affected. Use your DialMyCalls account to send a voice message to your entire campus instructing them where to go if they begin to feel ill.
Campus Alert Systems To Enhance Student Safety
Administrators are not the only ones who can make use of DialMyCalls. Students who are in charge of overseeing their resident halls should have their own accounts to quickly alert students in the event of a fire, intruder, gas leak, or water main break in the dormitory.
If the dormitory needs to be evacuated, they can use the DialMyCalls App to access their account and text message a headcount to make sure that all of the residents have exited the building safely. All the students need to do is leave a response, and the dorm leader knows they have made it out without harm.
As an administrator overseeing thousands, delegate some of your responsibility with the help of DialMyCalls. All you have to do is stay in touch with these student leaders with the 2-way SMS texting feature to find out the status of your entire student population.
Emergency Alerts for Parents: Keeping Everyone Informed
Parents expect updates and you can organize them as a separate contact group in your DialMyCalls account and send them messages as the emergency situation is unfolding and in its aftermath. They might have a hard time reaching their child during the crisis, but your words of encouragement will let them know that you have the situation under control.
There are any number of potential catastrophes threatening the tranquility of your college campus. Be prepared to take control of any situation with a solid form of continuous communication and make it so that no problem on campus is too large for you to handle.
Send Thousands Of Phone Calls, Text Messages, or Emails Per Minute!