How-To Guide on SMS Marketing for Gyms
At any moment in time, someone in your community is making a commitment to better health. Capture those potential customers who are making new and renewed resolutions by taking advantage of SMS marketing for gyms.
Such a program is an excellent way to attract new gym members as well as keeping your current ones happy, engaged, and healthy. It's an affordable, easy to use business strategy that helps your facility develop and maintain long-term relationships with those most important to you–your members.
Since members need to expressly opt-in to receive your SMS messages, you'll have their attention whenever you want to reach out with announcements, new programs, promotions, or other communications.
How SMS Marketing Works
The way SMS marketing for gyms works is your facility runs a campaign to build a subscriber list on an online text platform like DialMyCalls. Once you've created a list of prospects and current customers, you can easily sub-divide that list into groups that will receive personalized messages.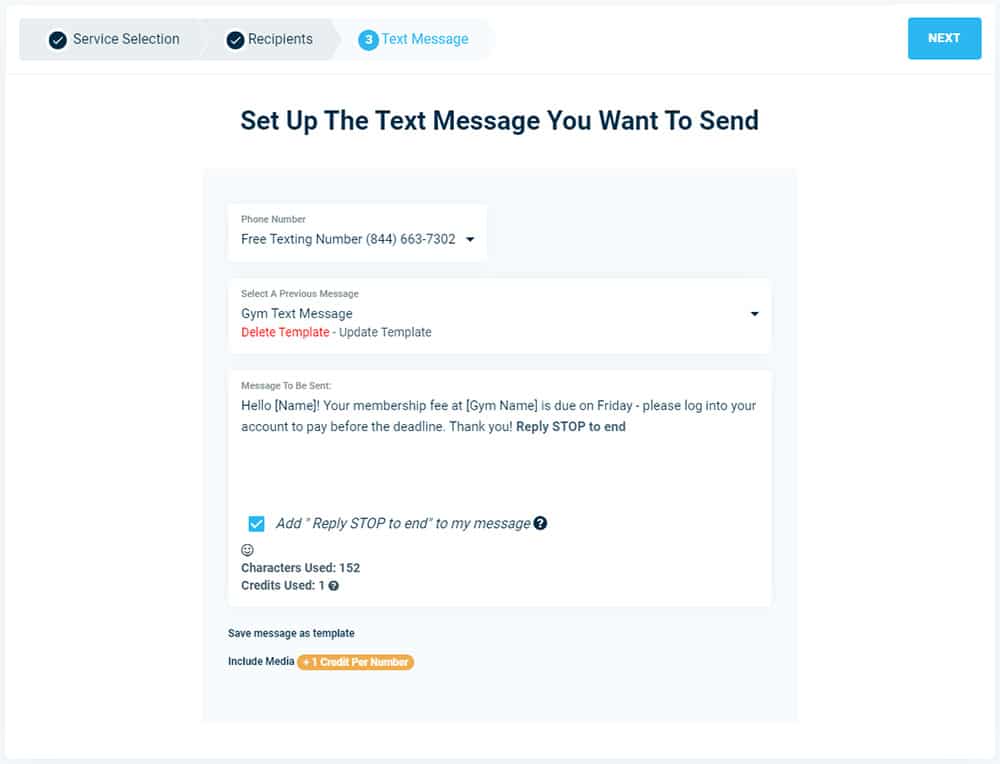 For example, one of your lists may be prospects who are not yet members but are interested in hearing from you. This is the perfect group to send promotions, new member deals, or free coupons to try a class. Another sub-list may be long-standing, loyal customers. Be sure to reward these faithful customers with sneak peaks and special deals on new classes or programs or member-only perks.
Text marketing for gyms may also include a two-way communication component, allowing your facility to invite members to submit ideas, feedback or reviews through the SMS channel.
Why Your Gym or Fitness Center Should Use Text Marketing
Nearly everyone has a cell phone these days, and the vast majority of individuals open and respond to text messages. Since text marketing for fitness centers requires that people opt-in to receive messages, they will be much more open to hearing what your gym wants to tell them.
Individuals are bombarded with advertising today, from billboards to junk mail to email. It's easy to see why so many tune-out to any business communication. However, SMS marketing for gyms is one of the most effective ways to reach both prospects and customers.
Whether you're interested in building new membership or increasing the participation of current members, gym text marketing can be an effective channel of communications. In addition, the ability to send SMS messages gives your fitness center a great way to remind members of appointments or classes as well as communicate about cancellations or last minute changes quickly and effectively.
Increase Memberships & Attendance 
By using SMS marketing for gyms, you can easily increase membership as well as attendance of current members. If you're looking for new members, run a complementary campaign to solicit subscribers to join your text messaging list by offering a discount coupon. Simply select a keyword and short code and publicize this information on email, social media, billboards, or flyers.
If you already have a subscriber list, consider running a bring-a-friend campaign, which rewards both the current and new member with a discount for subscribing.
For those gyms suffering from slow attrition, you can use gym text marketing to introduce new services, features or classes to build enthusiasm and increase attendance.
Send Exclusive Deals & Promotions
Remember that it's much easier to hold onto current members than to acquire new ones. If you have an attentive subscriber list, take care of these individuals first with exclusive deals and promotions. You want your SMS marketing for gyms program to make your subscribers feel taken care of and special.
If you're starting a new, soon-to-be popular class, be sure to open registration to your subscribers first, perhaps with an early bird discount. You don't want current customers to find out a popular class is full before they have a chance to sign up.
Offer special discounts and rewards or perhaps even additional hours that are reserved just for your subscribers to keep them engaged and happy.
Send Schedule Reminders
Text marketing for gyms is a great way to communicate with members about current commitments. Whether your subscribers are signed up for a weekly class or have a standing appointment with a personal trainer, sending an SMS message is a great way to remind them of their upcoming schedule.
This not only keeps your members engaged and coming back, but it ensures that your staff resources are maximized. For example, an automated appointment reminder can be sent 24 hours before a personal training session with a link to cancel or reschedule. This can give you adequate time to reschedule that trainer with another interested member.
Improve Engagement
The old saying "absence makes the heart grow fonder" does not work when it comes to business today. "Out of sight, out of mind" may be more apropos in today's society of short-attention spans and immediate gratification.
SMS marketing for gyms helps you stay in the forefront of your members' and prospects' minds so that they are always considering how your fitness center fits into their day or week.
Remember that you're not only competing with other gyms and fitness centers; you're also competing against other time commitments and interests of your members. By sending regular messages through your SMS marketing for gyms campaign, you'll improve engagement and build loyal, long-term relationships.
Keep Customers Informed
Another advantage of setting up a SMS marketing for gyms system is that it's easy for you to keep your customers informed about a wide variety of news and announcements from your gym or fitness center.
If you are ready to announce a new service, introduce a great class, or welcome a talented team member, share the news with your subscribers. In addition, you can keep customers informed about things like a change in hours, a cancellation of an appointment, or an update on renovations or construction in or near the area.
Your customers will appreciate the extra information, especially if it saves them a wasted trip or some frustrating aspect of their day.
Membership Renewal Reminders
Not only will you want to attract new customers to your gym or fitness center, but you'll want to hold onto your current ones as well. One important part of that retention effort is to remind members that it's time to renew their membership.
Although some facilities may automatically renew and charge members, some individuals may prefer to handle that renewal on their own, especially if they are considering cancelling. By using SMS marketing for gyms, you can open up a conversation earlier in the process. For example, one month before a membership expires, you can offer a special renewal deal if they choose to renew early.
If memberships do lag, SMS messages are great ways to stay in front of your customer to remind them to renew.
Resolve Scheduling Conflicts & Keep Staff Updated
Gym SMS marketing can be used to improve internal communications. Staff scheduling and changes can be time consuming for a gym or fitness center manager. Instead of relying on all manual processes, an SMS-based system can help automate some of the effort.
For example, regular schedules can be sent to all staff with a link to request schedule changes or days off. You may want to provide a link or communications about open shifts that need to be filled so that any employees looking to pick up extra hours can do so quickly.
SMS messages can be sent about service updates, emergency situations, center news, weather issues, or other communications. They can also be used to solicit feedback and input from employees.
How to Get Started with SMS Marketing for Gyms
When you're ready to get started, begin by selecting an online service provider such as DialMyCalls. Our service provides an affordable, easy-to-use system to help you launch a SMS marketing for gyms program. Sign up for a free account and try the service for 14 days at no charge.
Begin by creating a subscriber list, either by importing an existing contact list if you have subscriber consent or by running a complementary campaign inviting opt-ins. Once you have a large enough list to get started, select a goal or objective and begin sending text messages.
For example, if you're looking to build new memberships, send a series of discounts, invitations or bring-a-friend deals out to your subscribers. On the other hand, if you want to upsell services, you may promote a new series of classes to current members via SMS marketing.
Be sure to measure what works and what doesn't so you can continue to improve future campaigns.
Gym SMS Marketing Examples
To help you get started, here are some gym SMS marketing examples:
New Members – Gym Text Message
Ready to get fit? Join Jim's Gym before Friday and receive your first month free!
New Class – Gym Text Message
Did you love your beginner yoga class? It's time to take it up a notch and sign up for the advanced version. 10% off for the first 10 students!
Renewal Reminder – Gym Text Message
Can't believe it's been a year! Renew before Dec. 20 and get 15% off next year's membership.
Bring-a-Friend – Gym Text Message
Invite a pal to work out with you and get 20% off your next class while giving your friend the first month free.
Appointment Nudge – Gym Text Message
Remember you've got a 1 p.m. appointment with Joe, your personal training. Click to cancel or reschedule.
VIP Treatment – Gym Text Message
Thanks for being a 5-year member. Enjoy your next class on us!
Staffing Issues – Gym Text Message
We have extra shifts available for anyone who wants to earn a bit extra this month!
If you're ready to get started, sign up for your free DialMyCalls account. We'd love to help you get started with your SMS marketing for gyms campaign today!
Send Thousands Of Phone Calls, Text Messages, or Emails Per Minute!