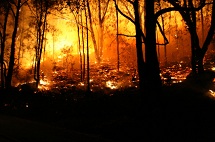 A recent wildfire in the mountainous region southwest of Denver, Colorado has claimed at least one life and left a path of destruction.
According to the Associated Press, authorities had to order the local residents of approximately 950 homes to evacuate due to the extreme nature of the wildfire. One sheriff's deputy, who was alerting people via his patrol car was trapped after he ran into a ditch because of the thick smoke – this is where an Emergency Alert System from DialMyCalls would come into play.
Reports say that only one person was found dead in the recent Colorado wildfires but it could have been a lot worse. Had the sheriff's deputy who had been manually alerting residents not been able to contact help via radio, his fate might have been different.
Send Wildfire Alerts With DialMyCalls' Emergency Alert System
DialMyCalls offers an extremely efficient Emergency Alert System for extreme situations like the recent Colorado wildfires. City officials can instantly send out an email, text message and/or voice message, alerting residents of a mandatory evacuation. Instead of having local sheriff's deputies risk their lives alerting people, DialMyCalls will do it for you!
We are extremely happy that the fires in Colorado have been contained and our gratitude goes out to the firefighters and law enforcement that kept things under control and minimized the amount of lives lost.
Read more aboutDialMyCalls Emergency Alert System.
(News Source: Associated Press)
← Previous Article
Next Article →
Sign up now and try our services for free!
Use the promo code DMCBLOG and get 25 free extra credits