Emergency Alert System for Businesses
Send a phone call or text message to your employees within seconds. Whether it's immediate danger or plant/office closings, now you can let everyone know what's going on easier than ever before.
Employee Emergency Notification System
Different workplace environments may have different needs, but one thing is constant: in case of an emergency there needs to be a fast and reliable way to alert the entire staff, even at different locations.
DialMyCalls has the ability to contact everyone quickly and efficiently, letting you attend to the important task of taking charge of the crisis.
How Employers Can Keep Employees Informed
You have a responsibility to keep your employees informed and safe during an emergency situation. Trying to stay in touch with that many adults, sometimes in different locations, can be a challenge if you don't have mass notification system already set up to deal with a crisis.
An emergency is not going to wait for you to be at your desk before it presents itself. DialMyCalls makes sending a message from anywhere easy by offering a free mobile phone app that allows you to access your account no matter where you are.
Employee Alert System In The Wake Of A Natural Disaster
Certain parts of the country are prone to different forms of natural disasters that could wreak havoc in your town and cripple your business. Depending on where you are located can make a difference in the types of emergencies you need to be prepared for.
Use the two-way text messaging option to check on the status of your employees and buildings in other locations and also to communicate with any employees who may have been out on the road when the tremor hit. From the details obtained in the responses, you can get a head start on restoring your business to operating condition at all locations.
You can help dispel that fear in your employees by staying in constant contact through your DialMyCalls account.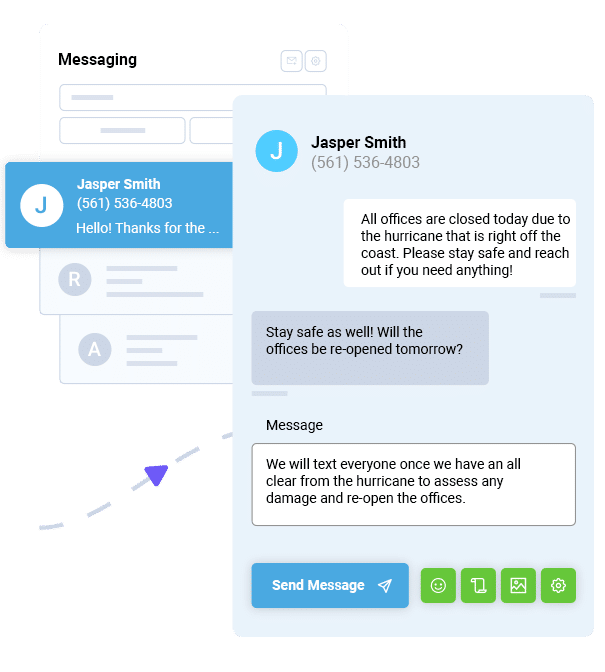 Evacuating Your Building is Easier with an Office Alert System
Man-made disasters such as gas leaks and fires often force a building to be evacuated until the problem can be contained. Manufacturing plants involved in productions that involve a large number of chemicals such as fertilizer and pesticide companies are particularly prone to these types of emergencies.
To be prepared for a sudden office evacuation, you and your employees should already have a well-known exit plan in place as well as a nearby meeting place. As soon as you become aware of the crisis, log in to DialMyCalls and send all of your employees a text message alert that you have made and saved in the system.
The text should be short and to the point, along the lines of:
ALERT This is not a test. Stay calm and exit the building immediately.
As the details of the crisis emerge, use the voice broadcasting feature to relay more specific instructions. It is important at this point to use your own voice and remain calm. Your demeanor will work towards keeping your employees from panicking.
After the evacuation is complete, use two-way texting to do a head count of your employees. Have them respond back with a simple yes to the question: "are you okay?" Check your detailed broadcast reports to see how many have responded and follow up with those who haven't. All of this can be done from outside of the building using the DialMyCalls app – although to check on two-way texting replies, you must login to the main DialMyCalls website.
Being prepared for an emergency is the best way to avoid any of your employees from getting hurt in one. Communication is critical during these times and you need a reliable system that can reach your entire work force quickly and easily. DialMyCalls has all of the features you need to do that and much more.
How to Send Automated Emergency Contact Form Alerts
Many workplaces allow employees and/or customers to sign up in advance to be notified in case of an emergency. Whether via a physical signup sheet or an online web form, interested parties can provide their contact information and their permission to receive texts.
Once everyone has had the opportunity to sign up for automated emergency alerts via your emergency contact form, simply follow these three steps:
Make sure that you compile all contact information in one place. For example, responses from an online form can be entered into a spreadsheet or by using DialMyCalls' contact opt-in widget.
Import the contents of your spreadsheet into DialMyCalls and save each entry as a separate contact. Sort these contacts into groups based on your relationship with each individual contact, geographic location, or schedule.
Use DialMyCalls to pre-record or write messages in advance for common or likely emergencies. When an emergency does arise, either choose a message you've composed previously or create a new one. Select which groups should receive each message. Send the message, and your audience will receive the emergency notification within seconds.
How to Set up A Text Alert System for Small Businesses
Even the smallest small business can make use of a mass notification system. These types of systems allow business owners or employees to communicate consistently and reliably with staff, customers, and business partners.
Setting up a mass notification system for small business is simple with DialMyCalls. Simply create a DialMyCalls account and follow the steps below to be prepared to communicate quickly when the time comes.
Collect or compile all contact info. This can be accomplished with a web form, a physical signup sheet, or other means. Then, enter or import all information into DialMyCalls.
Divide your contacts into groups based on who would need to be contacted simultaneously. For example: separate groups for customers and employees allow you to send pertinent information to each.
Draft or record messages for the most common emergencies or situations. For example, tornado warning alert messages are common in the southeast U.S. A small storefront with few employees may draft a message to inform customers that they're closed because the boss is sick.
When a situation calls for a mass notification, simply select a contact group, choose a pre-made message or record a new one, and send it out. Recipients will see or hear the message on their phone within seconds.
How to Alert Employees in an Emergency
When an emergency arises, it's important to alert your employees as soon as possible. It's also important to alert them in the right way. To make this easier, DialMyCalls facilitates mass communication via voice broadcasts, mass text messaging, and email blasts.
Voice broadcasts are the most personal way to get your message across because recipients can hear a familiar voice. Unfortunately, some emergencies don't lend themselves to communication conveyed only via audio. However, even recipients who don't have a smartphone can receive these messages on the go.
Mass text messages often offer more clarity than voice calls because the information is visual. It's also easier to access these messages in a noisy situation and to refer to them later on to double check information.
Email blasts are well suited to longer form communication. They aren't limited by a word count or a time limit. However, most people don't check their emails as frequently as they do voice calls or text messages. This means that they are not the ideal medium for urgent notifications or alerts.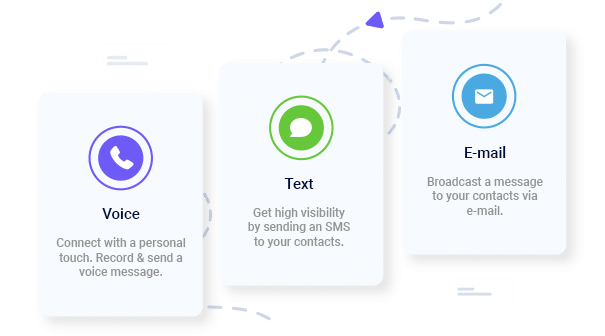 How to Communicate With Remote Employees During a Crisis
Emergencies will happen, and communication with employees is vital to ensure that everyone stays safe.
Many traditional methods of employee communication, such as emergency meetings and announcements over a speaker system, aren't effective when employees aren't all in one place. If you're in charge of a fleet of truck drivers, a team making deliveries, or a group visiting different build sites, you have to think outside the box to keep everyone on the same page.
When this happens, it's important that you aren't flustered as you try to find a way to communicate with them simultaneously. After all, calling each team member one by one takes time that many emergencies don't allow for.
This means that you should compile and prepare all employee contact information in advance. DialMyCalls allows you to do just that, and write drafts or record messages in advance to streamline your response when you're in a crisis.
Then, you can select the affected recipients and contact them in one or more of the following three ways:
Voice broadcasts, which lend a personal touch to the message. These broadcasts can be harder to receive in noisy environments, and recipients can't refer to the information later.
Mass text messages, which are concise and easy to read. These cannot contain too many details, but are an easy way to refer to information later on.
Email blasts, which have the highest capacity for information. They're long form and can be saved for later reference, but most recipients won't notice or read them as quickly as texts or calls.
Why Customer Communication Is Important After an Emergency
As a business owner or manager, you have a responsibility to your customers. When an emergency strikes, it's important to get feedback from your customers on your emergency response strategy.
It can be hard to measure success in an emergency. Were people injured/ Was property damaged? What looks like success or safety to one may look like failure or danger to another. It's important to keep the varying opinions of your customers in mind.
It can be helpful to use mass communication methods like those facilitated by DialMyCalls to send out questions, polls, or surveys to customers. These could look like or include:
A link to an online survey sent via email or text message
A question sent via text that collects responses as multiple choice answers or number rankings
An email or text that allows recipients to set up a phone call with an employee to provide feedback or ask questions
A message presenting any changes or modifications made to the company's emergency plan
A voice broadcast from the head of the organization thanking customers for their feedback and sharing updates
This kind of communication can build trust with customers and lead to strong customer relationships. These relationships can, in turn, lead to future success, profit, and organizational health.
Being prepared for an emergency is the best way to avoid any of your employees from getting hurt in one. Communication is critical during these times and you need a reliable system that can reach your entire work force quickly and easily. DialMyCalls has all of the features you need to do that and much more.
Send Thousands Of Phone Calls, Text Messages, or Emails Per Minute!