Emergency Alerts by Phone
Setting up emergency alerts by phone has never been easier. Now you can easily allow people to opt-in to receive your alerts right from your own web-based control panel. Even setup different groups so people can choose to receive alerts based on their location or many different factors.
What Are Emergency Alerts by Phone?
Emergency alerts by phone allow authorities to notify large groups of residents in the event of an emergency or when a tragedy has occurred. While a good plan in theory, it does rely on residents actively signing up for the service. You can implement your emergency alerts by phone using DialMyCalls' emergency notification system – add all of your contacts into your account and contact them via phone call, text message, and email.
Why Use DialMyCalls For Your Emergency Alerts By Phone?
Trusted By 80,000 Organizations
Over 45 Million Messages Sent
Broadcasting Your Own Emergency Alerts by Phone
Everyone knows to call 911 in the event of an emergency. An emergency alert by phone is a warning to the citizens about a developing emergency. Set up your DialMyCalls account to do the same thing for your contacts when imminent danger threatens their safety.
Easy Contact Management – People You Will Contact in an Emergency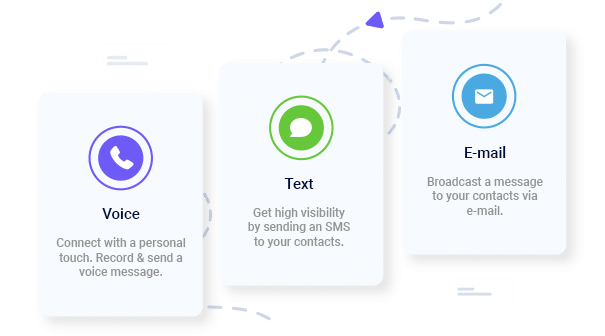 Emergency Phone Number Lists
Create your list of phone numbers and email addresses of your contacts.
Create Contact Groups
Use contact groups to keep people organized into different groups. This way you can send emergency alerts out to specific people, groups or everyone.
Import Emergency Contact Information
Manually add contacts or easily import a whole list from any CSV or Excel file.
Add Optional Emergency Contact Data
The only information you need is the phone number — additional information can be added but is completely optional.
Create and Manage Messages to Be Sent
Create Robust Emergency Recordings
Create messages in seconds by recording over your phone, uploading a sound file, or using our text-to-speech system.
Emergency Prep With Pre-Recorded Alerts
Pre-record messages and have them stored in your account to be used at any time — they will never be removed or deleted.
Emergency Alert SMS Text Messages
Beyond voice messages you can also send out text messages (SMS) with our emergency alert system. Send both phone calls and texts in a serious emergency when you want to ensure your message is received.
Detailed Reporting of Your Emergency Alerts After Sent
Quick Broadcast Report Generation
View a detailed report after every broadcast is sent out.
Individual Emergency Contact Analysis
Check each individual contact to ensure they received your emergency broadcast.
In-depth Call Reporting
Reports will show which recipients picked up the phone and listened to your message as well as those that received the message on their voicemail.
SMS Broadcast Reports
Text message broadcast reports will display each contact and whether or not the message was delivered, undelivered, or sent to a non-mobile phone number.
When Are Emergency Alerts by Phone Helpful?
Emergency alerts by phone are used when the unthinkable happens. Bomb scares, plane crashes, and shootings are examples of emergencies that no one wants to think will affect them but unfortunately can.
Sadly, we have all become too familiar with the school shooting tragedy. District officials in Connecticut used emergency alerts during the Sandy Hook Elementary School shooting to alert the parents of what was transpiring. DialMyCalls will do the same for you and your school if ever faced with a similar circumstance. The instant SMS texting feature lets you get the message out immediately, giving the parents and community notice that the authorities are on the scene and protecting the children.
Emergency Building Evacuation Message Alerts
The safety of employees and tenants inside of a building can be in jeopardy in face of a fire, gas leak, or water main break. If your office or building is suddenly being evacuated, don't rely on a system of bells and lights to alert the inhabitants. Send the message to your employees and tenants via an SMS text message and/or automated phone call that they are in danger and need to leave the building now.
Of course it will be you that your contacts are looking to for the all clear signal once the emergency has been taken care of. Send one message and let everyone know it is safe to go back inside, or that it isn't and they should go home for the day.
Medical Community Emergency Alerts
During a crisis while everyone is being told to stay out of harm's way, hospital personnel are being alerted to get to work. All hands on deck emergency alerts sent to hospital employees, technicians, nurses, and doctors gets everyone in gear and ready to treat anyone hurt from the disaster.
Creating a DialMyCalls account allows you to create an emergency alert system that is easy to access when a sudden emergency arises.
Send Thousands Of Phone Calls, Text Messages, or Emails Per Minute!