Emergency Notification App
An emergency notification app can mean the difference between losing and saving lives, property, and money. DialMyCalls' emergency notification system app can help you communicate critical, emergency information to those in your care, keeping them safe and sound no matter the situation.
The Importance of an Emergency Mass Notification Mobile App
An emergency communication app can be used by a wide variety of groups to communicate many types of urgent messages. This versatile tool is a necessity for any emergency preparedness toolbox.
By allowing users to send emergency alerts at any time or from any place, emergency notification apps are incredibly flexible and accessible for their users. An app for emergency services communication can be used by camp directors, business managers, or school faculty, whether they're in the office, in the car, or at home.
From the DialMyCalls' emergency alert notification app, users can send out urgent calls or texts to everyone on their contact list simultaneously. This mass messaging capability is especially important during an emergency situation when time is of the essence.
Because emergency notification mobile apps are accessible from anywhere and can facilitate immediate conversation with any size group within seconds, they are the ideal way to convey news of inclement weather, suspicious activity, health concerns, and more.
With emergency notification apps, organizations can be sure important messages can be quickly and reliably delivered to the right group of people.
How Our Emergency Notification App Works
Using an emergency notification app may seem daunting, but DialMyCalls makes it simple. Our app for emergency communication is made with the user in mind, so sending emergency alerts is a breeze even during the emergency itself.
Using DialMyCalls' emergency mass notification system app is simple. Just follow these five steps:
Create a free DialMyCalls account. You can do this from a desktop, computer, or mobile device. If you're using a smartphone, make sure to download the DialMyCalls mobile app.
Import or manually add your contact lists. Once you've added all individuals, you can divide the full contact list into shorter, more specified lists based on location, job type, or other factors.
Prepare some messages in advance. You can store common or useful messages within the emergency notification app as text messages or voice calls. You can also prepare messages that are sent to remind your audience about protocol before it's necessary to follow it. For example, users may create a fire safety text that they send to their contacts each month as a refresher.
Send your messages. When an emergency occurs, simply open the DialMyCalls emergency notification app, select a message or record a new one, and select recipients. These messages can be sent out immediately or scheduled for later.
Field responses. Your recipients can respond to text messages or calls sent from your app. You can also track which messages have been delivered or returned with your DialMyCalls account, so you know who's been notified and when they opened the message.
Types Of Emergency Alerts Sent By DialMyCalls Customers
If you're looking for the best app for emergency communication available, look no further. Many emergency communication apps are available, but DialMyCalls is the most versatile and cost effective.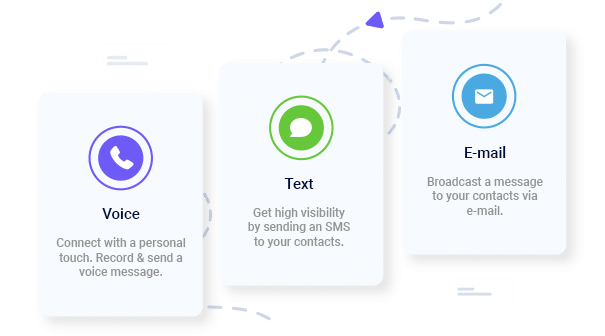 The DialMyCalls app is ideal for many different kinds of emergency alerts. For example, schools, summer camps, and businesses can all benefit from the DialMyCalls emergency notification app.
Emergency Notification App for Schools
An emergency notification app for schools can be used to keep faculty, staff, students, and parents on the same page.
Using emergency communication apps, schools can be prepared for inclement weather, school shooters, health crises, and other emergencies. Users could include school administration or individual teachers.
The key here is that emergency notifications apps can be used by faculty or staff as they are roaming the halls, standing in the office, or snowed in at home. What's more, the user can receive updates from teachers, students, and parents as a situation progresses.
Emergency Communication Apps for Summer Camp
Summer camps can also benefit from emergency notification apps. An emergency notification mobile app is ideal for camp administrators and counselors who may not have consistent access to desktop computers.
DialMyCalls customers can also use emergency communications apps for summer camps to keep parents informed on the status of their kids. With parents far away, summer camp administrators take on a great responsibility.
Setting up an emergency hotline via the app can also be a good way to let parents know if camp activities will take their children out of wifi or cell phone areas for a period of time.
Emergency Communication App for Business
An emergency notification app for business can make crisis situations just a little less stressful for those in charge.
In many cases, business emergencies put both people and property at risk. An emergency communication app for business can mitigate these risks by letting all parties know of potential threats as soon as possible.
Apps for workplace emergency communication are primarily useful because they don't require users to have immediate access to Wi-Fi or a desktop computer. Additionally, apps like DialMyCalls facilitate 2-way communication and allow recipients to respond or ask questions.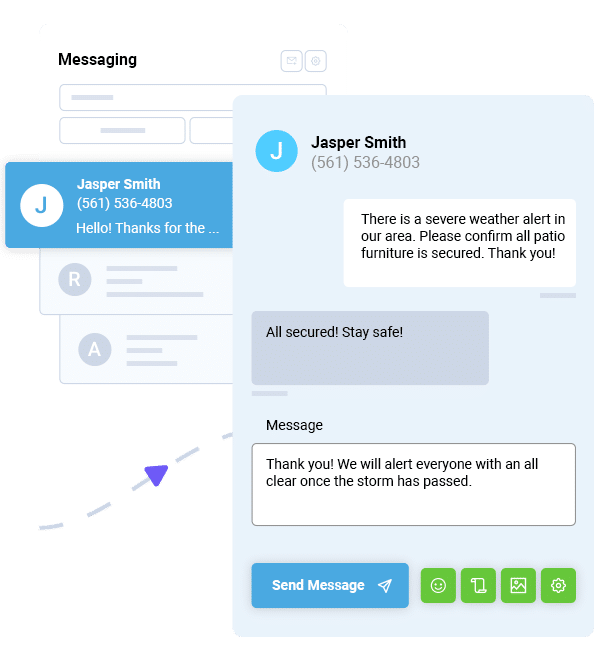 For larger corporations that run a lean workforce, this ability can be critical as team leaders and supervisors may be responsible for multiple locations and staff from afar.
Emergency Alert Examples
An emergency notification app for Android or an emergency notification app for iPhone brings the usefulness and versatility of an emergency notification system to a device that most people are familiar with.
Still unsure what it would look like to send alerts from an emergency notification app for your organization? Consider these examples:
Emergency Alert Example #1
MISSING CAMPER ALERT: We're looking for McKenna from cabin 3. If you find her (brown hair, green eyes, 10 yrs old), please bring her to Terry's office.
Emergency Alert Example #2
Flash flood warning for all of Forsyth County. Use caution when driving and stay home if possible.
Emergency Alert Example #3
All evening activities have been cancelled for today, 2/27, due to tornado warning. Stay safe.
Emergency Alert Example #4
Crash reported at Exit 34. Please use an alternative route to shareholder meeting.
Download the Free Emergency Notification App Now!
If you are looking for a free emergency notification app, you are invited to try the DialMyCalls app for free during a limited trial period. Help protect people, property, and livelihood in case of an emergency. Download our emergency notification app for free to join the ranks of great organizations who are doing their best to prepare for quick and efficient action during an emergency.
The emergency notification app from DialMyCalls offers many potential benefits. Create your free account today.
Send Thousands Of Phone Calls, Text Messages, or Emails Per Minute!