Community Text Alert System
Our community notification text alert system allows you to send community alerts to a group within seconds - recipients can respond back using 2-way texting.
What Is a Community Text Alert System?
A community notification system can keep your people informed without breaking the bank or wasting precious time and effort. Whether your community could benefit from a casual community notice or emergency alerts, DialMyCalls can make this communication easy.
DialMyCalls combines web accessibility with a mobile phone app, meaning your community notification system is accessible on the go or from home. Users can send text alerts or voice broadcasts, depending on the severity of the situation and user preference.
Read on for examples of the types of messages sent via a community notification system and instructions on how to set up your own with a free DialMyCalls account.
Why Use the DialMyCalls Community Text App?
A community alert system can take many forms, so why is DialMyCalls the best option?
The DialMyCalls community text alert system is beneficial in many ways. The app automates your messages, allows for mass messaging, and offers multiple platforms through which you can send your notifications.
Sending an urgent community notice or a day-to-day reminder is simple.
DialMyCalls automates your messages. This means that you can record, write, and schedule messages days in advance. In the moment, you don't have to think about getting your message out⁠—DialMyCalls does all the work.
This automation allows you to work when it's most convenient without worrying about messages being sent at strange hours.
The DialMyCalls community alert system is also ideal in that it allows for messages to be sent to all recipients simultaneously. This saves time for the sender, as they only have to send a single message. It also means that all recipients learn information at the same time, only seconds after sending.
Another benefit to the DialMyCalls platform and app are that messages can be sent in a variety of ways.
Want your audience to hear your voice as they receive frightening news? Send a voice broadcast. Want to send something out quickly and clearly? Try a mass text message. Want to send a longer-form message that recipients can read at their leisure? Consider an email.
How Does Our Community Alert System Work?
So how does community text alert work? The answer: very simply.
The basis for the system is your contact list, which can be imported or created within your DialMyCalls account.
From there, you can create text or audio messages. These can be made with your own voice or our text to speech feature. You can then save these messages for later or send them immediately, making it easy to plan ahead or communicate in the moment during an emergency.
Once you send a message, everyone on your contact list receives the message within seconds. If necessary or desired, they can respond to your messages and start a conversation. Their responses will be compiled in your online dashboard so that you can decide when you access these responses.
The real value of the DialMyCalls community notification system is that it harnesses tools that your community members likely already use.
Phones are common, as is communication via calls and texts. Your community members don't have to learn a new app or buy a new device to stay informed and in touch with important community announcements and alerts.
Sending Community Text Alerts
DialMyCalls' community notification system can be used to send text messages to your audience.
Text messages improve an emergency alert system because they provide clear and concise information that can be referred to again and again. Character count limits often ensure that the sender includes only the most important information.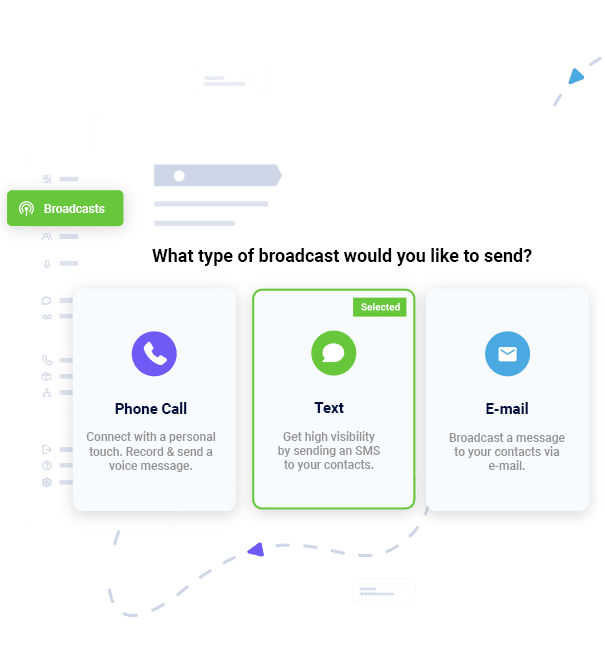 Younger communities especially benefit from text alerts, as many younger recipients are more likely to read a text than to answer a voice call.
These texts sent via a community notification system can be written in advance and scheduled to be sent at a later date or written at the spur of the moment and sent out just seconds later.
Sending Community Alert Phone Calls
While text message alerts are important, phone calls also play an important part in any community notification system. A community alert call can provide many benefits that texts and emails can't.
Some situations simply call for a reassuring or authoritative familiar voice, which voice broadcasts can provide. In fact, some community members may prefer phone calls because they feel more personal.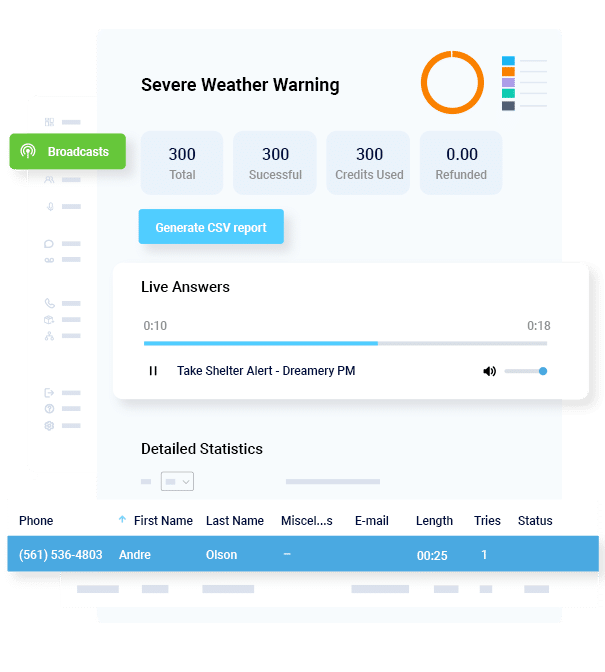 Like text messages, voice broadcasts can be recorded far in advance or at a moment's notice.
Common emergency alert messages, for example, can be recorded in advance and then kept on hand in case an emergency arises. This way, the sender doesn't need to take the time to record a message on the community notification system in case of emergency: they simply press send.
This makes an emergency notification system an easy tool to prepare and an even easier tool to use.
Accept Responses Back With 2-Way Text Messaging
So what happens after sending an urgent notification text? Often, the recipients have questions, comments, or further information.
When this is the case, it's important that your recipients have a way to communicate back to you. A community notification system is only half as useful if information can only travel one direction, after all.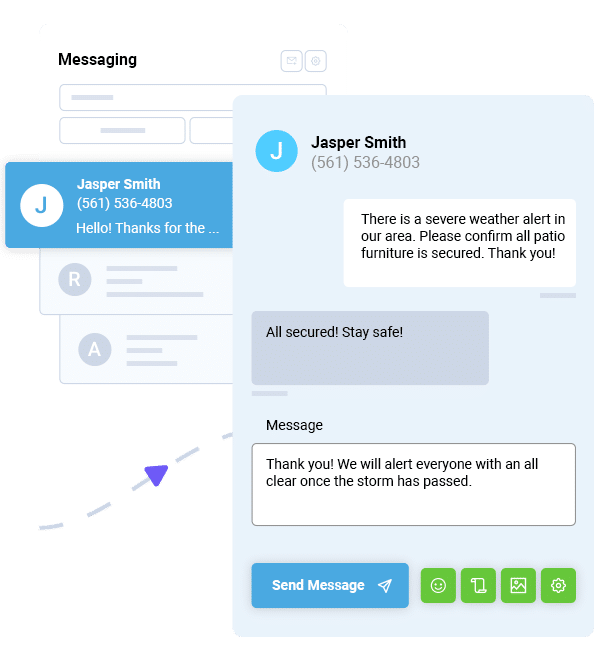 DialMyCalls' 2-way messaging system allows for the sender to field questions and gather new information as needed. This could include the location of people or downed trees, questions about a new homeowner's association ruling, or even encouragement to those in charge of the recipients of the community notification system.
Community Emergency Notification Examples
A community notification system, or even an emergency notification system, can sound like a vague concept. After all, communities and emergencies can each take endlessly different forms.
The reality is that these emergency notifications are versatile, and can be used in a wide variety of situations.
Consider the following examples of messages sent via a community notification system:
Community Emergency Notification Example One
Attention residents: due to construction, the season opening of the community pool will be delayed until September 21st.
Community Emergency Notification Example Two
Security alert: there have been 4 reports now of a white unmarked van parked in the neighborhood - please continue to report any suspicious activity.
Community Emergency Notification Example Three
IMPORTANT: there is currently an active tornado warning for all of Henry County. Click the link below for a reminder of tornado safety guidelines. [insert link here]
How to Set Up a Community Text Alert System
If you're wondering how to set up a free text alert system, you're in the right place. DialMyCalls' community notification system is easy to use, and account setup is entirely free. You don't pay until your notification is ready to send.
A mass alert messaging system is most effective if all users know how it works and can operate it independently. This is why the simplicity of DialMyCalls is so important. But the simplicity extends beyond sending messages—setup is just as easy.
The only part of the community notification system that needs to be set up in advance is the contact list.
Your community contacts can be entered individually or imported from another program. If you're just starting out, you'll need to find a reliable way to gather these contacts, such as with an online form or even by handwriting the data at a community gathering.
Afterwards, these can be digitized and even divided into more specific lists or groups. Any time you send a message from your community notification system, you can choose whether it is sent to all or part of your contact list.
The messages themselves can be written or recorded during setup or at the spur of the moment.
Once you have a contact list and a message, you're ready to go. All you'll need to do is select a message and a group of contacts, and they'll receive the information within seconds.
Types of Community Alert Messages Sent by DialMyCalls Customers
Because community emergency notification systems can have such a variety of uses, it can be difficult to zero in on what types of messages are best served by a mass alert system. After all, different information is important in different communities.
Consider these types of messages that can be sent via a community notification system:
Security alerts related to crime or suspicious activities
Safety warnings about inclement weather
Practical notices such as those explaining construction
Requests for input, such as polls about community regulations
Regular reminders such as the dates for trash pickup
Neighborly check-ins to keep community members feeling supported and informed
Send Thousands Of Phone Calls, Text Messages, or Emails Per Minute!