Emergency Text Message System
With nearly everyone having a cellphone on them at all times, it's only naturally to use text messaging to send emergency alerts and information. Easily send a text message alert to a group of people within seconds with our emergency text message system. Recipients can even respond back to your text message alerts with additional information to help facilitate communication in times of emergency.
Maintaining Control in an Emergency with SMS Text Messages
A cell phone rings and it often goes ignored. Send a SMS text message? Within minutes the phone is out and your recipient is reading it. In our newly-defined digital world, the text message has become the communication method of choice. It's only natural then that it has evolved into a highly effective alert system in the event of an emergency.
How An Emergency Text Notification System Works
Time is critical when a crisis is emerging and you need an emergency alert system that is going to grab your community's attention right away. SMS text messages do just that. No one is without a mobile phone today and everyone has figured out how to read a text message.
Set up your DialMyCalls account to be ready in a crisis. Organize your contacts into special groups including one where you can ask for assistance, plus a special grouping for people in your community who may need special help. A business may organize by department or by rank in the company while a school would have their contacts separated by faculty and parents and then further broken down by year. You choose the method that works best for your business, organization, or community.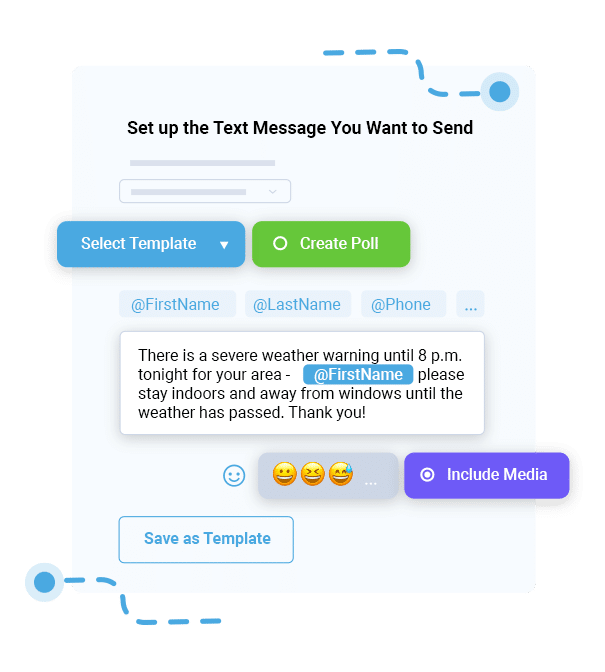 With your contacts set up you are ready to relay important messages in seconds when an emergency erupts. Log in to your DialMyCalls account from your computer or use the convenient mobile app right from your own cell phone or tablet. Create your message, choose the contacts and in just seconds they are receiving your urgent bulletin.
Accept Responses Back With 2-Way Text Messaging
Other methods of mass broadcasting during an emergency don't allow for direct contact with the recipients. DialMyCalls features two-way text messaging, letting your community send you a message back if they need to. This can be used to make sure everyone is okay during a bad storm, or made it out of the building during an evacuation. Schools can use the two-way text messaging with parents to make sure they have all successfully reunited with their children after a campus crisis. This feature allows you to maintain some semblance of control over what would normally be an uncontrollable situation.
Why Send Group Text Message Alerts?
In today's mobile world, most people are giving out their cell phone number in place of a home phone. This allows them to be reached whether at the gym, grocery shopping, or wherever else their busy life takes them.
Studies show that people are more responsive to text messages than phone calls, reading them within two minutes of receiving them. Plus, unlike a voice message, a text message is easily understood no matter how loud or distracting the surroundings. When an emergency strikes, you want to alert as many people as possible with a method that they will respond to quickly. DialMyCalls' emergency text messaging service is the best way to accomplish that.
The mere definition of an emergency implies a sudden situation that you have no control over. When you employ DialMyCallss SMS text messaging as your means of staying in touch with your employees, community, and campus, you regain some of the control by keeping them safe and connected.
Send Thousands Of Phone Calls, Text Messages, or Emails Per Minute!