How to Set Up an Emergency Hotline
With DialMyCalls you can get your own local or toll-free number to set up as an emergency hotline. You can keep it updated with the latest information, allowing people to call in and hear the latest news and information you've recorded onto it.
Get Either a Local or Toll-Free Number to Use
Local television and radio stations are focused on the big picture when an emergency occurs. Your people want to know what is going to happen to them. DialMyCalls has a vanity number feature that you can use to set up your emergency hotline, then they can access it to hear your personal reports on the situation as it is unfolding and during the aftermath. You provide the up-to-the minute information that pertains directly to them while the news broadcasters worry about what the rest of the world needs to know.
Why Use DialMyCalls to Set Up Your Emergency Hotline?
Send Up To 10,000 Calls A Minute
Trusted By 80,000 Organizations
Over 45 Million Messages Sent
Providing the Real-Time Information that Matters in the Wake of an Emergency
In the midst of, and after, an emergency, having a source of information geared towards the needs of your community is very comforting. While local news reports are giving a broad view of what has transpired, you can have a message created that gives specific information on how the interests of your community have been affected, and what measures they need to be taking.
How to Register a Local or Toll-Free Emergency Hotline
Register A Local Number
Search for a local vanity number to use for your emergency hotline. DialMyCalls offers a huge selection of phone numbers with local area codes — local vanity numbers are $5.99 per month.
Register A Toll-Free Number
Set up a toll-free vanity number to use for your emergency hotline. DialMyCalls offers a huge selection of toll-free phone numbers for you to choose from — toll-free vanity numbers are $9.99 per month.
Easy to Setup Emergency Hotline or Tip Line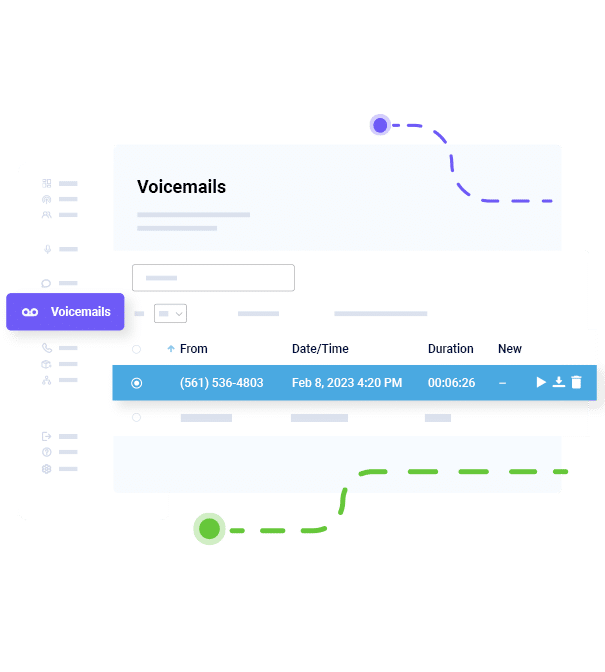 With the DialMyCalls call back feature, you can create a vanity number that is hard to forget. This is your emergency hotline for your community to call in to and receive important information on what matters most to them. Church members want to know who needs special prayers, employees are trying to find out if they should report to work, and homeowners are worried about that fallen tree blocking traffic. Your hotline cuts to chase and puts the important news for your people front and center.
Select Your Emergency Hotline Recording
Record a a message in your DialMyCalls account and then have it play when people call into your emergency hotline.
Emergency Hotline Call-In Settings
Let anyone that calls in leave you a voicemail — all voicemails are available online in your DialMyCalls account.
If you are using the voice broadcasting feature along with your Emergency Hotline you can give your call recipients the ability to opt-out of future calls.
Give your emergency hotline users the ability to play the recorded message one additional time.
Set up the option for your hotline users to be connected to a live person on your end with our Push-To-Talk feature.
Caller ID Customization
Edit the Caller ID Name (CNAM) for your emergency hotline to control what is displayed on the Caller ID if you send out voice broadcasts.
Easily View the Details of Your Emergency Hotline
Emergency Hotline Control Panel
Check on your emergency hotline minutes, voicemails, or edit the call-in settings of your number from within your DialMyCalls account.
Community Emergency Hotline
People directly affected by an emergency aren't interested in knowing what the wind speeds of the storm were or where it is headed next. They want to know if the roads to their homes are clear or where to go to buy flashlights and batteries. With your hard-to-forget emergency hotline, all they have to do is dial in and hear your recorded message of the latest updates on power restoration progress, local shelter availability, and which local stores are up and running.
Use Your Community Emergency Hotline
You have plenty of resources available to leave detailed instructions and guides on how to survive through an emergency and what to do when the dust starts to settle. Use your emergency hotline as an easy way to direct your community on where to go to get information they can use. Colleges and universities have entire web pages of information for parents and students looking for answers in the aftermath of an emergency. Using the hard-to-forget call-in number, they can hear your message on where to go to get the detailed information that is pertinent to them. Everyone has different priorities, and this is a simple solution to catering to all of them.
Don't wait for the next crisis to hit. Set up your hard-to-forget call-in number with DialMyCalls now and be ready in advance. In the aftermath of a tragedy, it's your comforting voice that your community wants to hear with information that they need, not a news anchors who has never stepped foot in your community.
Send Thousands Of Phone Calls, Text Messages, or Emails Per Minute!