Boil Water Alert Notification System
Make sure your customers get notified of a boil water alert faster than ever before. Notify all of them by phone call or text message (SMS) within seconds. Used by utility and water companies all over the US & Canada.
Boil Water Alert Phone Calls & Text Messages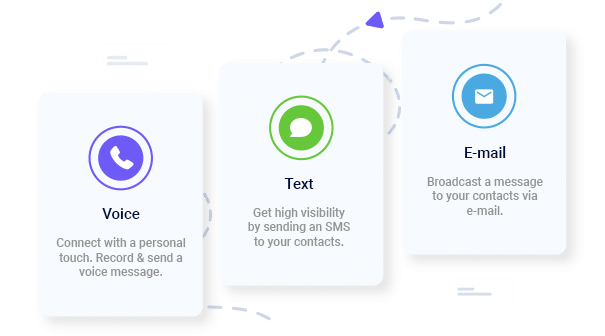 In 2010, over 2 million residents of Boston and its surrounding suburbs were left without a clean drinking water supply. City officials scrambled as the urgent need to notify these residents to boil the water gripped them. Learning from that near-tragedy should be a lesson for water companies to collect phone numbers and email addresses from their customers and have DialMyCalls set up and ready to broadcast an alert.
What Can Cause A Boil Water Advisory?
Through no fault of your water company, there are dozens of ways the water supply can become contaminated. The Boston crisis was the unforeseen breakage of a major water pipe, which fed most of the city with clean tap water. You may have a back-up reservoir in the event of such an emergency, but like Boston's, it has probably not been treated.
Other sources of contamination include:
Overflowing sewage systems.
Poorly functioning wastewater treatment systems.
Nearby land issues, such as the use of pesticides or the presence of livestock.
Naturally occurring chemicals or minerals such as arsenic or radon which are dangerous to ingest.
Not all of these sources can be predicted or easily contained, necessitating an emergency notification system of your own to alert your customers immediately when you have to resort to an alternate water supply.
Instantly Send Boil Water Alerts To Customers
There is no time to spare once you realize that your supply of drinking water may contain elements that are harmful. Juice is being made for kids, dinners are being cooked, and students are dipping their mouths into the schools water fountain as you are contemplating it. Don't rely on door notices or the 5 o'clock news to get your urgent message heard. Alert the public immediately with an emergency message sent from your DialMyCalls account to all of your customer's cell phones, home phones, and email addresses that relays the urgency of the situation.
Legal Issues With Contaminated Water
By not alerting your customers to the potential danger of their drinking water and the urgent need to boil it first, you are not only risking their health, your company is exposing itself to fines, penalties and even civil lawsuits. The financial devastation your company could face could be easily diverted with a DialMyCalls account.
Setting Up A Boil Water Boil Alert Notification System
The first thing you need to do to ensure the health of your customers is to obtain their phone numbers and email addresses. This could be done on a monthly statement, being honest in your intent to add their name to your DialMyCalls account in case of emergency. Post the same message to your website for people who prefer to pay their bill online. This is such an important issue that you should go as far as to air a series of public service announcements, stressing the importance of drinking water safety and urging customers to share their current contact information with you.
As soon as the numbers start pouring in, start adding them to your DialMyCalls emergency notification system account. Contact groups allow you to sort them by town or neighborhood in the event that you need to send more area-specific information. Record and save a few messages, not only about boiling water but also what to do if a water pipe bursts near their home.
With your contacts and messages ready to go, you are only a few clicks away from sending an alert to thousands of people, letting them know when your company is experiencing a drinking water emergency. The time and money spent to make this work will be paid back thousandfold by the people who avoid getting sick thanks to your efforts.
Send Thousands Of Phone Calls, Text Messages, or Emails Per Minute!