Product Recall Notifications By Phone or SMS
When you have a product recall happen, it's extremely important to let those affected know immediately. Help avoid injury, harm, and liability by notifying consumers & retailers as fast as possible by phone call or text message alerts.
Product Alert Recalls & Notifications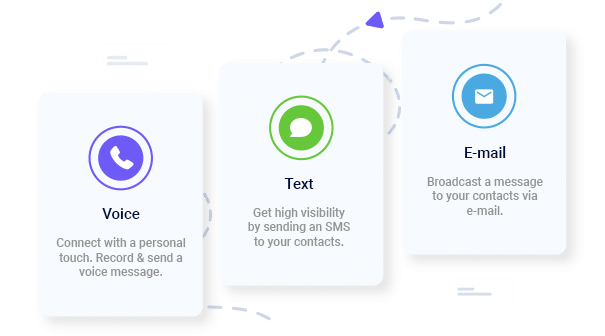 In recent history we have seen two major incidents where lives were lost for a car manufacturer's failure to notify buyers of a potential safety hazard in their vehicles. Producers and distributors of goods and products being sold to the public have an obligation to ensure the safety of these items and to provide notification as quickly as possible when they realize that something has gone terribly wrong.
Mass Notification System For Customers
In this modern age of cell phones and internet access, every industry should be using these tools to obtain as much information about their customers as possible – not only for the purpose of marketing, but as a way of communication in the event of a product emergency.
Websites are a great way of gathering contact information. With every sale that you make online, you should include a box for a cell phone number at the check-out. Import those numbers obtained into your DialMyCalls mass notification system.
Product registration cards are another way to obtain this information as well as guest survey requests at retail stores and restaurants. Always include a line for a cell phone number and if necessary, offer special discounts for providing it.
Grocery stores can easily get customers to hand out cell phone numbers when they apply for in-store discount cards. As an incentive, let them use their cell phone number to get their savings if they happen to leave the card at home. The more numbers you have in your DialMyCalls account, the better your odds of diverting a tragedy if a ready-to-eat food product sold in your store is found to be contaminated.
Product Recall Emergency Notifications
Production mistakes and design errors can cause a product to be hazardous. Often these mistakes are overlooked until after the product has been distributed nationally. Once your company has been made aware of a potential problem with one of your products, you need to act immediately. First send an instant voice broadcast to every known distributor of your products, followed immediately by a second one to your customer list. As long as you have your notification system set up correctly, this can be accomplished in less than five minutes with DialMyCalls' easy-to-navigate web interface.
Food Recalls – When Sending Fast Notifications Is Important
Contaminated food is a more serious issue that will show almost immediate harmful results. The second you receive word that you are potentially selling a dangerous food product, it should be removed from your shelves or restaurant menu. Further minimize the risk of illness to your customers by sending out an urgent broadcast via SMS text message to your entire customer contact list immediately. This will help minimize the risk of any of your customers becoming sick from the product.
Don't wait for the 6 o'clock news to broadcast the details of a recall involving a product you make or distribute. Be proactive by having DialMyCalls' emergency notification system set up and ready to use right away when you find out that there is a potential hazard to the public. This will aid in thwarting potential tragedy.
Send Thousands Of Phone Calls, Text Messages, or Emails Per Minute!