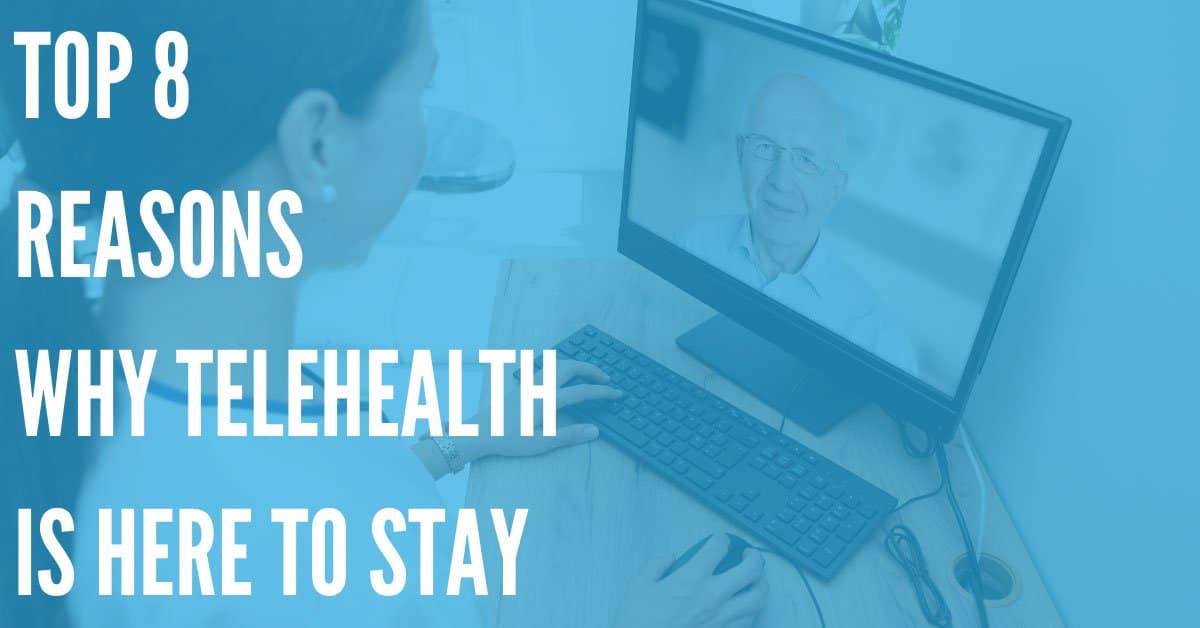 In recent years, the merging of technology and health care has started to change the way medical professionals interact with patients, pharmacies, other health care professionals, and data itself. The current COVID-19 pandemic accelerated the growth of telehealth as communities around the world implemented lock-down guidelines, making routine health care and access to medical professionals more difficult.
However, it's clear that even after the Coronavirus situation passes, telehealth is here to stay. Potential telehealth benefits are numerous and include increased communication, easier patient access to medical professionals, health and wellness support, health condition monitoring and even remote veterinary care for pets. Mobile apps, texting technology, secure web portals and other technology are already being successfully used throughout the healthcare industry. Here are some key ways that  it can improve the care you provide as well as refine the way you provide it.
1. Digitized Patient Records 
Many primary care and specialty doctors have digitized patient records, which has been one area of telehealth growth. Often, individuals can complete new patient "paperwork" online before the initial appointment. Nurses and doctors can use tablets to easily access patient history as well as enter information, diagnosis and treatment plans during the appointment itself. If you're part of a larger healthcare network, the medical history of patients can be easily shared among primary care physicians, network specialists, pharmacies, or durable medical good providers who may be brought in to serve the needs of particular patients.
Medical histories can also be used in an emergency situation where a healthcare professional can quickly pull up current medications, allergies, drug interactions, and existing illnesses or infections to provide better emergency care.
2. Secure Online Patient Portal
Many healthcare providers offer an online patient portal, which is a secure way for individuals to access healthcare records, communicate with healthcare staff, request medicine refills, access lab results and schedule appointments.
This information has the potential to be integrated with patient files. In addition, the portal can work with more common technologies such as texting services, email, and mobile apps for non-confidential communications. It's important for healthcare providers and businesses to be aware of HIPAA compliance issues when it comes to telehealth technology solutions like texting services.
3. Virtual Healthcare Services
Perhaps the area that has seen the most growth during the COVID-19 pandemic is virtual appointments. As both healthcare providers and patients worry about potential exposure to the coronavirus, much routine care has been moved to phone consultations and web-based video appointments.
Virtual doctor visits present many other advantages beyond eliminating the transmission of different pathogens. Web-based appointments can provide faster routine care for minor issues, serve rurally located patients more efficiently, and connect patients with specialists who practice far away.
Usually, telehealth solutions begin with a set of automated screening questions to gather basic information and perhaps route the individual to the right level of healthcare professional. A medical professional can then discuss questions or concerns, initiate a prescription or encourage the patient to seek in-person care if needed.
4. Improved Monitoring of Chronic Conditions
In the long-term, telehealth solutions may be able to provide more regular and comprehensive monitoring of patients who suffer from chronic medical conditions. Technologies are already available that can collect and monitor vital statistics such as blood pressure, glucose levels, heart rate, and oxygen levels. Even things like tremors, sleep patterns and posture can be monitored and tracked electronically today. With patient consent, this information can be transmitted automatically to a doctor through a mobile app, providing much more information more frequently than an occasional check-up.
In addition, patients who have a longer recovery period from an illness or surgery may be able to recover at home with advanced monitoring devices. Both healthcare professionals and family members may also be able to "watch" older family members who live alone and monitor signs of falls or other emergencies.
5. Better Communication Between Healthcare Professionals
Besides using technology to better communicate with patients and consumers, you can also use telehealth solutions to improve communications with colleagues, providers or suppliers in the medical field.
Send Landline Text Messages Now
Sign Up For An Account Today!
Sign Up Now!
For example, a primary care physician may be able to consult more easily with a specialist in another state through a virtual meeting. Doctors' offices can electronically send prescriptions to pharmacies, reducing patient wait time at their chosen drug store. An area of a hospital may let the radiology department know that a particular patient is on the way through a text message, allowing the technicians to prepare in advance.
6. Telehealth for Pets
More and more people are considering their pets as important family members these days, and telehealth solutions in veterinary medicine are on the rise as well. Just as virtual visits and text-based appointment reminders are popular with human healthcare, they are applicable to visit with the vet today.
Worried pet owners can also be virtually present during a surgery or procedure through an online video connection, which can allow them to keep an eye on their dog or cat from the waiting room if they are not allowed in the exam room.
Questions, prescriptions and follow-up care can be more efficiently and frequently provided through these solutions.
7. Reimbursement Issues
One of the key factors in telehealth growth will be how insurance, Medicare, and Medicaid decide to handle reimbursements post-COVID-19. Prior to the pandemic, telehealth reimbursement rates varied widely across states and insurance companies. For many providers, these solutions were simply not as profitable as conventional medical care.
During the past several months, the Trump administration has issued large-scale changes to the U.S. healthcare system in response to the emergency situation. For example, both Medicare and Medicaid expanded the type of telehealth services they would pay for and are now allowing phone calls to be reimbursed at the same rate as video calls. In addition, many private insurers have temporarily waived co-pays and deductibles for virtual care, and dozens of providers have offered services at reduced or no cost during the crisis. However, many of these changes are set to expire once the pandemic passes.
If the government allows some of the sweeping changes regarding reimbursement to remain in place post-pandemic, these will certainly fuel growth into the future.
8. Broad Applicability
The unique situation of the COVID-19 pandemic forced healthcare providers to change the way they delivered care on numerous fronts. Although the crisis drove many of these new ideas and applications of telehealth solutions, most, if not all, will have broader applications after the pandemic ends.
For example, since family members are not allowed at the bedsides of COVID-19 patients, thousands of tablets have been used in patient rooms, providing a virtual connection with family and friends. This technology, whether used in hospitals or in homes, to connect people with family or healthcare providers has massive future potential.
According to an article in IT Healthcare News, NYU Langone Health went from 50 telehealth visits a day to 7,000 during the peak of the pandemic. However, as pandemic-related calls decline, patients are continuing to use the technology for more routine and chronic healthcare issues.
Web-based virtual appointments, texting services for rapid reminders, mobile apps for remote monitoring, and many more technology solutions are ready and waiting for you to consider as we move toward a future of better healthcare services.
Moving Forward With Telehealth Technology
As you ponder the role that telehealth technology can play in your own practice, clinic or other healthcare-related business, consider not only the efficiencies and accuracies you can gain but how various solutions will help you better serve your patients or customers in the long-run.
Web-based video technology shrinks the world of clients, customers, healthcare providers and specialists to provide top-notch care to every patient, regardless of geographic location. Mobile apps arm patients or customers with the tools that need to self-monitor wellness behaviors as well as share vital bodily statistics with trusted healthcare providers. Mass texting services like DialMyCalls provide an immediate, affordable, and simple way of sending appointment reminders, asking quick questions, or notifying patients or customers of labs or reports that are ready for review.
The possibilities are nearly endless as you combine evolving technologies with creative solutions and a single focus on excellent patient care and customer service.