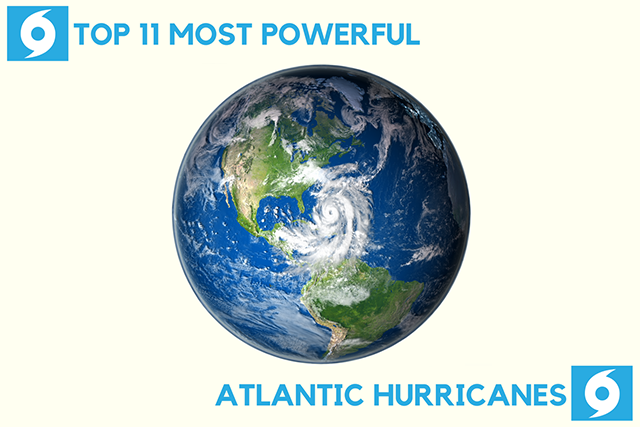 If you live in the United States, spring has sprung, and summer is well on its way. And if you live on the east coast of the United States, that means hurricane season is almost here. Typically recognized as running from June 1 - November 30 in the United States, the peak of Atlantic hurricane season is usually around September 10th of each year.
Approximately 10 storms develop into "named storms" each year - these storms are seen as being significant enough to merit naming by the NOAA. Of these storms, around 6 become hurricanes each year, and around 2.5 become "major" hurricanes of category 3 or greater. Most of these hurricanes are relatively harmless and end up dispersing before doing significant damage.
But every once in awhile, weather conditions are perfect for creating devastating storms that swell in size, intensity, and speed. These storms represent a serious danger to both people and property, and usually require emergency evacuation procedures.
In order to give you an idea of the size, intensity, and damage caused by these storms, we'll take a look at the top 11 most powerful Atlantic hurricanes of all time, and how they have affected the United States over the years.
NOTE: As per NOAA guidelines, these storms have been arranged by pressure - from lowest to highest. While storms are often ranked by wind speed alone, the NOAA prefers to rank storms by pressure.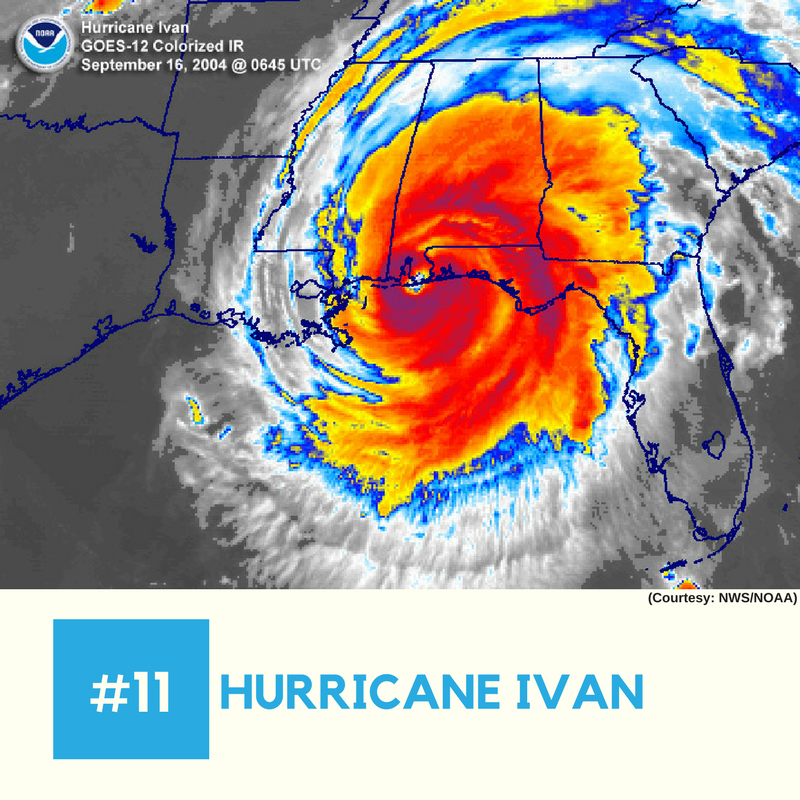 11. Hurricane Ivan (2004)
Hurricane Ivan Statistics
Category: 5
Pressure: 910 hPa
Peak Sustained Winds: 165 mph
Total Damage: $22.8 billion (adjusted for inflation)
States Affected: Florida, Alabama, North Carolina, Georgia, Mississippi, Louisiana
Hurricane Ivan was the ninth named storm and the sixth hurricane to occur during the relatively active 2004 hurricane season. The storm system began forming in early September, around the peak of oceanic activity for the 2004 Atlantic hurricane season.
Hurricane Ivan began to form September 2, 2004, southwest of Cape Verde. The system began moving west, and began to strengthen gradually. It became classified as a tropical storm by September 3, 2004, and by September 5, it had reached hurricane status.
By September 9, winds in the hurricane had intensified to 160 mph, as it passed around Jamaica and headed westward towards the United States. Peak strength was reached on September 12, 2004, when the hurricane passed through the Yucatán Channel.
The storm then began to weaken slightly to category 4 strength before making landfall on the Gulf Coast of the United States. In Louisiana and Mississippi, thousands of Americans were evacuated. In Florida, thousands of homes were destroyed, and multiple bridges were heavily damaged by the high winds of Hurricane Ivan.
According to the NOAA, Hurricane Ivan is the 6th costliest hurricane to make landfall in the United States, with damages at $22.8 billion, adjusted for inflation.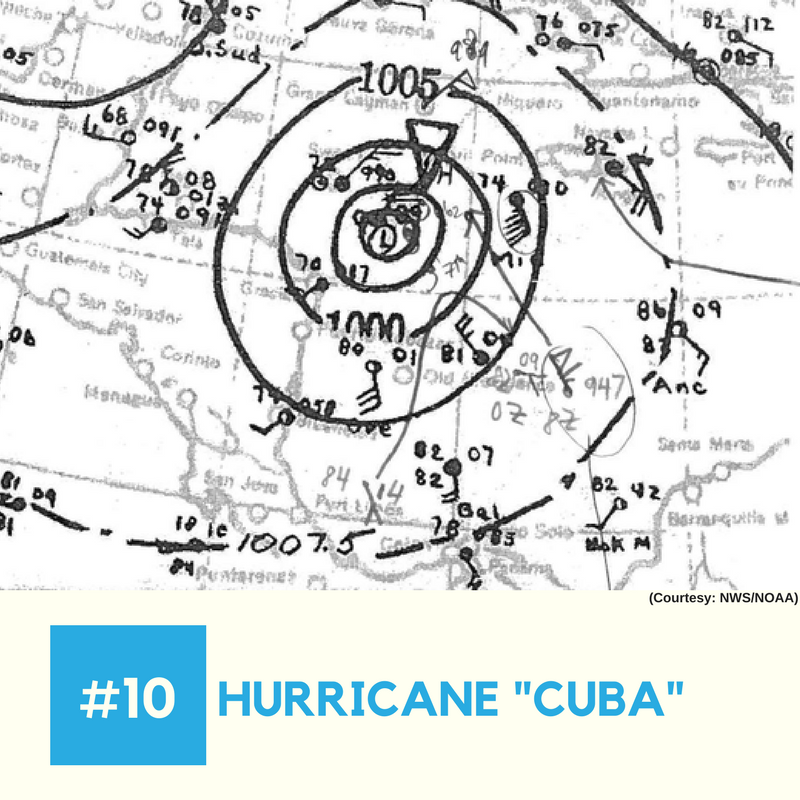 10. Hurricane "Cuba" (1924)
Hurricane "Cuba" Statistics
Category: 5
Pressure: 910 hPa
Peak Sustained Winds: 165 mph
Total Damage: Not recorded
States Affected: Florida
Measured before the NOAA began naming storms, Hurricane Cuba is the earliest hurricane to be classified as a category 5 on the Saffir-Simpson scale, and its low pressure of 910 hPa places it at tenth on our list of the most intense Atlantic hurricanes.
This hurricane formed on October 141924 in the Caribbean, and began picking up steam as it moved in a northwesterly direction. By October 16, it had officially attained hurricane status.
By October 18, the hurricane had peaked at an intensity of 910 hPa, and sustained winds of over 165 mph. Almost immediately after the hurricane hit peak strength, it made contact with Cuba. To this day, it is the most powerful hurricane to have ever hit the country.
After moving past Cuba, the hurricane weakened quite a bit, reaching Florida with peak winds of around 90mph. Despite the catastrophic damage done to Cuba, Florida was relatively unaffected. There were no reported fatalities, though heavy rainfall occurred all throughout the state.
[click to continue...]
Sign up now and try our services for free!
Use the promo code DMCBLOG and get 25 free extra credits