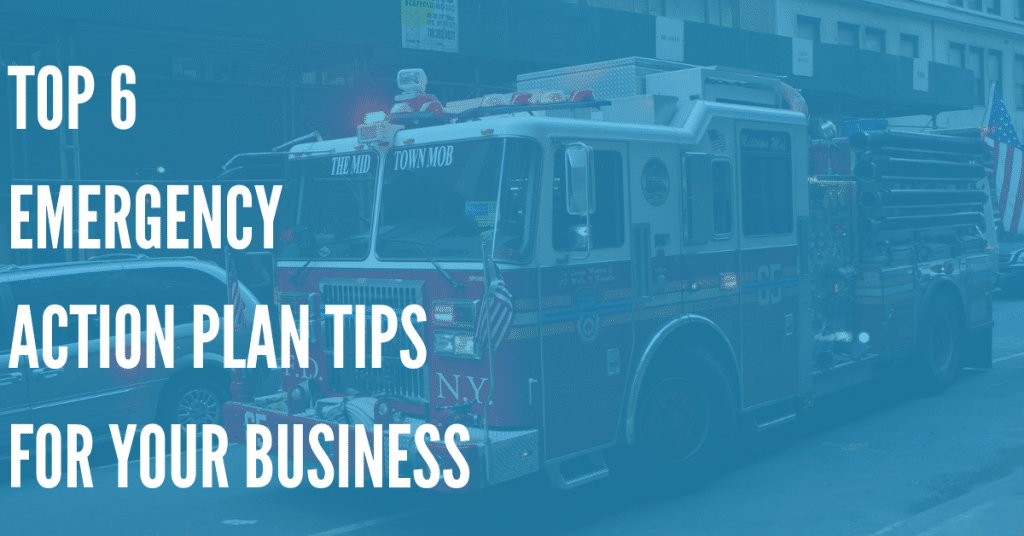 An Emergency Action Plan (EAP) is absolutely essential for businesses of any size. An EAP is the best way to protect your employees from both natural disasters and man-made hazards, which could disrupt their work and pose a threat to their lives.
With an EAP in place, you'll be able to quickly and efficiently evacuate personnel, contact emergency authorities, report the incident, and make sure that all of your employees are present and accounted for after disaster has struck. But if you don't have an EAP, the safety and well-being of your employees could be at risk.
Wondering how to get started? In this article, we'll provide you with a brief overview of the main steps you should take to prepare an Emergency Action Plan, and make sure that it's implemented properly.
1. Consider All Hazards That Could Affect Your Business
First things first, you need to consider all of the hazards which, realistically, could affect your business, and rule out those which do not need to be considered.
If your business operates in California, for example, earthquakes and wildfires could be a major concern – but there's little to no risk of being struck by a tornado. But if your business is in Kansas, tornadoes could be a major concern – but there would be basically no risk of a severe earthquake.
Some of the hazards you should consider include:
Hurricanes and tornadoes
Flash floods
Earthquakes
Fires and explosions
Workplace violence (assault, active shooters)
Chemical spills or breach of toxic material containers
Radiological or biological accidents
Take some time to think through which of these incidents will apply to your workplace, and how each one should be addressed.
2. Create a Clear and Simple Evacuation Plan
Your evacuation plan will differ somewhat, based on the nature of the incident to which you are responding. In a building fire, for example, employees should find safe fire exits, avoid elevators, and get as far away from the building as possible.
But for a tornado, it may be safer to evacuate to the basement of the building, and stay inside far away from windows.
However, no matter what you're responding to, you should have a detailed and clear evacuation plan that outlines:
The method by which employees will be notified that an evacuation is necessary
Which areas employees should avoid
Procedures for shutting down business operations before evacuation (if applicable)
Where employees should gather during an incident
The fastest routes away from any given area
The individuals responsible for coordinating the evacuation
A system by which personnel can be accounted for following an evacuation, to identify who has made it out safely and who may still be at risk
Each of your evacuation plans should include all of these things, to ensure that you are prepared to respond to any kind of emergency.
You may also want to implement a system to alert employees and their families about an emergency, to ensure that those who are not present are aware of the danger. You can use an automated system like DialMyCalls to create lists of your employees and their contact information, and send out SMS text messages to alert them to the situation, and make sure that they're safe.
3. Designate a Chain of Command and a Leader for Evacuation Operations
It's a good idea to designate a few individuals who will be in charge of evacuation procedures. Having a chain of command will help things run smoothly, and ensure that there is no conflicting information about the emergency and evacuation procedures.
You may want to ask for volunteers, or simply take on this role yourself, if you own a smaller company. Regardless of who the leader is, make sure they understand their responsibilities, and every aspect of your EAP.
4. Outline the Notification Procedures for Contacting Emergency Services
In an emergency such as a fire, a workplace assault, or a medical emergency, you will likely need to contact emergency services. Make sure that there is an automated system in place to do so – fire alarms, for example – or that there is an individual who is responsible for contacting emergency services in a timely manner.
You should also define when emergency services should be contacted. For example, it would not be necessary to call the fire department if a tornado may strike your building, as they would not be able to do anything about this.
But if the tornado does hit your area, and it destroys a gas pipeline causing a fire, emergency services should be contacted.
5. Distribute the EAP to All Employees and Train Them on Their Responsibilities
Your EAP should be distributed to all of your employees, and they should be trained on what to do when an emergency does happen. We recommend providing them with a handbook about the EAP, and having a company-wide training session, complete with a quiz, to make sure that they understand their responsibilities. New hires can be given a copy of the EAP upon being hired by your company, to ensure that everyone is up to speed.
6. Plan Regular Drills to Test Your EAP
Even if there's never an emergency you have to respond to, your Emergency Action Plan should be tested regularly. Fire drills and other safety drills are a key component of your EAP. By regularly having these kinds of drills, you can identify any issues with the implementation of your EAP, and make sure that your employees understand what is expected of them in an emergency situation.
Keep Your Employees and Your Business Safe with an Emergency Action Plan
This is just a basic overview of EAPs, how they work, and how to create one for your company. If you want some more in-depth guides on your responsibilities, and how to create an Emergency Action Plan, this OSHA guide and this EAP checklist are both helpful resources.
So don't wait. Make sure you protect your employees and your company during an emergency by implementing a comprehensive, well-designed emergency action plan.