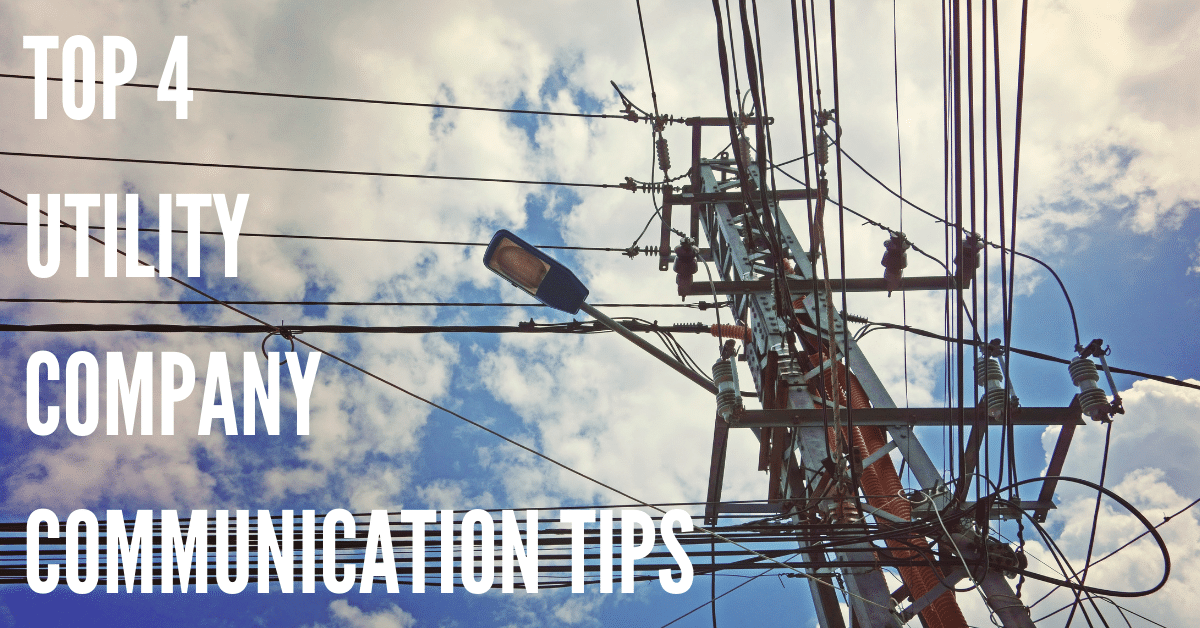 If you're part of a large utility company, one of your biggest concerns is a power outage. Power outages are never a good thing – and they frustrate both customers and utility companies. Nobody likes to be left in the dark.
But, unfortunately, power outages are an all-too-common occurrence – and that's unlikely to change any time soon. Power lines can be knocked down by falling trees, struck by lightning, hit by cars – there's no way to know exactly when an outage will strike.
So, how can you minimize customer dissatisfaction – and keep your customers happy, even during a power outage? Find out now, with our list of the top communication tips for utility companies!

1. Communicate to Customers Proactively Before Large Storms and Events
It's not always possible to send notifications to your customers before a power outage. For example, there's no way to predict if someone will drive a truck into a utility pole, and knock out power for several blocks.
But, there are many situations in which you can anticipate that there may be a large-scale power outage, such as:
Severe thunderstorms and tornadoes
Hurricanes
Major windstorms (derechos)
Wildfires
Flash flooding
Major heat waves (can cause rolling blackouts, "brownouts" due to high A/C demand)
Heavy winter storms (blizzards, ice storms)
If there are severe weather patterns coming towards your area, it's best to notify customers of this. This has a number of benefits.
First, it lets them know that you are aware of the situation, and that your utility company will react proactively to any issues. It also gives your customers time to develop a plan for dealing with a power outage – which is important in extreme weather conditions such as a heat wave, or a winter storm.
There are many ways you could choose to contact customers before a storm. Automated phone calls and text alerts are popular, as are email notifications. You can use DialMyCalls to deliver SMS text messages, phone calls , and email alerts to your customers – ensuring they know about any potential upcoming power outages.
However, make sure that you understand your legal rights to send these notifications – customers have the right to opt-out of them, in most cases.

2. No News Is Not Good News – Keep Updating Your Customers Regularly During Outages
After an outage takes place, make sure to send notifications and information to everyone in the affected areas. There are a few different ways you can do this:
You can use DialMyCalls to send messages to affected customers
You can use social media outlets like Twitter, Facebook, and Instagram to announce outages and expected recovery times
You can send press releases to local news, radio, and television outlets
You can contact emergency authorities to make sure power outage information is broadcast over emergency radio stations
No matter how you choose to reach your customers – we recommend as many of the above methods as possible – make sure to give them regular updates about service, and expected times for power restoration.
No news is never good news if there's a power outage. Even if power will take a little while to be restored, updating your customers regularly is a way to let them know you're doing everything you can to help.

3. Be Realistic About Power Restoration Timelines – Under-Promise and Over-Deliver
When it comes to power restoration timelines, you'll need to follow a few guidelines:
Under-promise and over-deliver – First things first, you need to make sure that your power restoration timelines are reasonable. If you say you'll restore power within 24 hours, your customers are going to start getting annoyed and angry as soon as their power doesn't come back on within that specified time period.
By being conservative with your estimates, you can make sure that you get your facilities up-and-running in a timely fashion – and that you don't go over your initial promise to your customers.
Here's a simple way to put it. If you estimate 24 hours to restore power, and your customers have no power after 26 hours, they'll be furious. If you estimate 36 hours to restore power, and your customers have their power restored after 26 hours, they'll be completely over-the-moon.
Be consistent across all platforms – Another key step you should take when estimating outage times is to be consistent across all platforms. If you have an outage management system, make sure to pull all of your information directly from there – and keep things consistent across all communication platforms.
Again, if a customer is told by a notification that the power will be back on in an hour, but your Twitter estimates 4-6 hours, they'll be confused and annoyed. Keep things consistent for better customer satisfaction.
Be patient with customers – Yes, you're going to get angry calls. You're going to get nasty emails. Your social media accounts will be bombarded with impatient customers, and folks who are upset about the situation.
It's not pleasant, but it's a fact. Understand that they're not angry at your company, specifically – or any of your communications staff. They're simply frustrated by the situation, and seeking an outlet – which is usually your company. Their anger will pass.
If you follow these communications guidelines, you'll be able to alert customers to outages more effectively, and keep them satisfied with clear, timely, and realistic alerts about their power service.

4. Let Customers Choose How They Get Your Alerts and Notifications
Some customers will want to get proactive alerts about potential outages, updates about when service will be restored, and other communications from your utility company. Others won't.
So make sure that you let customers choose their own preferences for automated utility notifications. The preferences portal of your website is a good place to start – you could give them the option of choosing how many alerts they get, at what time of day they are sent, or even the ability to opt-out altogether.
Follow These Tips – Keep Your Customers Safe and Satisfied During the Storm!
Power outages are never a good thing. But with these tips and simple steps, you can keep your customers happier by providing them with clear, convenient communications – even when they're without power for a prolonged period of time.