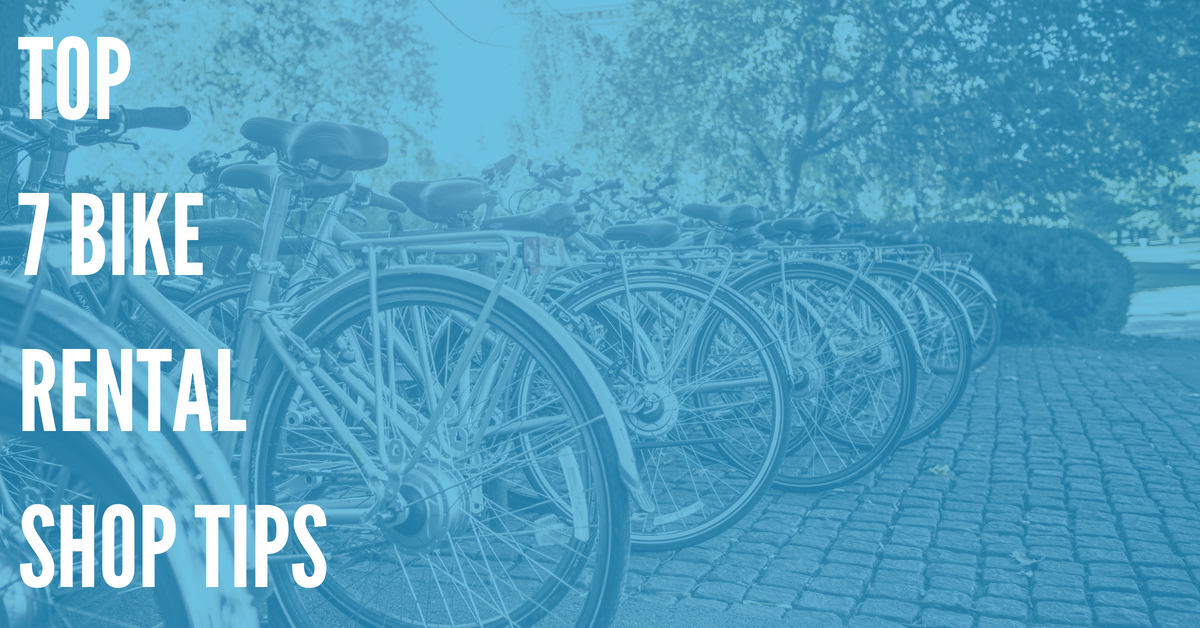 A bike rental shop is a great business to have, especially in top tourist destinations like Florida, and other tropical areas. Everyone loves riding bikes in the gorgeous weather, and there's always plenty of beachside foot traffic, so it won't be hard to promote your business!
But if you're running a bike rental shop, you may still be wondering how you can maximize your profits, minimize running expenses, and run a more successful business. If that's the case, you're in the right place!
In this guide, we'll discuss some tips that bike rental shop owners can use to run a more effective and profitable business.

1. Keep Your Bikes Well-Maintained
If you run a larger bike rental shop, it may be difficult to keep all of your bikes in tip-top shape. But it's well-worth the effort. If you maintain your bikes properly, they will function well, and provide a comfortable, safe ride to your customers.
Not only that, maintaining your bikes is the best way to preserve your investment into your rental bicycles. If your bikes are not well-maintained, they will begin to deteriorate. The chains could become loose, brakes will wear down, poorly-inflated tires may burst, and rust may even start to build up.
If you don't take the time to maintain each of your bikes as soon as you get them back, your inventory is going to start deteriorating quickly.

2. Clean All Returned Bikes Immediately
Most beachside bike rental companies tell renters not to ride their bikes on the beach near the water – because saltwater can be extremely corrosive to the steel components of bicycles.
In an ideal world, renters would be fine with this – but in real life, they tend to ride their bikes on the beach and get them wet anyway. This is out of your control – though if you do notice saltwater stains or sand, you may be able to charge them for violating the rental agreement.
This is one of the reasons it's so important to clean each bike thoroughly once it has been returned. If you do remove salt and other debris from the bike, it's less likely to rust.
You may even want to consider using a rust-proofing product on your bikes. If you spray your bikes with rust-proofer every few months, they're much less likely to be affected by corrosion.

3. Remind Renters About When They Should Return Their Bikes
Whether you offer single day, multi-day, or even hourly rentals, it's a good idea to send regular reminders to your customers about when they are expected to return their bikes. This helps you ensure timely delivery, and it helps them avoid late fees!
A great tool for doing this is DialMyCalls. DialMyCalls allows you to send customized SMS text messages to customers using a simplified web interface. You can send a reminder an hour before the rental is due, or on the final day of a multi-day rental, informing the customer about what they need to do to return their bike, and avoid fees.

4. Don't Skimp on Bike Locks
You should offer bike locks with every one of your rentals, as well as a bike lock mount that lets users keep the lock on the bike. You don't want your bike to be stolen – even if it's insured, it's a pain to have to go through the claims process.
Use high-quality cable bike locks. While some rental agencies use U-locks, this is typically not necessary in a tourist destination, where bike theft is relatively uncommon. A cable lock is plenty of protection, and it's easy for renters to use. We recommend combination locks, as they are easy to unlock, and the renter won't need to remember a key.

5. Streamline the Bike Rental Process
There are a lot of steps for renting a bike. From choosing bikes, to signing waivers, paying, and printing out forms and other required documents. Do your best to streamline the process, so that renters can easily get a bike within just a few minutes. After all, they want to be out in the sun riding their bikes – not sitting around in your shop while you finalize rental agreements!

6. Consider an Online Rental System
This is one of the best ways to streamline the bike rental process. There are a variety of different services you can use for online rentals. Online rental has a number of benefits.
First, customers can finish up their paperwork and upload information like driver's license and contact information without having to come into your shop. They can also pay online using a credit or debit card, which means you won't have to spend as much time processing their payments.
Finally, it makes the pick-up process a breeze. You can set aside the bikes that have been rented, and as soon as your customer walks in, they can get their bike(s) – and get going! No need for them to sit around as payments are processed and paperwork is filled out.

7. Offer Bike Pick-Up Services to Customers
One great way to bring in some additional income for your business is to offer bike pick-up services for multi-day renters. For a fee, you can offer to visit their hotel, condo, or beach rental, and pick up their bicycles to take them back to your shop.
Many people don't want to bother with the hassle of returning a bike – especially on their last day on vacation. So by charging a flat fee for each bike that's picked up, you can satisfy your customers, and make a little bit of extra cash at the same time!
Follow These Tips for Success at Your Bike Rental Shop!
Bike rental is not always an easy business. But if you take the time to follow these tips, have good customer communication, and make the process of renting bikes quick and easy, you're sure to succeed. So take another look at our tips now, and think about how you can start using them at your business today.