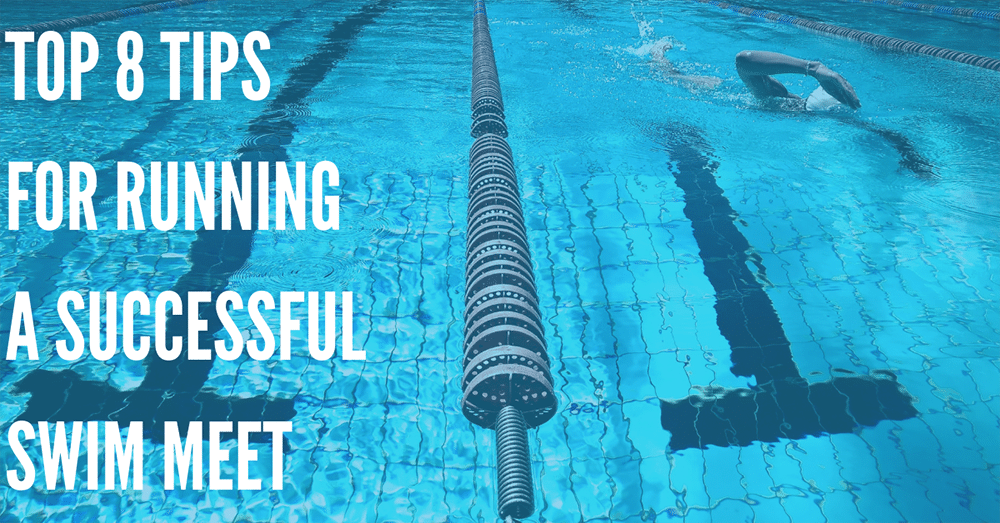 If you're organizing a large, multi-day swim meet, such as an invitational or a swimming championship, you've got a lot to think about – and the process of running the meet can seem intimidating and difficult.
But whether you're an experienced swim meet organizer, or you're just dipping your toes into the pool (so to speak), we've put together a number of tips that can help you ensure your swim meet runs successfully, and goes off without a hitch. Read on, and learn more.
1. Choose the Right Pool
First things first, you'll need to make sure that you choose the right pool for your event. If you're part of a swim club or an organization that has its own pool – such as a YMCA or a high school – this will usually be your own pool. This is the most simple and cost-effective option, unless you're hosting a massive swim meet that's too big for your facility.
If you are renting a pool space, though, you'll want to make sure that it's big enough for your event. 6 lanes should be the minimum number – 8-12 or even more is preferable, to ensure that swimmers can quickly get through all of their events.
Other "nice-to-haves" include bleacher seating in the pool deck area, warm-up pools, high-quality lockers and other facilities, and spacious gymnasiums or other sitting areas, where teams and swimmers can relax and wait for their events.
Do your homework when picking a pool. If you don't, you could end up with a facility that's much too small, or otherwise unsuitable for your meet.
2. Get Swimming Vendors Involved
Getting vendors involved is a good way to get some funding for your event, as they often pay a percentage of their sales or another fee to sell their products and merchandise at your meet, so reach out to local swimming vendors.
Another benefit of swimming vendors on-site is that, if someone's goggles, swimsuit, swim cap, or another important piece of swimming gear rips, tears or breaks, they can quickly replace it. This makes the experience much more stress-free for swimmers and parents.
3. Recruit Volunteers Early (And Often!)
You'll need a bevy of volunteers for your event. These will usually be the parents of your swimmers, so make sure that you start recruiting early, and get enough volunteers – timers, clerk of course officials, concessions volunteers, and so on – before your event.
Being short on volunteers can make your event more difficult and stressful, so do your best to stay fully-staffed. One idea that you could use is a "support team fund." Each family pays into this fund at the beginning of the season – and then, each family member who works at a meet gets a small cash reward from this fund.
The money doesn't have to be much, but this is a good way to make volunteers feel appreciated. If the idea of cash seems uncomfortable, you could also consider a low-value gift card, or reward like a polo shirt with your team's logo on it, given to your most appreciated volunteers.
4. Provide Some On-Site Food Options
Large swim meets are all-day affairs. Swimmers, volunteers, and families alike will need food. Make sure you provide volunteers and officials with a selection of food in a dedicated break room, free of charge.
For swimmers and other meet participants, you can set up a concession stand, where you can sell beverages, chips, candy, sandwiches, hot dogs and burgers and other food, such as pizza from a local chain. The type of food that's appropriate will vary based on the on-site facilities, and your budget. Concessions can help you keep your participants satisfied, and ensure your event is profitable.
5. Work With Experienced Swimming Officials
You'll need to recruit experienced swimming officials from your community. You should encourage parents and volunteers to pursue swim officiating certifications from USA Swimming, to make sure you have enough officials for your event.
6. Remind Volunteers, Families and Swimmers About the Event and Their Responsibilities
You'll need to make sure everyone involved with the meet has a clear idea of what to expect, and their responsibilities on each day of the meet. Consider sending out an email to each group of people, or sending out event reminders with DialMyCalls.
DialMyCalls makes it easy to send out SMS text messages, phone calls, and email broadcasts to your event participants – and give them information about details like the time of the event, location, on-site parking, available food options, and so on. Make sure everyone knows exactly what to do on the day of the event, and things will go much more smoothly.
7. Delegate Your Responsibilities
You're not in this alone. Chances are, you're working with a board of other volunteers and professionals, as well as aquatics directors and other professionals who can help you if you run into a roadblock or a problem. Delegate your responsibilities, and use the skills of those around you to help ensure your success.
8. Expect the Unexpected (and Don't Panic)
Maybe your announcer is sick. Perhaps the touch pad in one of your lanes isn't working. Maybe the PA system is malfunctioning, or someone has slipped and fallen on the pool deck. These kinds of things happen – and there's no way for you to control them.
So expect the unexpected. Our best-laid plans can often go awry – and this is especially true during a large swim meet. Chances are, at least one thing will go wrong. And that's okay. If you've done the proper preparation and groundwork, you'll be able to take on just about any challenge.
Prepare For Your Swim Meet With These 8 Helpful Tips
Hosting a large invitational swim meet doesn't have to be intimidating or scary. Just make sure you start planning well in advance, get enough volunteers, and surround yourself with others who can help you organize and plan the event. Follow these tips, and you're sure to be able to host a successful swim meet.