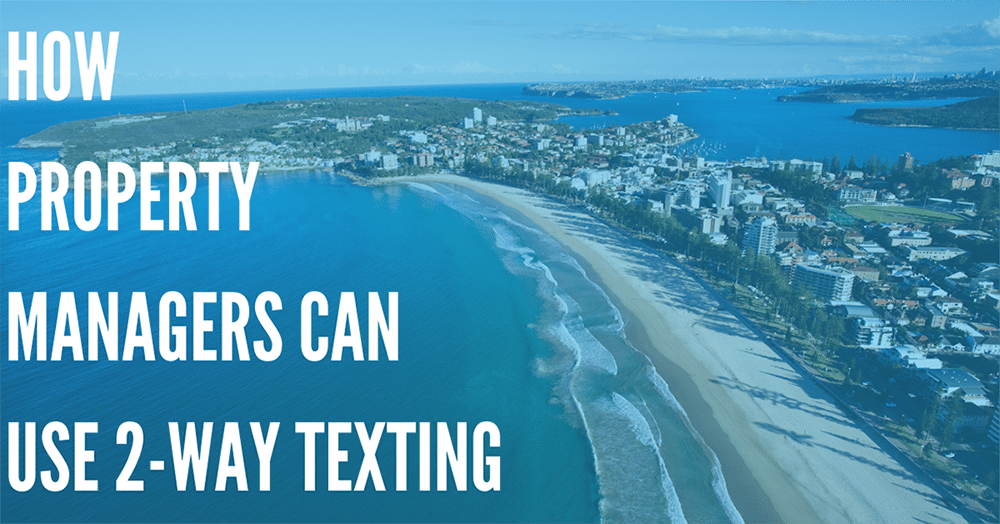 As a property manager, it can be difficult to stay on top of all the tasks that you must do on a day-to-day basis. From interviewing new residents and prospective tenants, to putting in maintenance orders, processing checks and payments, and answering phone calls, it may seem like there is never enough time in the day to do everything.
One of the most powerful tools that you can use to help streamline the property management process is 2-way text messaging from DialMyCalls. With DialMyCalls, you can set up your very own long-code SMS vanity number for your company, and send and receive text messages using both a mobile app and a desktop application.
2-way texting with DialMyCalls allows you to streamline communications with current and prospective tenants, and can be used for a variety of tasks. Let's take a look at some of these now.
1. Scheduling Viewings for Apartments and Sending Reminders to Tenants
If you're looking to lease an apartment or home to a new tenant, and you need to schedule a tour, it can be hard to work out a time that's appropriate for the current tenant to come by and visit.
You have the right to show the property to a new tenant, of course – but you do not want to intrude upon your current tenant's life, and choose a time that's inconvenient or difficult for them. You want them to be satisfied with renting from you, after all!
2-way text messaging can help streamline the process of scheduling apartment viewings. You can contact your tenant by SMS text message, and ask them when a convenient time would be for you to come by for a tour. SMS messages have a 94% open rate – so your tenants are much more likely to see an SMS than they would be to respond to an email, phone call, or voicemail.
This makes it easy for you to find a time that works for your current tenants, and prospective tenants who would like to take a tour. In addition, you can use 2-way SMS text messaging to send reminders to your tenant about when the tour is going to happen – so they can tidy up, or leave the apartment if they do not wish to be present during a tour.
2. Communications With Prospective Tenants
According to research by eWeek, 64% of people would prefer to communicate with businesses via SMS text message. And it's not hard to understand why. Our phones are always with us – and responding to a text message is more unobtrusive than picking up a phone call, or listening to a voicemail.
That means, if you use 2-way texting to communicate with prospective tenants, you can increase your leasing rates, and turn more of your leads into residents. Along with emails and phone calls, 2-way texting can be a powerful way to remind potential tenants about upcoming appointments, and ensure that you never miss out on a hot lead due to poor communication.
3. Reminders and Announcements for Tenants
Using 2-way texting, you can remind multiple tenants about issues that may require their attention. For example, if you own a building that is known to have issues with freezing pipes in the winter, you can remind tenants to take the proper steps to prevent pipe freezing during a cold snap.
You can also make announcements about things like parking changes, lease renewal, and other such day-to-day announcements. By sending this information directly to your tenants via SMS, you can be sure they'll read it – and because DialMyCalls offers 2-way text messaging, your tenants can reply immediately if they have any questions about your announcement or reminder.
4. Maintenance Appointment Reminders
We don't recommend solely using 2-way texting for maintenance appointments – it's best to use a dedicated online maintenance request portal for such things.
But it can be useful to send out maintenance appointment reminders, and ensure that tenants are informed about any maintenance tasks that must be carried out at their homes when they are not present.
This is also a good way that tenants can inquire about a potential issue with their home or apartment in a non-intrusive way – they can report a water leak, for example, and if you think that this merits further follow-up, you can send an SMS text message back to them, and ask them to schedule a maintenance appointment, or call your emergency, 24/7 maintenance line if the situation is serious.
5. Polling and Feedback
DialMyCalls offers polling functionality with 2-way texting. You can send out customized polls and surveys to both current and prospective tenants, to gather key insights about how you're doing, and how your property management company could improve.
In addition, DialMyCalls also provides texting and SMS analytics, which can help you understand things like the open and respond rate of your messages, and ensure that you communicate effectively with all of your tenants.
Keep Your Tenants Happy and Increase Profits With 2-Way Texting
These are just a few of the ways that apartment managers can benefit from using 2-way text messaging from DialMyCalls. Better communication with your tenants and prospective residents is always a good thing, so get started right away, and see how you can boost profits and tenant satisfaction with 2-way texting today.