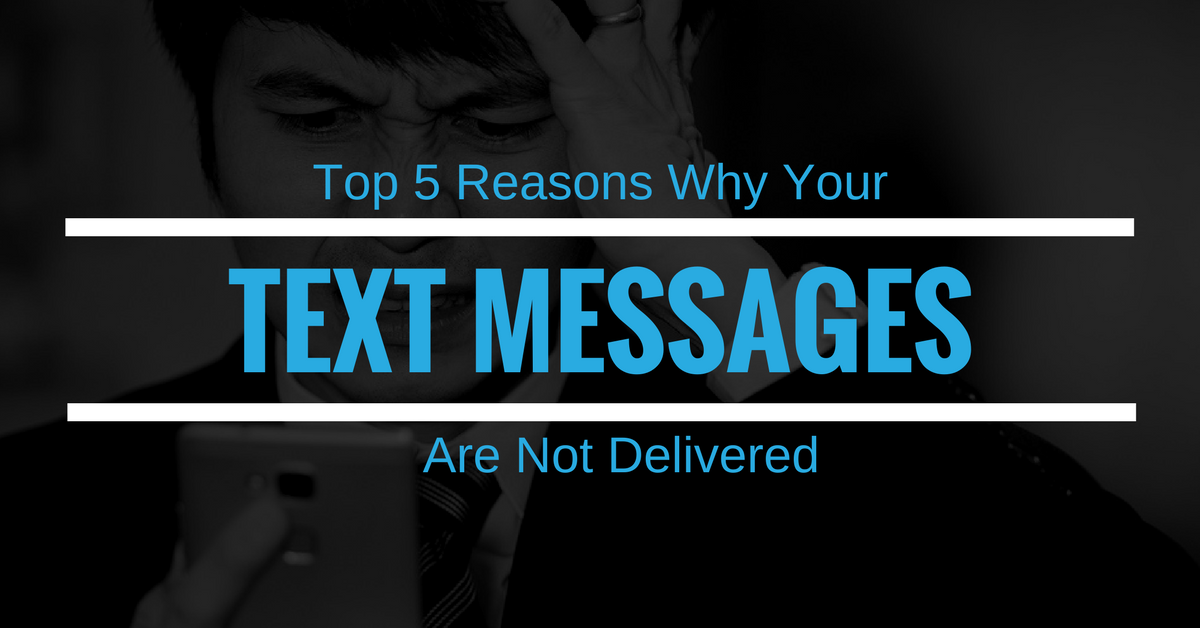 Whether you're trying to send a personal SMS message to a friend or a business associate, or using a service like DialMyCalls to send SMS messages to high volumes of people, you've probably run into issues with your text messages not being delivered.
While DialMyCalls takes steps to avoid this, there are still a few rare situations that can cause SMS message delivery to fail.
In this article, we'll take a look at some of the most common causes that text messages may not be delivered, so that you may better understand how to best use DialMyCalls, and ensure that your messages are always delivered to the appropriate people.

1. Invalid Numbers
This is the most common reason that text message delivery can fail. If a text message is sent to an invalid number, it won't be delivered – similar to entering an incorrect email address, you will get a response from your phone carrier informing you that the entered number was invalid.
There can be quite a few reasons for this. For example, all messages being sent to U.S. telephones must begin with the country prefix "1" – if the international country prefix is not added, the message may fail to deliver correctly.
Other causes of invalid numbers include attempting delivery to landlines – landlines cannot receive SMS messages, so delivery will fail.
And, of course, SMS messages may fail if an individual's phone number is incorrect, disconnected, or otherwise invalid.

2. Carrier Filters
Similar to email, some cell phone carriers have implemented filter systems that can block spam, phishing attempts, and other unwanted messages. One of the primary ways that carriers block spam is by separating "A2P" and "P2P" messages.
P2P messages are messages sent between individuals – and they always have a valid alphanumeric senderID. These messages are likely to be delivered without being filtered.
A2P messages are messages sent from mass texting applications. Some carriers will "filter" these messages, and prevent them from being sent to individuals, in an attempt to prevent spam.
To avoid this, DialMyCalls uses advanced A2P routing to send messages through A2P-enabled routes. However, some messages may still be blocked if they contain certain keywords, though this depends on the specifics of each individual's carrier.

3. Routing Factors
SMS routing can be a large factor in the successful delivery of a message. While most SMS messages are sent through routes directly to the relevant phone numbers, this is not always the case.
Some SMS messages may be sent to a particular network provider that does not allow the delivery of a message. If that network provider doesn't provide automatic rerouting services, the delivery of the message can fail entirely.
Despite the fact that most U.S. telecom providers cooperate to route SMS messages, this situation can still occur, and is a common cause of text messages not being delivered properly.

4. Incorrect Encoding
SMS encoding is what determines the allowable combination of characters that can be sent. Messages are usually sent using Unicode, which contains 70 characters, or GSM 3.38 – a global standard which allows for 160 characters.
In the U.S., Unicode is the standard encoding method for SMS messages. Messages which are sent using GSM 3.38 may be mangled or unreadable when sent – and some carriers may refuse to deliver these messages entirely.
To avoid SMS delivery failure, ensure that your SMS messaging service or carrier is using Unicode in the U.S.

5. "Long Code" Text Messaging
If you're using a free online SMS messaging application instead of a powerful application like DialMyCalls to promote your business, this is probably the most common reason that your messages will fail to deliver.
This is because most free SMS services use email – which is a form of "long code" text messaging. Long code text messaging is intended for use by private individuals. Because of this, long code messaging has a variety of limitations.
You'll be limited to sending 1 message per second and 500 messages per day. If you exceed this limit, your number will be blocked. You must also have a legitimate pre-approved US virtual number that uses the international format – eg "15028675309".
However, there is a solution to this problem. "Short Code" text messaging was developed specifically for mass communications and marketing – and DialMyCalls offers powerful short code SMS messaging that's perfect for your organization!
If you use a short code SMS service, you can send both SMS and MMS messages at over 100 messages per second. And because each telecommunications carrier vets and approves short codes to ensure they're being used properly, they are not subject to spam filtering or suspension during heavy traffic loads.
Choose DialMyCalls For Your Mass SMS Notification Needs!
Whether you want to use DialMyCalls for your business, send updates to your school district, collect donations for your nonprofit, or anything else, we're the perfect choice for your SMS messaging and notification needs.
Our advanced technology, short code systems, detailed SMS broadcast reports, and powerful direct routing features allows DialMyCalls to ensure timely delivery of all of your most important text messages.
So don't rely on free "long code" messaging services – and don't risk SMS delivery failure! Contact DialMyCalls today, and see how we can help you communicate more effectively with powerful SMS messaging!