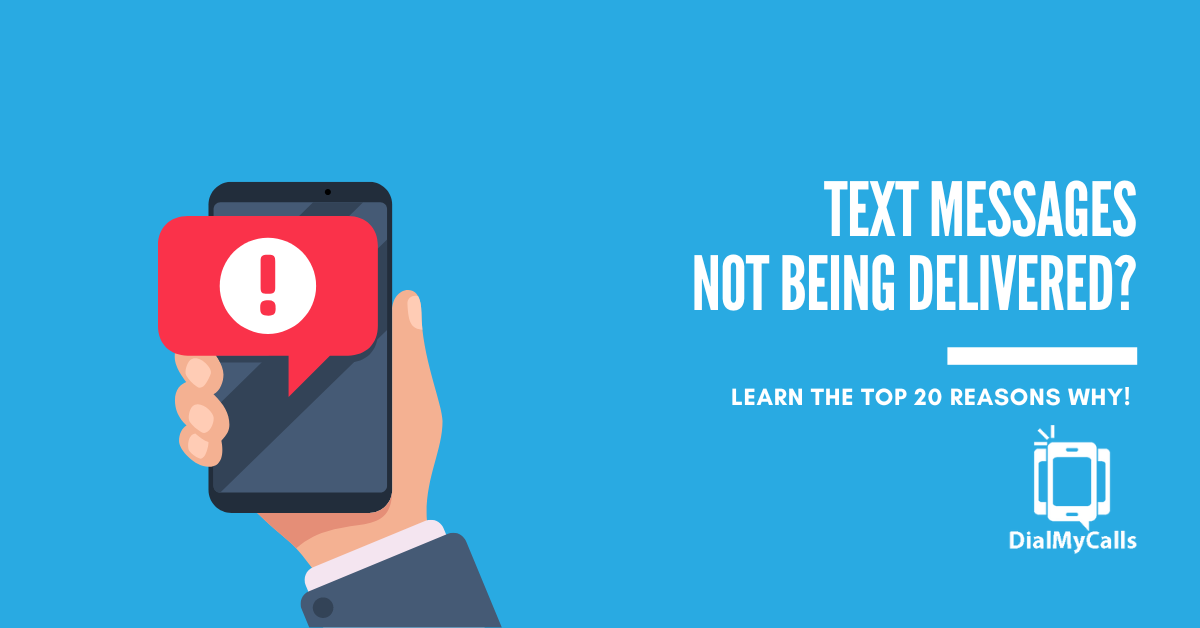 Whether you're trying to send a personal SMS message to a friend or a business associate, or using a service like DialMyCalls to send SMS messages to high volumes of people, you've probably run into issues with your text messages not being delivered.
While DialMyCalls takes steps to avoid this, there are still a few rare situations that can cause SMS message delivery to fail.
In this article, we'll take a look at some of the most common causes that text messages may not be delivered, so that you may better understand how to best use DialMyCalls for text reminders and mass texting, and ensure that your messages are always delivered to the appropriate people.
Why Your Texts Are Not Being Delivered

1. Invalid Numbers
This is the most common reason that text message delivery can fail. If a text message is sent to an invalid number, it won't be delivered – similar to entering an incorrect email address, you will get a response from your phone carrier informing you that the entered number was invalid.
There can be quite a few reasons for this. For example, all messages being sent to U.S. telephones must begin with the country prefix "1" – if the international country prefix is not added, the message may fail to deliver correctly.
Other causes of invalid numbers include attempting delivery to landlines – landlines cannot receive SMS messages, so delivery will fail.
And, of course, SMS messages may fail if an individual's phone number is incorrect, disconnected, or otherwise invalid.

2. Carrier Filters
Similar to email, some cell phone carriers have implemented filter systems that can block spam, phishing attempts, and other unwanted messages. One of the primary ways that carriers block spam is by separating "A2P" and "P2P" messages.
P2P messages are messages sent between individuals – and they always have a valid alphanumeric senderID. These messages are likely to be delivered without being filtered.
A2P messages are messages sent from mass texting applications. Some carriers will "filter" these messages, and prevent them from being sent to individuals, in an attempt to prevent spam.
To avoid this, DialMyCalls uses advanced A2P routing to send messages through A2P-enabled routes. However, some messages may still be blocked if they contain certain keywords, though this depends on the specifics of each individual's carrier.

3. Routing Factors
SMS routing can be a large factor in the successful delivery of a message. While most SMS messages are sent through routes directly to the relevant phone numbers, this is not always the case.
Some SMS messages may be sent to a particular network provider that does not allow the delivery of a message. If that network provider doesn't provide automatic rerouting services, the delivery of the message can fail entirely.
Despite the fact that most U.S. telecom providers cooperate to route SMS messages, this situation can still occur, and is a common cause of text messages not being delivered properly.

4. Incorrect Encoding
SMS encoding is what determines the allowable combination of characters that can be sent. Messages are usually sent using Unicode, which contains 70 characters, or GSM 3.38 – a global standard which allows for 160 characters.
In the U.S., Unicode is the standard encoding method for SMS messages. Messages which are sent using GSM 3.38 may be mangled or unreadable when sent – and some carriers may refuse to deliver these messages entirely.
To avoid SMS delivery failure, ensure that your SMS messaging service or carrier is using Unicode in the U.S.

5. "Long Code" Text Messaging
If you're using a free online SMS messaging application instead of a powerful application like DialMyCalls to promote your business, this is probably the most common reason that your messages will fail to deliver.
This is because most free SMS services use email – which is a form of "long code" text messaging. Long code text messaging is intended for use by private individuals. Because of this, long code messaging has a variety of limitations.
You'll be limited to sending 1 message per second and 500 messages per day. If you exceed this limit, your number will be blocked. You must also have a legitimate pre-approved US virtual number that uses the international format – eg "15028675309".
However, there is a solution to this problem. "Short Code" text messaging was developed specifically for mass communications and marketing – and DialMyCalls offers powerful short code SMS messaging that's perfect for your organization!
If you use a short code SMS service, you can send both SMS and MMS messages at over 100 messages per second. And because each telecommunications carrier vets and approves short codes to ensure they're being used properly, they are not subject to spam filtering or suspension during heavy traffic loads.

6. Network Congestion 
During peak hours or in densely populated areas, the surge in mobile data usage overwhelms cellular networks, leading to message delivery delays or failures. The increased number of users accessing data-intensive applications, such as video streaming and social media, places immense strain on the network infrastructure.
As a consequence, messages sent during these periods may get stuck in a backlog, waiting in a queue until the network's capacity can effectively handle the high data traffic. This congestion not only results in delayed message deliveries but can also lead to intermittent connection issues, dropped calls, and reduced internet speeds, causing frustration and contributing to communication breakdowns between users.

7. Signal Issues
Unstable or weak cellular signals pose significant challenges to message delivery, particularly when a device faces difficulties establishing a reliable connection to a nearby cellular tower. The constant fluctuations in signal strength can cause intermittent disruptions, where messages may fail to reach their recipients promptly or get lost in transit. This instability in signal reception can be particularly troublesome in areas with poor network coverage or during instances of network congestion.
As a consequence, real-time communication experiences disconnections and delays, leading to potential misunderstandings, missed opportunities, and a less seamless user experience. To maintain efficient communication, it is essential for users to be aware of their signal strength and connectivity status, making adjustments or relocating if necessary to ensure reliable message delivery.

8. Blocked Numbers
Whether intentional or accidental, when a recipient blocks the sender's number, all messages from that sender remain undelivered, leaving the sender unaware of the communication blockade. This blocking mechanism, while offering privacy and control to the recipient, can inadvertently lead to misunderstandings and strained relationships. The sender, unaware of being blocked, may continue sending messages, assuming that the lack of response is due to other reasons.
Meanwhile, the recipient remains shielded from any further communication from the blocked sender, without any indication that messages are being withheld. As a result, the lack of feedback can create confusion and frustration, making it essential for both parties to maintain open and honest communication about their intentions and preferences to avoid such situations.

9. DND (Do Not Disturb) Mode
When a recipient activates Do Not Disturb mode on their phone, incoming messages are silenced, and notifications are suppressed, ensuring peace and uninterrupted focus. However, for senders, this can create uncertainty, as they may assume their messages are undelivered when, in reality, they have been successfully transmitted but remain unseen.
The lack of a read receipt or response notification further perpetuates this ambiguity, leading to potential misunderstandings and frustration between the sender and recipient. As a result, it becomes essential for individuals to be aware of the recipients' Do Not Disturb settings and establish clear communication channels, such as alternate means of contact or prearranged communication windows, to prevent unnecessary concern and maintain effective dialogue.

10. Software Glitches
The complex software systems operating on both sender and recipient devices are not infallible, as they involve intricate interactions between hardware, operating systems, and messaging applications. Even with rigorous testing and development, occasional software bugs or glitches can occur, disrupting the otherwise smooth message delivery process. For senders, this can be a frustrating experience, as they may remain puzzled about the non-delivery of their texts despite a seemingly functional connection.
In such cases, it is crucial for users to be patient and considerate, as resolving these technical issues may require updates or fixes from app developers or device manufacturers. Additionally, keeping software and apps up-to-date can reduce the likelihood of encountering such disruptions and ensure a more seamless messaging experience. As technology evolves, new features and improvements are continually being introduced, and updating software can help users stay ahead of potential bugs or compatibility issues. Moreover, providing timely feedback to developers or reporting issues can contribute to future updates and enhancements, benefiting the overall user experience.

11. Message Center Number Misconfiguration 
Each mobile device requires a unique Message Center Number (MCN) to effectively route outgoing messages to their designated recipients. This MCN acts as a crucial intermediary, directing messages through the appropriate cellular networks before reaching their intended destination. However, in instances where the MCN is misconfigured, inaccurately input, or unintentionally omitted from the device's settings, messages cannot be sent successfully.
As a consequence, these undelivered communications become stranded in a state of limbo, leaving senders perplexed and recipients unaware of the attempted communication. To avoid such issues, users should double-check their device settings, ensuring that the correct MCN is provided and promptly contact their mobile service provider for assistance if required. Additionally, staying informed about the latest updates and troubleshooting procedures can help users proactively address any configuration issues that may hinder message delivery.

12. Message Length and Format
Certain cellular networks impose restrictions on the length or format of text messages to optimize network efficiency and bandwidth usage. When a sender attempts to transmit a message that exceeds these limitations, the message may be automatically broken into multiple parts, known as "multipart" messages, to conform to the network's constraints. However, in some cases, if the message surpasses the maximum allowed length, it may fail to send altogether, resulting in an undelivered communication.
This limitation can pose challenges to users who need to convey lengthy or detailed information, as the fragmented messages may disrupt the flow of thought and reduce the overall clarity and coherence of the communication.
To mitigate this issue, it is crucial for users to be mindful of the character limit and consider alternative communication methods, such as email or multimedia messaging, for more extended or media-rich messages. Additionally, staying aware of the specific text message limitations of their chosen carrier can help users adapt their communication style to ensure the successful delivery of their messages.

13. Roaming Restrictions 
While traveling abroad, users may encounter roaming restrictions that significantly impact text message delivery. When a user's device connects to a foreign network, the home carrier may impose certain limitations or additional charges for sending and receiving messages while roaming. These roaming charges can vary based on the destination country and the user's mobile plan, resulting in potential irregularities in message delivery and increased communication costs.
Additionally, some carriers may prioritize data usage over text messages during roaming, further affecting the reliability of text message delivery. To avoid unexpected costs and potential message delivery issues while abroad, it is essential for travelers to be aware of their carrier's roaming policies, consider using alternative messaging platforms like internet-based messaging apps, or inquire about international messaging packages that may offer more cost-effective and reliable communication options.

14. Sender's Service Outage
Just as recipients can experience network issues, the sender's mobile service provider might also suffer from outages due to various factors, such as technical glitches, maintenance work, or infrastructure failures. During these unfortunate periods of service disruption, outgoing messages from the sender's device may encounter obstacles and fail to reach their intended recipients. These outages can be temporary or prolonged, depending on the severity of the issue, further exacerbating the uncertainty around message delivery.
In such situations, both senders and recipients may find themselves frustrated by the lack of communication, highlighting the interdependence of mobile networks and the need for reliable and resilient infrastructure. Staying informed about service status updates from the mobile service provider and considering alternative communication methods can help mitigate the impact of outages and maintain effective communication even during challenging times.

15. Mobile Number Portability
When users switch carriers but retain their old phone numbers through a process known as number portability, it introduces complexities in the seamless transfer of messaging services. During the porting process, the routing information for text messages must be updated across multiple carriers to ensure proper delivery to the new network. This intricate transition can lead to temporary hiccups in message transmission, causing delays in message delivery during the porting period. As a result, both senders and recipients may experience frustration and confusion when messages appear to be undelivered or encounter unexpected delays.
While number portability allows users to maintain familiar contact information while changing carriers, it is essential for individuals to be aware of the potential message delivery challenges during the transition. Keeping communication lines open and seeking assistance from both the old and new carriers can help users navigate this period and ensure a smoother transfer of their messaging services. This reason is particularly common when using SMS for schools as parents of students often switch carriers and do not let their school know, which could lead to undelivered text messages.

16. Sender Error
Human error is an inevitable aspect of communication, and custom texting is no exception. Despite the advancements in user-friendly interfaces, mistakes can still occur, such as inadvertently entering the wrong recipient's number or unknowingly running out of credit on prepaid plans. These seemingly minor errors can have significant consequences, resulting in failed message deliveries and potential miscommunications. Therefore, attention to detail and accuracy on the sender's part are paramount to ensure successful communication.
Taking the time to verify recipients' numbers before hitting the send button and regularly checking prepaid plan balances can help avoid unnecessary delivery failures and maintain the efficacy of text-based communication. Additionally, being proactive in resolving any issues promptly, such as reattempting delivery or topping up prepaid credit, can enhance the overall reliability and effectiveness of custom text messaging.

17. Carrier Blocklists
Cellular carriers play a crucial role in safeguarding their users from the onslaught of spam and phishing attempts through the maintenance of blocklists. While this proactive measure is vital for ensuring user security and privacy, the system is not foolproof and may occasionally generate false positives. When legitimate senders' numbers are mistakenly flagged as potential threats, it can lead to a frustrating predicament where messages from these numbers are inadvertently blocked, hindering essential communication channels.
Such false positives can result from various factors, including similar patterns shared with spam numbers or the carrier's ever-evolving filtering algorithms. To address this issue, it is essential for carriers to continually fine-tune their blocklist mechanisms to reduce false positives and ensure the smooth delivery of messages while maintaining user security. Additionally, users can proactively engage with their carrier's support services to rectify any blocking errors and restore unhindered communication with legitimate senders.

18. Phone Memory Issues 
In our modern world, where smartphones have become indispensable tools for communication, the issue of insufficient storage space or a cluttered message inbox can have a significant impact on the smooth flow of messages. When a recipient's device reaches its storage limit, it may struggle to accommodate new messages, leading to potential delays or message delivery failures. In such situations, incoming messages may remain in a limbo state, awaiting clearance of space by manually deleting older messages before they can be successfully received.
This storage-related bottleneck can be frustrating for both senders and recipients, as it hinders the real-time exchange of information and may lead to missed or overlooked messages. To mitigate these storage challenges, users can regularly manage their message inbox, deleting unnecessary messages or media files, and consider utilizing cloud-based storage options to optimize their device's storage capacity and ensure the smooth delivery of messages.

19. Blacklisted Devices
In rare instances involving misuse or fraudulent activities, certain mobile devices may find themselves blacklisted by cellular carriers as a protective measure to safeguard their networks and users. When a device is blacklisted, messages originating from it are automatically blocked by the carrier's network, rendering legitimate communication attempts futile. This stringent action, although necessary for network security, can inadvertently disrupt communication for users who may be unaware of their device's blacklisted status. The lack of delivery and no indication of the blockage may leave senders perplexed and recipients unaware of the attempted communication.
To address this issue, users can contact their carrier's customer support to inquire about blacklisted status, resolve any issues, and ensure unimpeded communication in the future. Moreover, practicing responsible use of mobile devices can contribute to maintaining a healthy and secure mobile network environment for all users.

20. Government Regulations
In some regions, government-imposed restrictions or censorship can exert a profound influence on message delivery, creating a highly controlled communication landscape. These regulatory measures may involve message filtering, monitoring, and even outright blocking of certain content, limiting the free flow of information between individuals. As a result, users residing in these regions may encounter significant obstacles in sending or receiving messages, impacting their ability to freely express themselves and communicate with others.
This censorship not only affects personal communication but also extends to the dissemination of news, ideas, and important information. The presence of such external factors highlights the delicate balance between ensuring communication reliability while respecting individual rights and freedom of expression in regions with stringent government regulations. It also underscores the significance of technology and policy discussions on maintaining open and accessible communication channels in a globalized world.
So Why Aren't Your Texts Delivering to a Certain Person?
There could be several reasons why your texts aren't reaching a specific person. Possible causes include a blocked number, network issues, or the recipient's device being turned off. Check your settings and try contacting them through an alternative method to troubleshoot the problem.
How to Fix Texts That Are Not Delivering
Choose DialMyCalls For Your Mass SMS Notification Needs!
Whether you want to use DialMyCalls for church texting, your business, send updates to your school district, collect donations for your nonprofit, or anything else, we're the perfect choice for your automated texting service and notification needs.
Our advanced mass text service, short code systems, detailed SMS broadcast reports, and powerful direct routing features allows DialMyCalls to ensure timely delivery of all of your most important text messages.
So don't rely on free "long code" messaging services – and don't risk SMS delivery failure! Contact DialMyCalls today, and see how we can help you communicate more effectively with powerful SMS messaging!