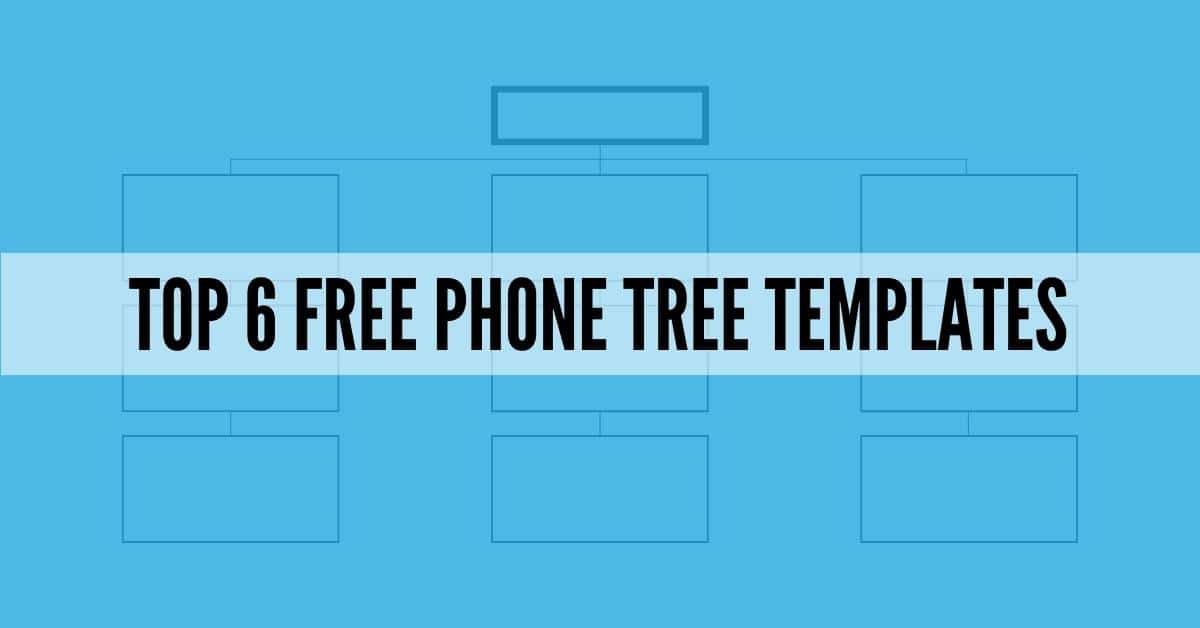 Imagine being part of an organization where you're frequently left out of the loop. Important information will probably never get to you, or maybe it'll reach you when it's too late for you to act. This problem shows the need for a quality information dissemination system, and phone tree templates are a popular choice for many organizations.
In this article, we'll introduce you to six free phone tree templates you can utilize in your organization, depending on your scenario. You'll also learn how to create phone tree templates and a modern alternative you can incorporate for added reliability
Call Tree Templates
A call tree template (or phone tree template) is a hierarchical diagram that shows the order of phone call communication that involves more than two people. This template shows who each person in an organization is assigned to relay information to, starting with the foremost person.
When the occasion arises, the person at the top begins the communication chain, contacting the people directly under them. These people, in turn, phone the contacts assigned to them until the information is completely circulated.
But why is a call tree template important for an organization? Here are a few advantages of call tree templates for organizational communication.
Clarity of roles and better organization during information transmission.
Prompt contact with the appropriate individuals in any situation, reducing response times and minimizing potential damage.
Provides a communication strategy for various situations while catering to the organization's needs and requirements.
Its predetermined structure provides guidance in high-pressure scenarios, thus reducing stress.
How to Create a Phone Tree Template
Phone trees are easy to create and use but must be properly done to be effective. To build an efficient phone tree, you must keep to certain rules and processes and constantly test-run your template. This way, you can ensure its functionality and better prepare your organization to convey information properly.
Here are a few steps to create a phone tree template.
1. Determine the Purpose
Determining the phone tree template's purpose is the first step to ensuring good arrangement and structure. Without a stated purpose, you're more likely to make errors and miss important details during the drafting process. Thus, you must ask yourself certain questions to help you understand the purpose of the template and align its contents to achieve that goal.
Why are you creating a phone tree template? What situations brought about this need? Clearly defining its purpose brings order, especially if you need specific templates for different occasions. So, highlight this purpose and the goal of the phone tree template.
2. Identify Contacts
Next, specify the people involved in the situation identified. Ask yourself who needs to be contacted in the event of that situation, and highlight these contacts. Include all relevant contact information like names, phone numbers, or job roles.
Additionally, to make your phone tree effective, streamline the contacts you incorporate into the template. Adding too many contacts will inevitably increase the time it will take to circulate information, so ensure every contact in your template is strictly required.
3. Organize the Hierarchy 
After identifying the responsible people, you must figure out your command chain. Who does each person directly report to? Determine this hierarchy and structure your phone tree template. Start with the person who begins the communication process, then continue down the chain, with each level clearly illustrating the next contact person.
4. Create the Template
Now, you're ready to draw up the phone tree template. Document the phone tree using any tool you're comfortable with, whether it's a word processor, spreadsheet application, or project management software.
Note that this document should include any additional protocol or instruction the responsible contact people should adhere to. Also, you must circulate it to all persons involved and ensure they are conversant with the document.
5. Test Your Template
Finally, test the phone tree template. You can verbally ask the involved individuals how familiar they are with the phone tree. However, physically testing it out is the only way to ensure its full functionality.
Carry out routine tests and drills, especially if it's an emergency phone tree template. This will train the people involved to implement a seamless communication process with the template. Also, it helps you keep the contacts updated and effective and remove unnecessary or redundant numbers.
Common Mistakes to Avoid
While creating a phone tree template, there are certain things you need to look out for. This method of communication can easily be unreliable, and overlooking these common errors will likely yield an ineffective phone tree template.
1. Failing to Include Other Communication Channels
Phone trees are usually for calls only, but multiple communication channels should be used for more effective communication. A good phone tree template should include procedures for a backup communication plan if needed.
For instance, internal company phone lines can sometimes fail due to poor service or network reception. In such instances, sending an email or using automated text messages may be a better option to ensure proper communication.
2. Complexity
The simpler your phone tree is, the faster and more seamless the communication process. As such, overloading the phone tree with unnecessary contacts increases the possibility of flaws in message transmission.
For example, for an emergency phone tree, including a secretary or subordinate to access a manager isn't necessary. Instead, aim to include only the most important contacts for every type of phone tree to keep the template straightforward.
3. Missing Contacts
A simple phone tree template becomes useless if the appropriate persons aren't included. While you should aim to eliminate complexity, remember not to remove relevant information, which can negatively affect communication and subsequent reactions. Consequently, ensure you have the contacts of every key individual to facilitate proper communication and response.
4. Poor Format
Your document is largely pictorial and, as such, must be visually appealing and professional. So, mixing several colors and fonts or using garish styles will make the phone tree template difficult to comprehend.
Rather, keep the template simple, with a classic layout and visible font styles and sizes. Also, avoid loud, harsh colors, which may be tough to go over and discourage assimilation.
5. Failing to Test
Testing and iteration are essential when introducing any system into your organization, and phone tree templates are no different. With regular tests, you can note irregularities and iterate the template to yield better results.
Testing also helps you update the template, as you can see what numbers aren't in use and delete them. Moreover, you can constantly check your hierarchy, monitor the job roles and responsible people, and make necessary adjustments.
6 Phone Tree Templates for Different Use Cases
As mentioned above, it's advisable to create different templates depending on the use cases. This section will give you six free phone tree templates for your organization.
1. Basic Phone Tree Template
(basic-phone-tree-template.pdf – right-click, save link as to download PDF)
Creating specific templates for different purposes is best, but some situations may call for a general-purpose phone tree. For example, you may want to make a general announcement that doesn't classify as an emergency. In this situation, a standard phone tree template is the most adequate option.
Our general-use template provides a communication line for up to 27 people. While it's good to create specific templates for different scenarios, you can utilize this for general organizational communication.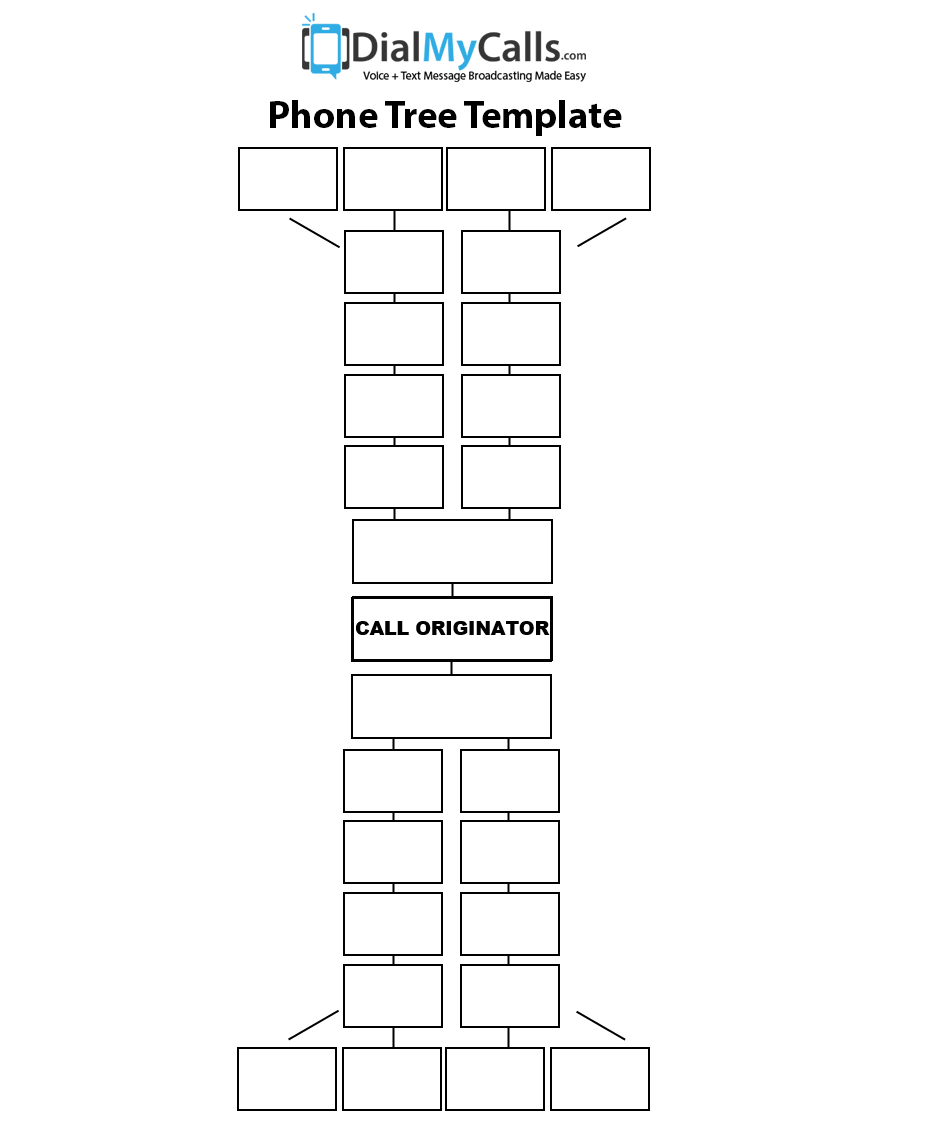 2. Intermediate Phone Tree Template
(intermediate-phone-tree-template.pdf – right-click, save link as to download PDF)
Every good call tree template must be scalable and be able to support growth. This is because using a smaller template to convey information to many people will create a break in communication.
Our intermediate phone tree template is similar to the template above but supports up to 29 people. So, go for this template if you run a slightly larger organization that requires more reach.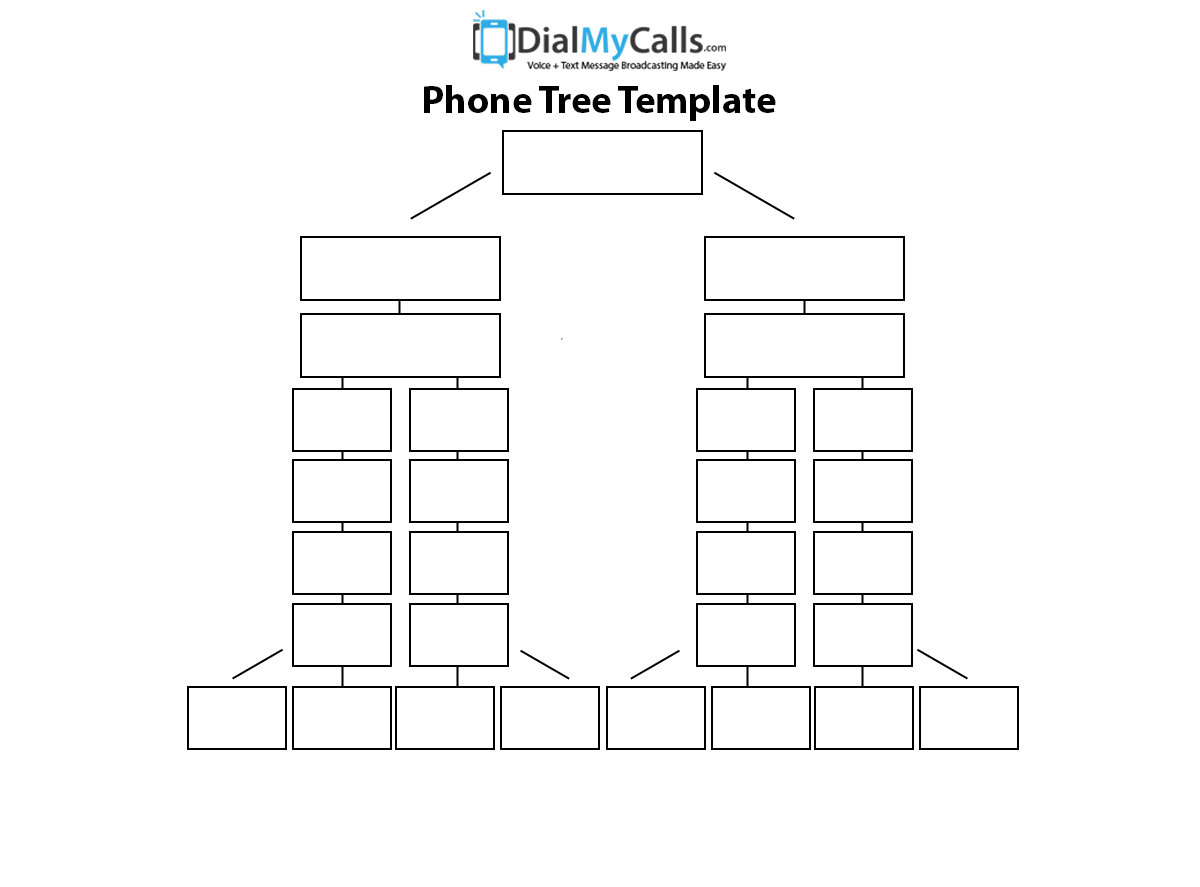 3. Advanced Phone Tree Template
(advanced-phone-tree-template.pdf – right-click, save link as to download PDF)
Are you a massive organization that has to contact every employee and person in your company? Our advanced phone tree template scales up to 125 people which is perfect for almost all organizations.
Utilize the advanced phone tree template to ensure everyone at your organization is aware of who they need to contact when the phone tree is implemented.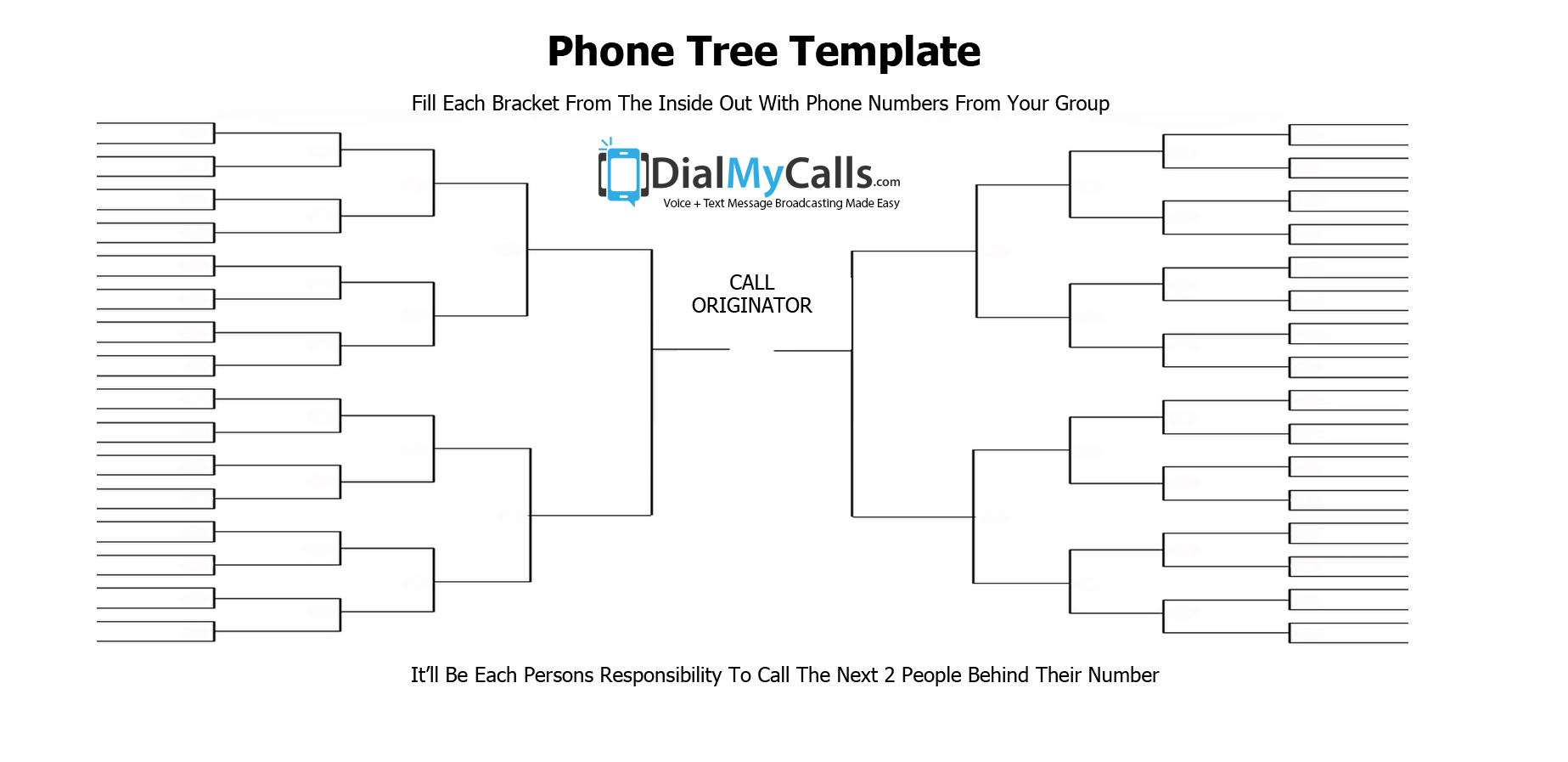 4. Emergency Phone Tree Template
(emergency-phone-tree-template.pdf – right-click, save link as to download PDF)
Failing to plan for emergencies drastically reduces your chances of coming out on top of the situation. A proper communication strategy to inform people of the emergency is highly important and saves your organization time and money. Luckily, a phone tree template is an excellent way to provide such plans.
Use our emergency phone tree template when sending an emergency notification to the necessary people in your organization. Speed is essential for its effectiveness, so remember to include key people only.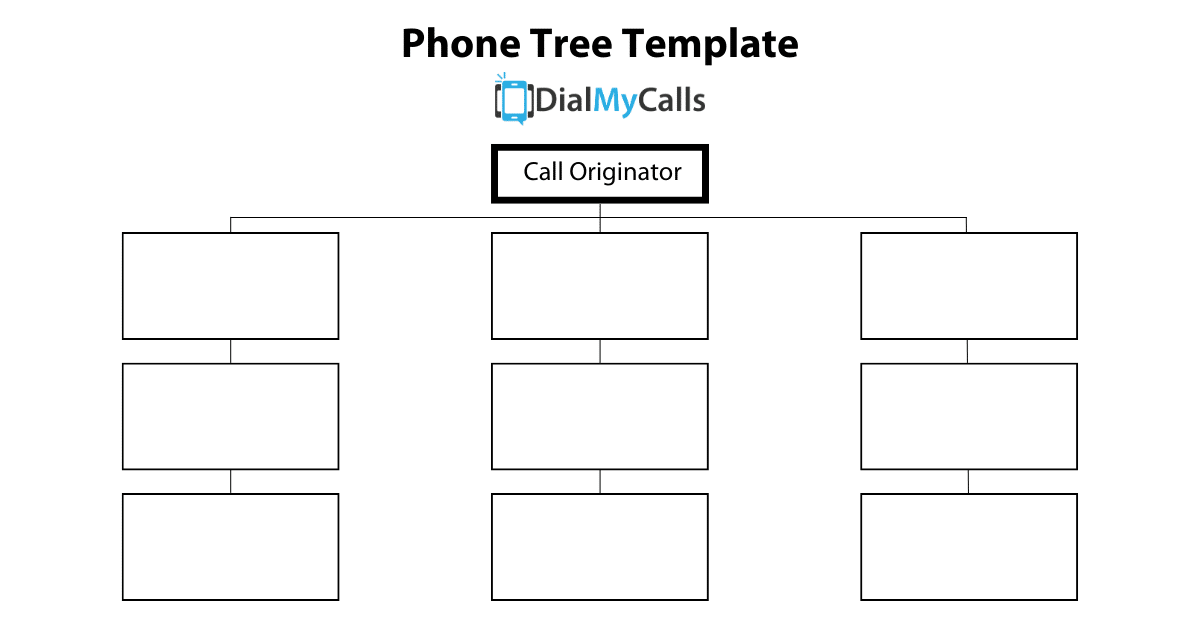 5. Sales Phone Tree Template
(sales-phone-tree-template.pdf – right-click, save link as to download PDF)
Every exceptional salesperson would agree that productive communication with the right people is a must for sales deals to go through. Thus, a phone tree template strictly for sales benefits your organization, as it strategically connects every employee in the sales process.
As the name suggests, our sales phone tree template is strictly for passing information during sales negotiations. It consists mainly of your sales team and the potential client or customer. With this template in place, your sales team can better communicate with the client, translating to higher sales and profit.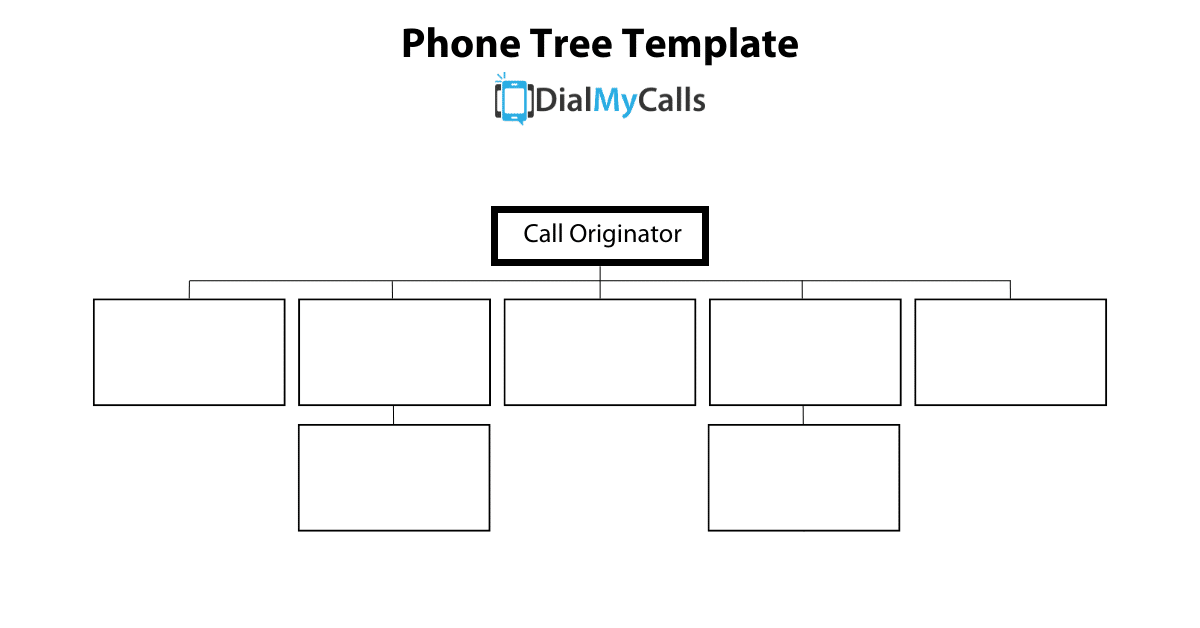 6. Nonprofit Phone Tree Template
(nonprofit-phone-tree-template.pdf – right-click, save link as to download PDF)
Successfully running a non-profit requires maximum collaboration and community engagement. You'll also need to solicit funds, direct your volunteers, organize outreaches or events, and sometimes respond to crises. Executing these duties without a good communication structure will leave you lagging in your responsibilities.
Furthermore, non-profit communication usually occurs between volunteers and sponsors, which makes them the main members of our non-profit phone tree template. Depending on the non-profit's size and needs, the template may also include directors, event planners, and program coordinators.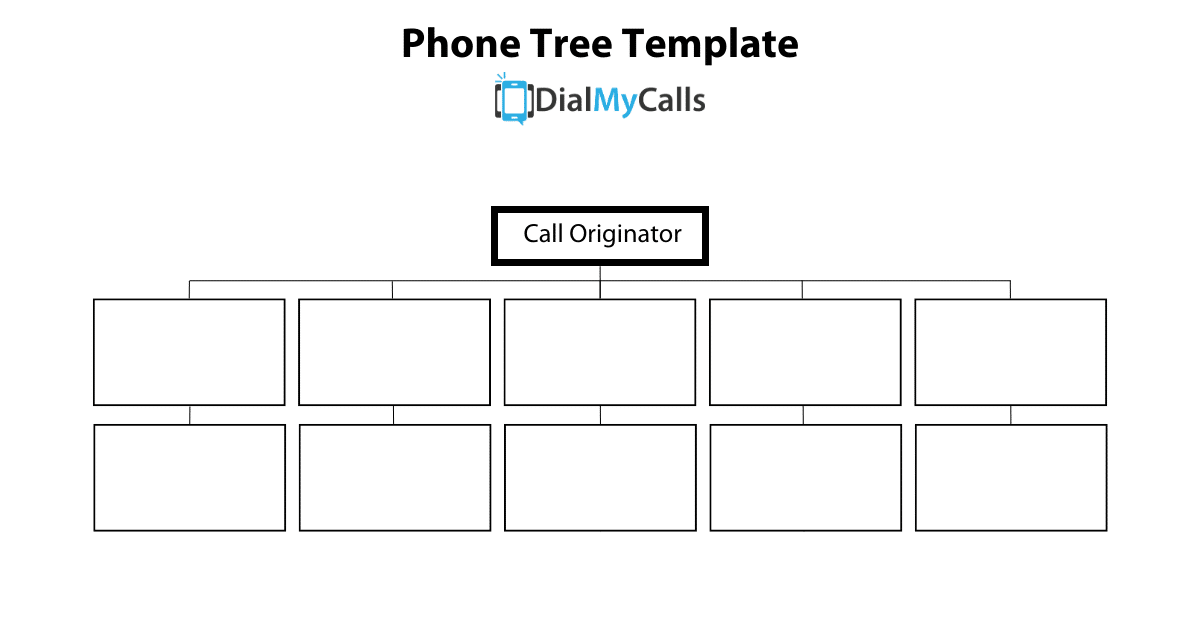 How Efficient Are Traditional Phone Trees?
Although traditional phone trees are fairly common, they can be inefficient, especially in larger organizations. Manually contacting many people equates to slow communication, not to mention errors and misinformation could occur while relaying the message.
Additionally, failure to reach one person affects several others down the chain and causes a break in communication. Due to these flaws, many organizations are adopting more modern options like automated phone trees and text messaging.
What's the Difference Between Traditional and Automated Phone Trees?
Whereas traditional phone trees require manually calling the next person, you can message multiple people simultaneously with automated phone trees. This removes the need for individual contact through manual phone calls, eliminates errors, and hastens communication.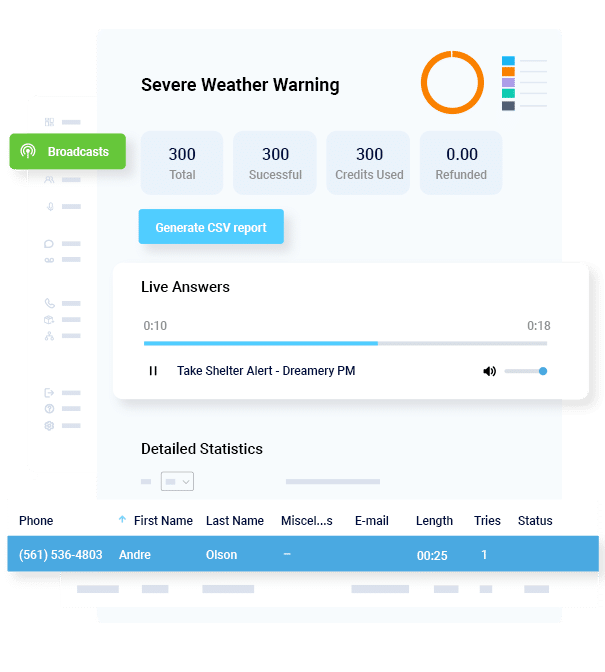 Using DialMyCalls, you can automatically send a recorded message to all your contacts at a go, saving you time and bolstering your efficiency.
Improve Communication in Your Organization With DialMyCalls
The advantages of good communication are endless, and ignoring your communication process can have adverse effects. But by creating an account with DialMyCalls, you get a more efficient phone tree with our excellent voice-broadcasting system. Sign up with DialMyCalls today to improve your communication process with the perfect phone tree template.