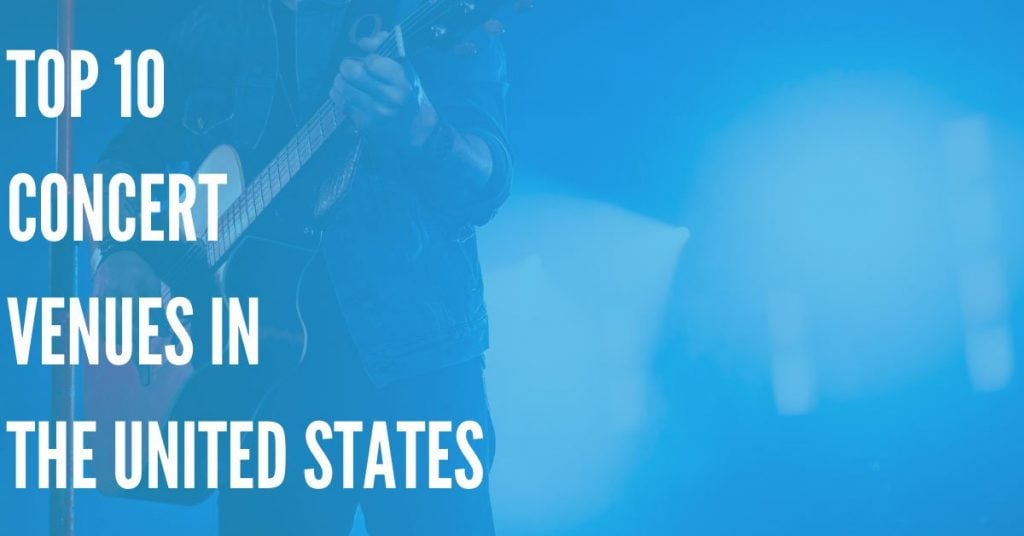 If you love live music, you won't want to miss out on a visit to one of the top 10 concert venues in the United States. Of course, there are thousands of concert halls, amphitheatres and live concert venues in America – but for this updated 2020 edition of our list, we've chosen just 10 of the best options in the United States. Read on, and see where you should be catching a concert this year!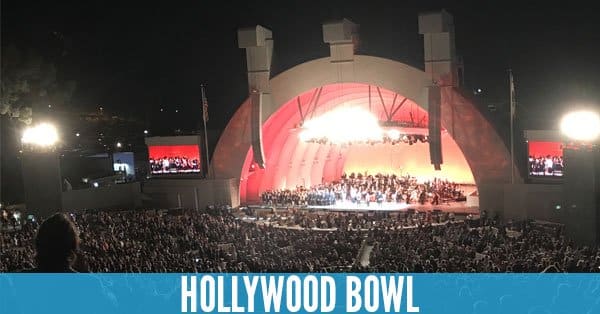 1. Hollywood Bowl
Nestled in the Hollywood Hills in Los Angeles, CA, The Hollywood Bowl is an amphitheater that has been recognized as one of the best music venues in America by publications like Rolling Stone magazine. It's well-known for its unique band shell, consisting of a set of concentric arches, and its close proximity to the "Hollywood Sign." It's one of the most well-known concert venues in the entire world, and a major tourist destination. Over the years, it has hosted musical acts like Elton John, Jimi Hendrix, The Doors, Nine Inch Nails and thousands of other big names.

2. Red Rocks Amphitheatre
Red Rocks Amphitheatre is regularly recognized as the best amphitheatre in the United States, thanks to its unique location. It's built into the side of a natural rock structure a few miles from Denver, Colorado, and it offers stunning views and incredible acoustics. Over the past 100 years, it has been the site of numerous live performances from famous musicians including U2, The Blues Brothers, Depeche Mode, The Beatles, and Rush, to name just a few.

3. Radio City Music Hall
Located at 1260 Avenue of the Americas in Manhattan, Radio City Music Hall is perhaps most well-known as the home of the Radio City Rockettes, and its lavish, unique interior decor. Despite financial troubles in the 1970s, Radio City Music Hall has persisted, and today, it hosts a huge variety of musical artists and theater productions. Pink Floyd, The Grateful Dead, Liberace, and Lady Gaga have performed here, among others.

4. Tabernacle
The Tabernacle is one of the newer entrants to this list, as it was founded only in 1996 after being converted from a church (hence the name). This beautiful venue was damaged and required extensive repairs after the 2008 Atlanta tornado. Since it was founded, big names like Bob Seger, Johnny Cash, Eminem, Adele, Bob Dylan, Prince and Guns N' Roses have all performed at this venue.

5. Gorge Amphitheatre
Gorge Amphitheater has been recognized by the Wall Street Journal as one of the "most scenic concert locations in the world," and is a nine-time winner for the title of "Best Outdoor Music Venue" from Pollstar Magazine. Its remote location is about 150 miles east of Seattle, and is nestled on the foothills of the Columbia River, near the foothills of the Cascade Mountains. Major artists who have performed here include Pearl Jam, Dave Matthews Band and Phish, and it has hosted dozens of major music festivals including Lollapalooza.

6. Grand Ole Opry
Grand Ole Opry House was founded in 1974 after the Grand Ole Opry moved out of Ryman Auditorium to its current location. Grand Ole Opry House was built to provide a climate-controlled environment, more seating, and other such amenities. On opening night, President Richard Nixon played a few songs on the piano to inaugurate the new theater. It's one of the top destinations in Nashville for country music fans, due to its unique and long history.
It was added to the National Register of Historic Places in 2015, and continues to host popular music acts including Dolly Parton, Emmylou Harris and much more – as well as the weekly Grand Ole Opry on CMT.

7. Ryman Auditorium
The original home of the Grand Ole Opry, Ryman Auditorium was renovated extensively in the late 80s and early 90s, after being dormant and empty for nearly 20 years. During this time, it suffered extensive neglect and decay, and it even faced demolition at one point. By 1994, the theater and auditorium had been restored to their original beauty, and was inaugurated by a broadcast of Garrison Keillor's A Prairie Home Companion. It was added to the National Register of Historic Places in 2005. A few notable performers at the new Ryman Auditorium include Neil Young, Ringo Starr, Foo Fighters, Garth Brooks and Wu-Tang Clan (the first rap concert ever to be held at Ryman Auditorium).

8. Madison Square Garden
What list of the top concert venue would be complete without Madison Square Garden? This multi-purpose indoor arena hosts the world's top artists regularly, and has been a staple of the entertainment scene in New York City since it was first opened in 1968. Built over the remains of the old Lincoln Station, Madison Square Garden is in the very heart of New York City. Not only does it host concerts regularly, but it's also the home of the NBA's New York Knicks and the NHL's New York Rangers. In 2016, MSG was ranked as the second-busiest music arena in the world – behind only The O2 Arena in London.

9. The Greek Theatre
The Greek Theatre in Los Angeles was first built in the 1930s due to its location in Griffith Park, which had fantastic natural acoustics and beautiful natural scenery. However, it was rarely used in the early days – and was even used as a barracks during World War II. Starting in the 1970s, however, The Greek Theatre became an iconic LA destination for many different bands and artists including Elton John, Frank Sinatra, Aretha Franklin, Bruce Springsteen, and Carlos Santana.

10. Merriweather Post Pavilion
Merriweather Post Pavilion is located in Columbia, Maryland, in a 40-acre lot of wooded, preserved land, about 30 miles north of Washington, DC. It has been recognized as one of the best concert venues in the world by publications like Billboard Magazine, Rolling Stone and Consequence of Sound. Built in 1967, it's been a popular venue for some of the most well-known artists in history. Past performers have included Led Zeppelin, The Who, The Doors, Jimi Hendrix and The Grateful Dead. Performers in recent days have included Jack White, LCD Soundsystem, Vampire Weekend, MGMT, St. Vincent and The National.
Visit One of These Top Concert Venues for an Unforgettable Experience in 2020!
If you're a fan of live music, you owe it to yourself to make it to one of these concert venues. And with locations in the West, Midwest, South and East Coast, you're sure to find yourself near one of our top picks for the best concert venues in 2020.
So don't wait. Take a look at their websites to see upcoming shows, find an artist you love, and book your tickets now – you're sure to have an unforgettable experience at any of these unique concert venues.
Disclaimer: DialMyCalls is not associated with any of the concert venues listed above. Our company provides a voice broadcasting and mass texting service that can be used by concert venues and music promoters to send out automated event reminders. To test out our event reminder alerts, sign up for a free DialMyCalls account today!