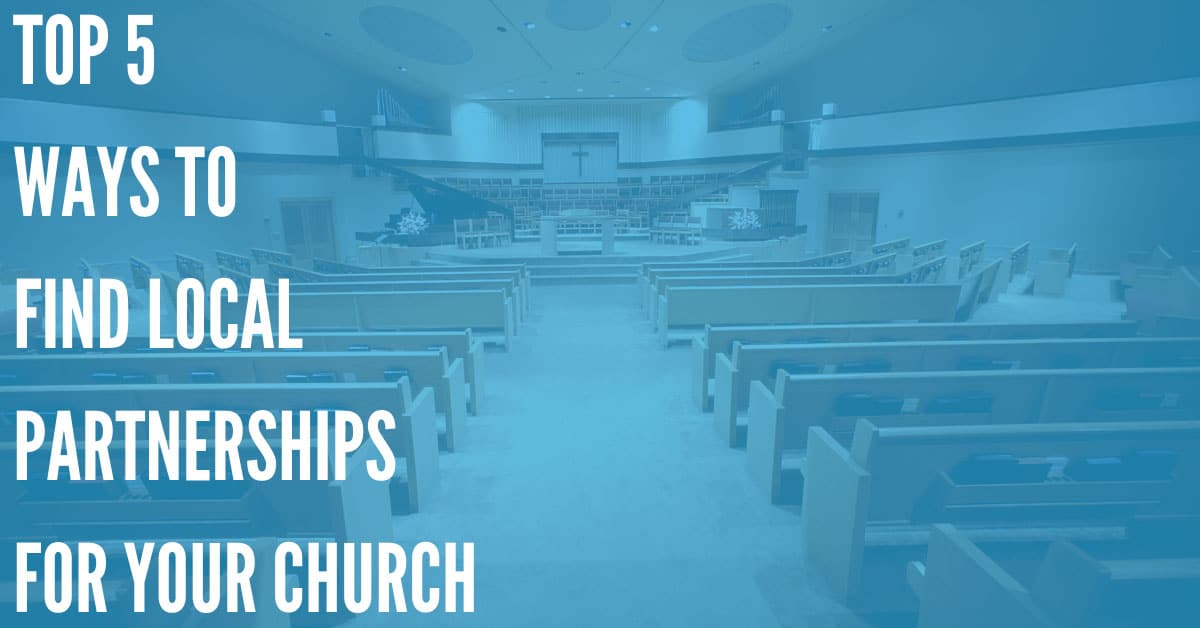 If you're looking to expand the influence and impact of your church on your local community, you may be wondering how you can find community organizations who will be a good choice for church partnerships.
If you do not have much experience in community outreach, it can be difficult to get started and form long-lasting church partnerships. You may not even know where to look to find organizations who can benefit from your help.
So, in this article, we've put together a few recommendations on how you can find local community organizations, and form a strong partnership with nonprofits and charities who are doing great work in your area. Read on, and get all of the details.
1. Ask Your Church Members for Recommendations
This is a great place to start. Chances are, even if your church doesn't have an official partnership with a charity or a nonprofit, some of your members already volunteer at charitable organizations – and can help you pick an organization with similar goals and beliefs.
For example, if you have a number of members of your church who regularly volunteer at a soup kitchen or a food pantry, you may be able to get an introduction to the leadership team at that charity, and learn more about what they do – and how they could use your help.
Then, you can form an official relationship with the organization – and do things like donate food, organize volunteer days, provide financial support and more.
2. Do Some Online Research on Nonprofits in Your Area
If you haven't gotten many recommendations from your congregation or need to do more research, the internet is always a useful resource – and can help you find local charities and nonprofits in your area.
The best place to start is with an online resource like GuideStar, which has a full directory of charities and nonprofits, with more than 1.8 million IRS-recognized nonprofit organizations and charities. You can search by category, and find nonprofits in your area who are doing work that your church is interested in supporting.
Google is always a good option, too. You can look for charities and nonprofits such as:
After-school youth programs
Soup kitchens and food banks/pantries
Homeless shelters
Drug recovery and rehabilitation organizations
Tutoring and educational support organizations
Support for domestic violence and abuse survivors
Environmental organizations
Halfway homes and post-prison rehabilitation centers
At-risk youth support organizations
Take some time to think about your church, your resources, and your Christ-inspired vision for how you would like to make a change in the world.
Then, you'll be able to select a few organization and charities that conform to this vision, and schedule interviews to learn more about what they do.
3. Reach out to Nearby Public Schools
Public schools are a great opportunity for the church to give back, especially in low-income areas where supporting education is not always easy.
Each school will have different needs – so we recommend that you or another senior member of your church's staff schedule a consultation with a principal, superintendent, or school board member at the school you'd like to support. Then, you can learn more about the challenges facing the school, and form a partnership that can help address these issues.
If the school has issues with kids not having enough school supplies, for example, you could work to organize a school supply drive at your church – where parents can donate backpacks, notebooks, and other school essentials. Then, you can donate and distribute these supplies to children who are in need.
4. Network with Other Ministers and Church Leaders – And Join Forces!
If you're having trouble finding an organization to support near you – or getting enough volunteers to help with a project – you may want to consider reaching out to other local church leaders, pastors, and ministers.
If they already have a few charities and organizations for which they offer volunteers, funding and other support, you may be able to partner with the church and offer your own funds or volunteers to help them support their selected organization more effectively.
Doing this can be a bit logistically difficult, though. That's why we recommend using a tool like DialMyCalls' church notification system to keep things organized at your church.
Using DialMyCalls, you can send out SMS text messages to volunteers to remind them about upcoming events, funding deadlines, and other information – and keep your church on the same page as your partner church, avoiding any logistical issues and misinformation.
With DialMyCalls, you can even create individual SMS text messaging groups – such as individual lists of church leaders and volunteers – making it simple to communicate with all of the organizations involved in a charitable project or partnership.
5. Contact Local Hospitals and Extended Care Facilities
Medical facilities, nursing homes and other similar organizations are often willing to work with churches. You can do things like offer volunteers who can help clean up the grounds of a nursing home or extended care facility.
Another great way to serve your local community is to organize a health screening at your church. This is a particularly effective ministry if you live in an area that is short on doctors, or has a lot of low-income residents who may not be able to afford health insurance or healthcare.
You can work with a local hospital to set up a basic health screening facility at your church, and invite both church members and community members to come and get basic testing done by doctors and nurses – empowering them to live healthier lives. You can even consider forming a long-term partnership with a hospital, and making this a yearly event!
Find Charities, Nonprofits, and Organizations for Church Partnerships with These Steps!
This list should give you plenty of ideas about how you can partner with local organizations, strengthen your church's bond with your community, and provide your church members with opportunities to volunteer, follow the example of Jesus, and serve others. Do a bit of research, and start planning your next church partnership today!