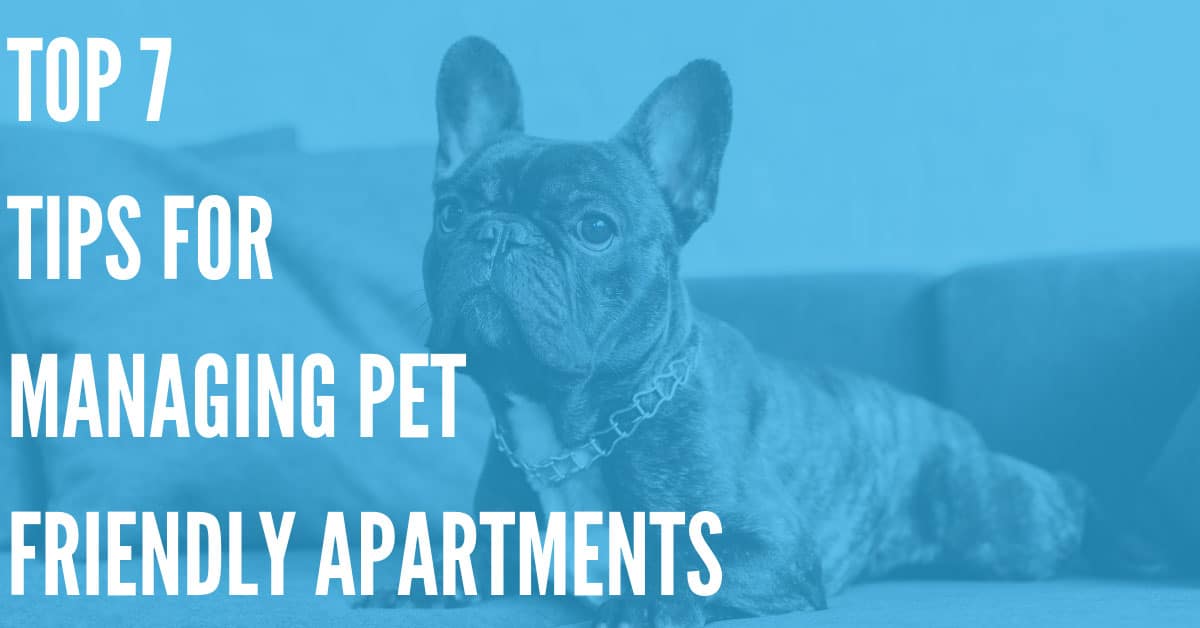 Our furry friends are important to us. Over 68% of American households have pets – and that means you may be able to fill vacancies in your apartments faster if you have a pet friendly leasing policy, and allow your tenants to have dogs, cats and other pets.
But managing pet friendly apartments brings along a number of risks and challenges that you must overcome to keep your property in great shape. So, in this article, we'll discuss a few top tips that you can use to manage your pet friendly apartments more effectively.
1. Require a Pet Screening Before You Lease to a Pet-Owning Tenant
One of the first things you should do is require a pet screening when you're renting to any tenant who owns pets. Have them bring in their pet so that you can meet it and look for any obvious signs of behavioral issues – a dog which seems aggressive, or won't stop barking, for example.
If you can't get a prospective tenant to bring in their pet, you should at least require a photograph so that you can confirm the breed and size of the dog, and file this away so that you will know whose pet is whose in your apartment building.
At this time, you should also present all of the documentation you have related to owning pets – policies about fines, additional rent, security deposits, and so on.
2. Have a Clear Policy About Picking up Pet Waste
This is one of the biggest problems in pet friendly buildings. If pet owners do not pick up after their pets, you'll have a nuisance on your hands. Not only is pet waste in common areas unappealing, but it's also a health and safety issue.
We recommend having a clear policy outlining the penalties for not picking up after pets at your facility. Additionally, you may want to put pet waste stations with plastic bags and a disposal unit around your facility, as these can help encourage residents to pick up after their pets.
Some apartments go as far to require DNA tests from each pet residing on their property so that they can test waste that is not picked up, and penalize the responsible parties. However, we don't really recommend this unless you are having serious problems with owners not picking up pet waste.
3. Provide a List of Resources to Help Pet Owners Keep Your Property in Good Shape
Part of being pet friendly is understanding that accidents will happen. Dogs may chew through carpet or shed excessively. Cats might pee inside on carpets. Pets of all types could vomit on the floor or carpet – you get the picture.
So we recommend that you provide your tenants with a list of resources they can use to resolve these issues, such as:
Information about local veterinarians
Carpet cleaning services
Dog and cat grooming services (to help discourage excessive shedding)
Local dog trainers to help with behavioral issues like aggression or excessive barking
When your tenants have the resources they need to resolve pet related issues on their own, their pets are less likely to cause accidents or be a nuisance – which is a good thing.
4. Have a Policy in Place to Deal with Pet Related Issues (Noise, Aggression, Etc.)
One concern of a pet friendly building can be excessive pet noise, like dogs that won't stop barking. We recommend that you build language about excessive pet noise into your lease, so that you can take appropriate action to evict a pet if it will not stop barking, and is causing issues with neighbors.
However, pet eviction should always be your last resort. The first step to preventing pet related issues is being informed about them. That's why it is a great idea to set up an anonymous tip line with a service like DialMyCalls, and make your tenants aware of the hotline.
Using your inbound hotline with DialMyCalls, you can listen to tenant complaints about pet noise and behavioral issues, and determine which pets and tenants may pose an issue for your property.
After this, we recommend setting up meetings and mediation with the pet owner, so that you can discuss a way to mitigate the issue. For a dog that will not stop barking during the day due to anxiety, for example, you could discuss crate training, behavioral training, and other such ways the issue can be resolved.
You should only move on and fine the tenant or evict the pet if they clearly do not take this seriously, and refuse to make a change, and the behavior keeps occurring.
5. Set Breed And/Or Size Restrictions for Your Property
Many pet friendly apartments do not allow "bully breeds", and have a size/weight restriction for pets – usually between 20-50 pounds.
Restricting breeds is a bit controversial among pet owners, but a weight restriction is a good idea for your apartments. Limiting the size of dogs and pets helps ensure a safer environment for tenants and pets.
It's a good thing for pets, too – a giant dog breed like an Irish Wolfhound is not going to have a good life in a tiny, 800 square foot apartment.
Additionally, size restrictions can help you minimize liability issues. A 15-lb, aggressive Jack Russell Terrier who escapes its leash will cause fewer issues for other pets and tenants than a 150-lb Great Dane, for example.
6. Require an Additional Security Deposit for Pet Owners, and Consider "Pet Rent"
You need to make sure the security deposit can cover things like deep cleaning the carpet, removing pet dander, sanitizing the apartment, and other such steps that must be taken after a pet owner moves out.
Some apartments also charge "pet rent". A tenant may have to pay $50/month per cat or $100/month per dog, for example. This additional rent helps defray the cost of cleaning and maintaining an apartment that has been occupied by animals.
7. Keep Common Areas Clean to Help Mitigate Allergies
We recommend that you clean common areas where pets are allowed – such as hallways and lobbies – frequently. This will help ensure that those who may have pet allergies are not overly-affected by the presence of pets in your apartment complex.
In addition, you should make some areas off-limits to pets. Your clubhouse, game room, fitness center, business center, and other common facilities should be pet-free, as this will make things better for tenants who don't own pets, or tenants who may be allergic to dogs and cats.
Follow These Tips – And Make Your Apartments More Appealing to Pet Lovers!
Pet owners tend to be good, responsible tenants – and with these tips, you can make sure your apartment complex is pet friendly, appealing to pet owners, and that you have the proper policies in place to handle any pet related issues that may come up. Implement a few of these ideas today, and you're sure to bring in more tenants, and keep pet owners happy and satisfied with your facilities.