What to Do When a Wildfire Approaches Your School – Stay Safe!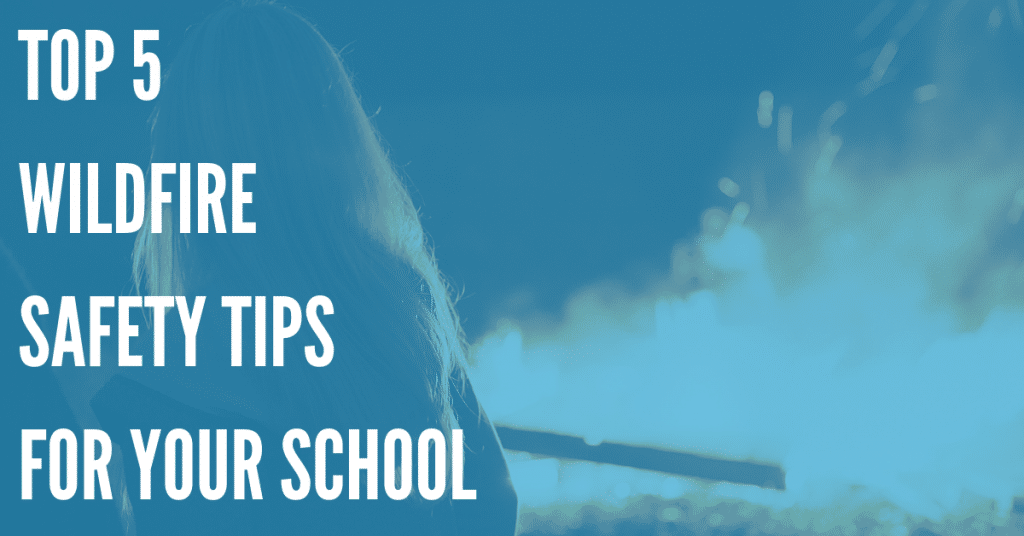 If you are a school faculty member in California, Arizona, Colorado, or any other area of the American West where wildfires are a serious concern, you may be wondering what steps you can take and wildfire safety tips you can use to protect your students, and ensure that your staff members stay safe if a wildfire occurs near your school.
In this article, we'll discuss some of the basic things you can do to keep everyone safe when your school is at risk of a wildfire – and give you some tips on what you should do if a wildfire is imminent, and approaching your school. Let's get started now.
1. Be Prepared – Determine Your Risk
First things first, you should consider your risk. Even if you live in an area where there is a drought or a high risk for fires, your school may not be at significant risk. This depends on a number of different factors.
Low-risk schools – These schools are marked by a humid climate with a short dry season, flat terrain, limited wildland and tree exposure, and manmade fuels that are located at least 50 feet from major buildings. In addition, if there is easy access to fire trucks and a fire hydrant within 300 feet, risk is further decreased.
Moderate-risk schools – A moderate-risk school is typically in a more arid climate, with a dry season that's less than 3 months. Hillier terrain, with a grade between 10-20% is present. Other characteristics include short brush and dry grass and small trees near the border of the school. Trees and plants may be located closer to buildings, man-made fuels are within 50 feet of buildings, and fire trucks may have a more difficult time accessing the area. Fire hydrants are typically 500 or more feet away.
High-risk schools – A high-risk school has a dry season that is longer than 3 months, steep terrain with a grade of 20% or more, wildlands and forests within 100 feet of the school, trees and fuel within 30 feet of the school, and very few fire hydrants, with limited access for fire trucks.
The higher your school's risk is, the more seriously you should take the risk of wildfires. Low-risk schools likely won't need a dedicated wildfire plan, but moderate and high-risk schools should create one.
2. Develop an Emergency Action Plan and Plan Drills
Creating an emergency action plan for wildfires is a good idea. You will need to outline some basic things, such as:
When should students and staff evacuate?
How should parents be notified about severe conditions or danger?
Who is in charge of evacuation and student safety?
How will authorities be contacted?
Where will students evacuate?
Are there multiple escape routes or evacuation routes?
Just like an emergency action plan for any other disaster like a tornado, flood, or earthquake, you should take the time to answer all of these questions, and educate both staff and students about what to do in case of a wildfire.
You should also have periodic wildfire drills during the high-risk season, so that students and staff have the opportunity to put this plan into action.
3. Monitor Weather Conditions Closely When Wildfire Risk Is High
When the risk of a wildfire is high, you should make sure to monitor the NOAA Weather Radio All Hazards stations and local emergency channels to make sure that it's safe for staff and students to go to school.
Doing so will allow you to keep students and staff safe, and ensure that you are up-to-date about potential hazards, including wildfires.
4. Consider Canceling School If There Are Wildfires Nearby
If there are active wildfires near your school, or that may approach your school within a day or two, you may want to consider canceling school. Wildfires can move extremely quick if the conditions are right. They can move at more than 14 miles per hour through grasslands, and at about 7 miles per hour through forested areas.
That means that, even if a wildfire is 50, or even 100 miles away from your school, it could easily reach it within just a few hours if conditions are right. It's not worth the risk – so you may want to consider canceling school.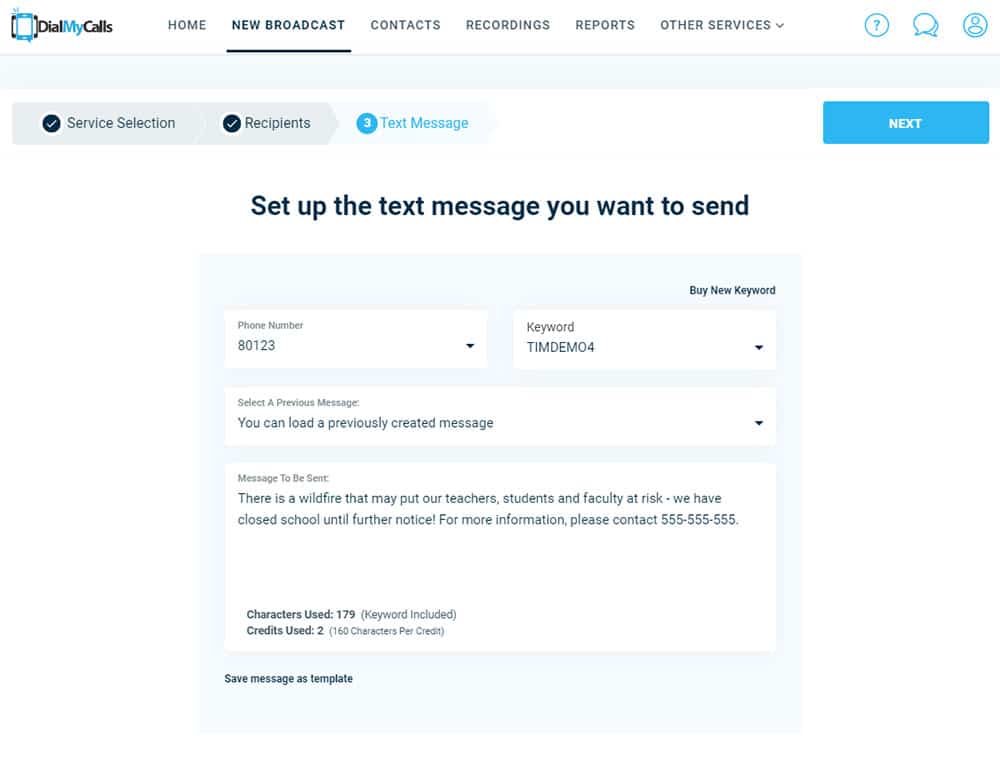 If you do cancel school, make sure that everyone knows about it. One good way to do this is with DialMyCalls. Using DialMyCalls, you can send out SMS text messages and automated phone calls to parents and students in seconds, telling them about school cancellations, or potential wildfire hazards. This will help keep them more informed.
5. Protect Your School with "Survivable Space" Planning
With proper planning, you can reduce the risk of a wildfire approaching your school, and provide enough time for the fire department to reach it and extinguish it. This is done with "survivable space" zones. These are areas where vegetation and fuel are reduced, to prevent fires from spreading quickly.
Zone 1 – This is the closest zone to your school. Establish a zone of 30-100 feet, which will only have indigenous, low-growing plant species. Ensure that the roof and gutters of the school are clean and free of leaves and debris.
Zone 2 – Place only low-growing plants, small shrubs, and carefully-spaced trees in this zone. Each tree should be at least 10 feet from every other tree. Trim and prune trees regularly to get rid of dead growth. No tree limbs are to come within 10 feet of any school building.
Zone 3 – This is the zone that is the farthest away from your school. Remove all dead, dying, or dry vegetation and shrubs, and thin out healthy vegetation to make it more difficult for fire to spread.
Don't Panic If a Wildfire Approaches Your School!
If you have taken the above steps, you're well-prepared. You will have ample time to execute your evacuation plan, and make sure that everyone is safe. Follow the steps that you outlined in your Emergency Action Plan (EAP), and stay calm throughout the evacuation process.
So take another look at the above steps, and think about how you can implement them, to make sure that your school stays safe during the dry season, when wildfires are the most common.