Using SMS Marketing for Your Next Trade Show or Conference – a Complete Guide
Posted by Tim Smith in Business Continuity on December 20, 2018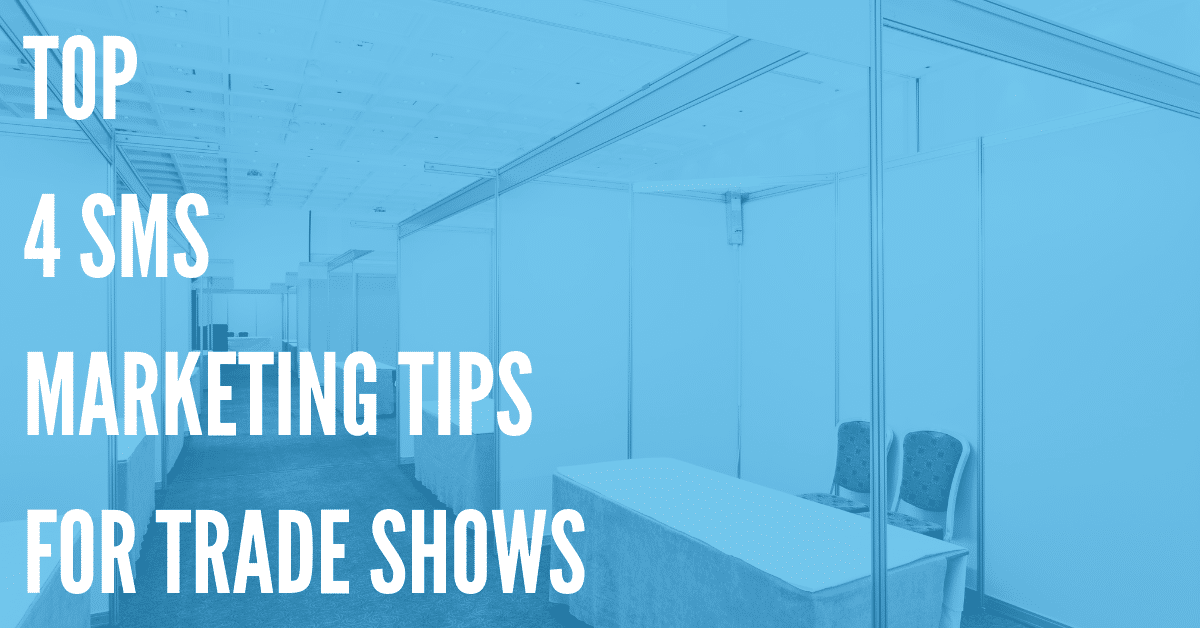 If you're in the world of Business To Business (B2B) sales, trade shows and industry conferences are one of the best opportunities you have to connect with other vendors, potential clients, and industry professionals – and it's important to make the most out of your investment, especially if you've paid for a booth or a display at the conference.
What's the best way to do this? SMS marketing! SMS marketing can help you connect with attendees at your trade show – and encourage the development of leads and sales after the conference has concluded. Not sure where to start? Find out now, with this guide to SMS marketing at conferences and trade shows!

1. Start With the Right SMS Marketing Tool
First, you'll need to make sure that you have a versatile, flexible, and powerful SMS marketing tool to use at your trade show or conference – which is easier said than done. There are tons of SMS marketing tools out there, and many are expensive, or don't support essential features.
Which product should you choose? DialMyCalls is the obvious choice. With DialMyCalls, you get a few great benefits. First, this system is easy to use, and it supports both short code and long code SMS messaging. It also has powerful organizational capabilities – you can quickly make lists of phone numbers and leads, and send customized messages to each one.
Another benefit of DialMyCalls is that you only pay for the messages you use, which ensures that you can communicate with clients and potential leads at trade shows – without breaking the bank.
For more information about how DialMyCalls works, and how you can use it, check out this article, which explains the basics about how the product works, and how you can use it at your next trade show.

2. Capture Leads With Signage at Your Display or Booth
One powerful way to use SMS marketing at your booth or trade show display is to send information about your products or services to potential leads who sign up for your messages.
Paper pamphlets can often be lost or misplaced – and just getting contact information from a qualified lead isn't the best solution either. You may write their information down incorrectly, or forget to upload it to your CRM – resulting in a lost lead.
If you set up an SMS shortcode for your company, you can post it on your trade show booth and signage, and encourage interested customers to send a message to that number for more details.
This works most effectively if you combine it with a discount or a giveaway – by signing up, customers can enter to win a prize!
Once a customer texts your number, they'll be sent a message that allows them to sign up for your alerts, or asks for their contact information. You can also send them links to your website, and other information about your products.
For the best results, combine SMS messaging with traditional methods of gathering leads – such as a sign-up sheet, or giving away small items like branded pens or flash drives, in exchange for contact information. Then, you'll cover all of your bases, and maximize engagement!

3. Send Demonstration or Exhibition Reminders to Attendees
If you are having a product demonstration or exhibition, or you are giving a talk at a workshop or trade show, you can use SMS messaging to remind attendees about the event, and make sure that you maximize attendance.
We've all been there, after all. You get involved in a discussion with another vendor, you find a great product, or you take a break for a snack – and, all of a sudden, you're missing out on an event you meant to attend. It happens!
But if you send out SMS reminders to people who are attending your workshop or other event, 5-15 minutes in advance, you can alert them about the event, and make sure they have time to get there and find a seat.

4. Don't Forget to Follow-Up on Qualified Leads
After your conference is over, you'll have a huge list of qualified leads who are interested in your products – and they'll be signed up for your SMS marketing messages. That means you have a lot of power. And with that power comes a lot of responsibility! Follow these tips when it's time to follow-up on qualified leads.
Don't spam! Your subscribers can unsubscribe from your SMS list just as easily as they joined. If you send more than a message or two per week, they'll likely get fed up, and opt-out of future messages.
Provide exclusive offers to people who have signed up to your SMS list. If you give them great deals and discounts for signing up at your trade show, word will spread – and even more people will join next time.
Give them a clear call-to-action. SMS marketing is good for generating leads – but it's not the best way to close on them. Encourage your leads to schedule a phone or in-person consultation with your company, or head to your website for more information, to make sure you can convert them into a paying customer or client.
Contact your best leads within a day or two of the conference. You're not the only person sending them SMS marketing messages – and you don't want them to forget about you, or you might get "lost in the shuffle" so to speak. The hotter your lead is, and the more interested they are in your products, the sooner you should follow-up and contact them.
Follow These Handy Tips – and Your SMS Marketing Efforts Are Sure to Succeed!
SMS marketing at trade shows and conferences can be very powerful, if it's used correctly. And with these top tips, you'll be able to take advantage of all of the benefits of an SMS marketing campaign. Get started today!