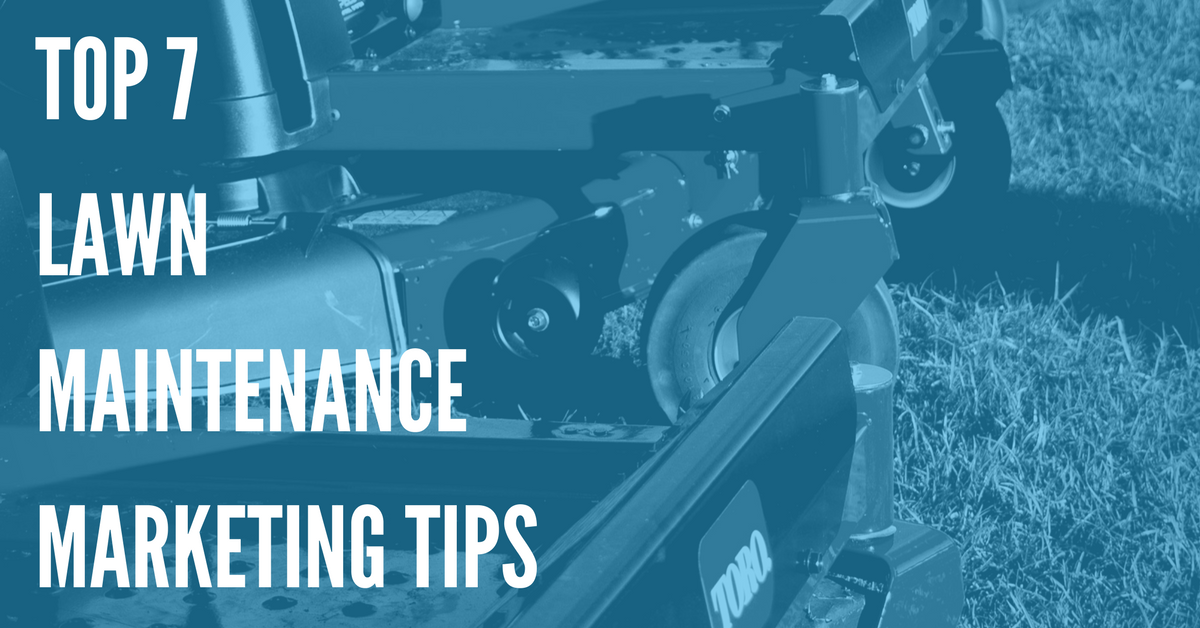 Whether you've just purchased a shiny new zero-turn mower, are planning on starting a lawn mowing business, or you're a seasoned veteran in the lawn mowing industry, you can always benefit from some extra guidance when it comes to marketing.
At DialMyCalls we're here to help you market your business properly. Take a look at this list of the top marketing tips for lawn mowing companies, and you're sure to gain some valuable insights that will help you build your business. Let's get started.

1. Start Marketing Early in the Year
If you're operating in America, there's a good chance that your company is seasonal. You're not likely to do much lawn mowing in the winter – when most of America is blanketed in snow. There are exceptions of course – if you live in Florida, you can mow lawns all-year-round.
You should still start marketing your services early in the year. Typically, people begin mowing their lawns in late March or early April, when heavy rainfall and warmer temperatures begin to spur grass growth.
Start sending out email newsletters, flyers, and text messages to customers in February. Remind them about your services – offer discounts and other benefits to those who choose to use your services again this year.
DialMyCalls is a great tool for this. With DialMyCalls, you can send SMS messages, voicemail messages, and remind them about your services – increasing the likelihood that they will work with you again.

2. Diversify Your Services
If you want to keep your business operating all-year-round, you should consider diversifying your services.
Edging and trimming are usually part of most lawn mowing packages. This is a good place to start. However, you may also want to consider offering services like:
Snow removal and de-icing
Leafblowing and debris removal
Shrub/flowerbed trimming
Mulching and basic landscaping
Snow removal and leaf removal can help you make more money during the fall and winter, when business slows down for lawn mowing services. Landscaping and mulching helps you get more work during the warmer months.

3. Don't Underestimate the Power of Going Door-To-Door
Sometimes, the oldest marketing techniques are the best. Going door-to-door may be intimidating, but it's often a great way to drum up more business. Head to a neighborhood of your choice, start walking door-to-door, with flyers and more information about your services.
You can offer a discount coupon, as well as contact information that will allow a potential customer to get in touch with you. It's a great idea to require a phone number or email to get this discount – this will help you build a list of potential future customers.

4. Ask for Referrals
Don't underestimate the power of word-of-mouth. When people hire a lawn mowing service, they're hiring you to come to their house every week for several months – so they want someone who is trustworthy, reliable, and honest.
A recommendation from a past customer can be worth a lot, when it comes to building trust. Most customers are much more likely to trust a friend or colleague than they are to trust online reviews or other marketing materials.
Don't be afraid to ask for referrals from loyal customers, especially if you have built up a great relationship with them. There's a good chance you'll turn that referral into another loyal, paying customer!

5. Don't Forget About Digital Marketing Channels
Social media is a great place to market your company. Make sure you create profiles on Twitter, Instagram, and Facebook. Keep them updated with plenty of information about your company and services.
You should also consider paid ad placements on Facebook and other social media platforms. With powerful geo-location and targeting tools, you can serve ads to those who are the most likely to use your services – increasing your marketing ROI dramatically.

6. Build a Professional Website
As a lawn mowing company, you won't need a super complex or expensive website. But you should still have a good web presence, and a professionally-designed website that has:
Clear contact information
A list of services you offer
Customer reviews and feedback
Information about you/company management
If you're not tech-savvy, you'll probably have to hire a web developer to do this for you. But don't worry – the investment will be well worth it, 85% of people use the internet to find local businesses. If you don't have a professional and easy to use website, you may miss out on quite a few customers.

7. Offer Discounts and Deals for Loyal Customers
Loyalty should be rewarded. We recommend implementing some kind of loyalty program for your customers.
If you want to keep thing simple, you could just use a "punch card" system. Give all of your customers a "punch card" with 10 pictures of your corporate logo. Then, each time you mow their lawn, you can punch out a hole – once all 10 are filled, they are eligible for a free lawn mowing, or another service such as edging and trimming.
You can also send out regular discount emails and SMS messages to your customers. Services like MailChimp make it very easy to automate your email newsletters, and offer rewards to customers.
DialMyCalls is also a great way to send out coupon codes to loyal customers. Because you can create custom lists of different people, you'll easily be able to send your marketing messages to the proper individuals.
Build a Better Lawn Mowing Business – Follow These Tips!
If you've got the right team, the right tools, and the right marketing strategy, the sky's the limit when it comes to running a lawn mowing business! With these helpful tips, you're sure to be able to bring in more customers, expand your company, and boost your profits.
So think about how you can use these tips to your advantage now, and get started on the path to success.