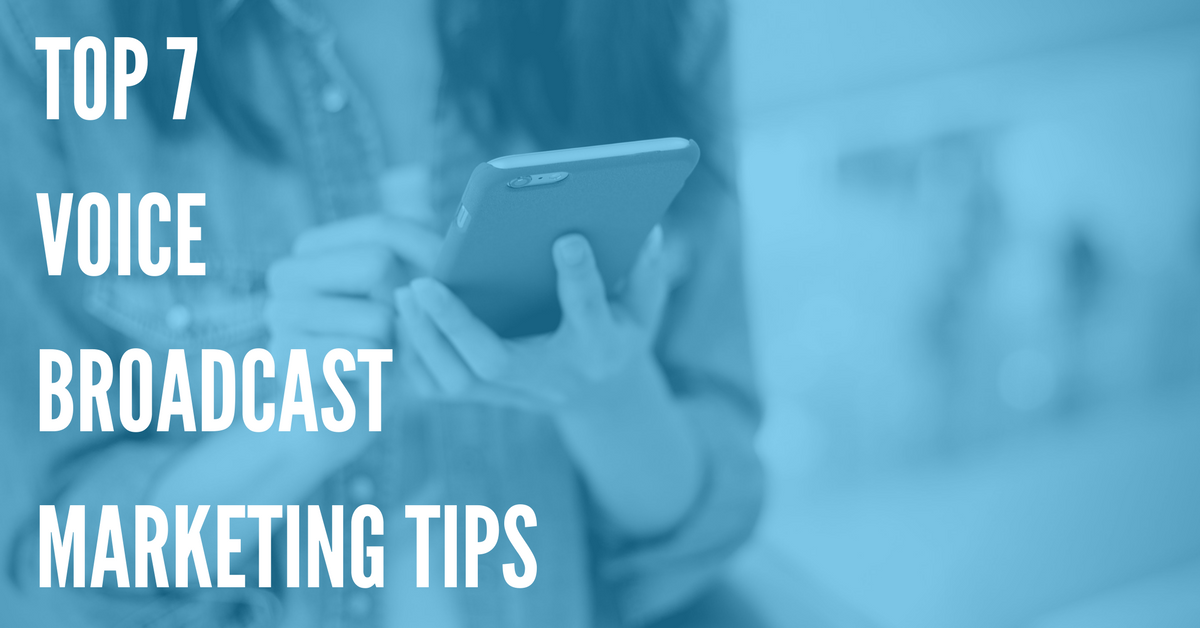 Modern businesses have dozens of marketing tools available to them. From SMS messaging to emails, flyers, direct mail, social media messaging, and search engine marketing… you get the picture.
There are so many ways to stay in touch with your customers that it can be hard to understand which techniques are the most effective.
However, there is one often-underlooked marketing tool that you can use to help build your business, bring in more customers, and create a more loyal consumer base. Voice broadcast marketing.
Voice message marketing uses specialized software to send custom-tailored voice messages to customers – and engage with them in a personal, one-to-one way. Tools like DialMyCalls make it easy for companies to use voice messages in their marketing campaigns – learn more about the benefits of doing so now!

1. You Can Customize Each Message
If you need to send personal, customized messages to specific customers – say, a past customer who has not come back to your business for a while – tools like DialMyCalls make it easy to do so.
You can quickly record, customize, and send a voice message to a particular customer. In only moments, you can create an effective, personal message that is sure to help you connect with your customers, and bring them back to your business.

2. You Can Send Voice Messages to Hundreds of Customers at Once
Of course, you won't always want to send a message to just one customer. But with a service like DialMyCalls, you can also send your voice messages to dozens, or even hundreds of customers at once – ensuring that you can easily broadcast announcements about your business, special promotions, and more.
Best of all, these voicemails can be sent to customized lists of customers. For example, you could send a voicemail about lunch specials at your restaurant to regular customers. Then, you can also send a different voicemail with a discount or special promotion to customers who have not come to your restaurant recently.
By targeting different groups of opted-in customers with customized voicemails, you can maximize the impact of your marketing efforts.

3. You Can Schedule Timed Voice Messages
You can schedule your voice messages using the DialMyCalls web application – and then they will be automatically sent at the time that you choose. This makes it easy for you to automate the process of sending voice broadcasts.
Just set up DialMyCalls, record your voice messages, and choose when you'd like them to be sent to your customers! You can create an entire marketing strategy in advance, and it will be executed automatically.

4. Customers Won't Ignore a Phone Call
We are bombarded with so many SMS messages, emails, and other notifications that it's easy to ignore them. However, phone calls are still a very immediate method of marketing. Most people will always pick up a phone call, even if it is from an unknown number. And if your customers don't pick up, your voice message will be left automatically on their voicemail!
Of course, it's important to use this power responsibly. Customers are likely to be angry or frustrated if you call them too frequently with automated voice messages.
If you choose to use voice messages for marketing, ensure that you do not overuse them, and try to offer special discounts and other perks for customers who listen to your messages. This will ensure that they continue taking your calls, and listening to your marketing messages.

5. Voice Messages Feel More Personal
SMS messages, emails, and most text-based advertisements usually feel quite impersonal. This makes it harder for customers to connect with your marketing message. Voice messages, on the other hand, are very personal – your customers are hearing your voice!
Because of this, voice messages are a wonderful way to connect effectively with your customers on a personal basis. Your customers will be hearing your voice, and they'll be more likely to listen to your marketing message.

6. You Can Set up Two-Way Messaging With DialMyCalls
Voice messages are a great marketing tool – but what if you want to make it easy for customers to send voice messages back to you? With DialMyCalls, it's easy to do so! You can quickly set up a hotline to receive messages from your customers.
By calling a particular number that you choose when setting up your hotline, customers can leave voice messages, which are accessible directly from DialMyCalls. This makes a vanity number hotline a great way to gather customer feedback about your services!

7. Voice Message Marketing Is Extremely Cost-Effective
The cost of a billboard, television ad, or even a social media campaign can be quite high. Voice message marketing is a very cost-effective way to advertise your business. With DialMyCalls, you don't have to invest in any specialized equipment, or costly monthly service contract.
Instead, you simply pay based on how many calls or voice messages you send. By buying credits as you need them, you can ensure that you don't overspend on voice message marketing, and that you maximize your return-on-investment (ROI). You'll spend just pennies on each phone call!
Interested in the Power of Voice Message Marketing? Get Started With DialMyCalls Today!
DialMyCalls offers voice message marketing, SMS marketing, and even email messages in a unified, easy-to-use web-based software. Affordable, flexible, and powerful, DialMyCalls is used by top companies around the world, including Goodwill, Chrysler, YMCA, and many more!
So if you're interested in the power of voice message marketing, don't wait. Start using DialMyCalls today! You can get 25 free calls or text messages just by signing up – no credit card required!
No matter what business you're in, you can benefit from the power of voice message marketing. From restaurants to small retailers, service companies, nonprofit organizations and more – DialMyCalls can be used by anyone!
Have questions or comments? Contact us today! Our customer support team is always ready to help you, no matter what you may need.
*Please review our Terms of Service and Compliance Resources before sending out marketing phone calls.