MailChimp Integration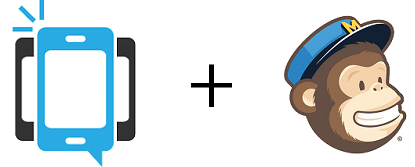 Send SMS Text Messages & Automated Phone Calls To Your MailChimp Contact List
Customers now have the ability to sync existing MailChimp lists with their DialMyCalls account. Our brand new integration allows you to send voice and SMS text message broadcasts to contacts that have opted in to receive notifications from you.
To get started with the integration, please navigate to your MailChimp account as you will need to create a unique API key that will be used to sync your lists with DialMyCalls. Once logged in, click on "Extras" and then "API Keys" which will allow you to create a new API Key as well as view any keys that have already been created. Copy your newly generated MailChimp API Key and then head on over to DialMyCalls.com.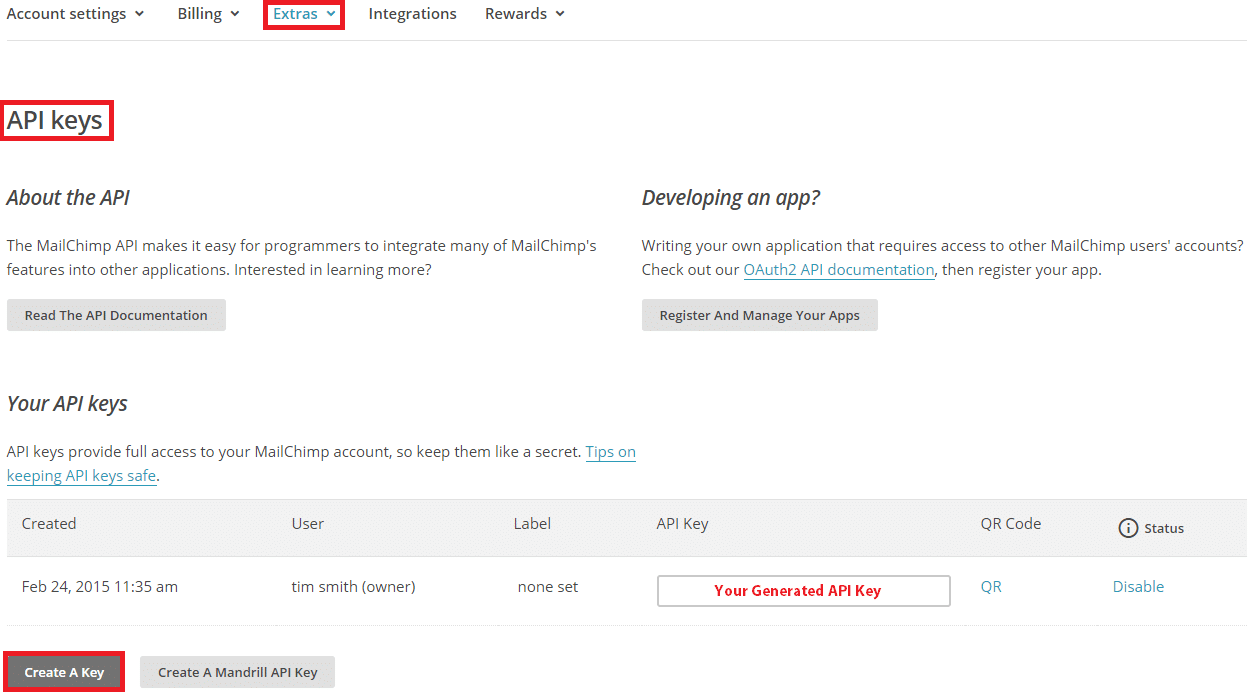 Log in to DialMyCalls and navigate to your integrations by clicking on "My Account" -> "Integrations" -> "MailChimp". Paste your MailChimp API Key into the blank form field that appears on the integration tab.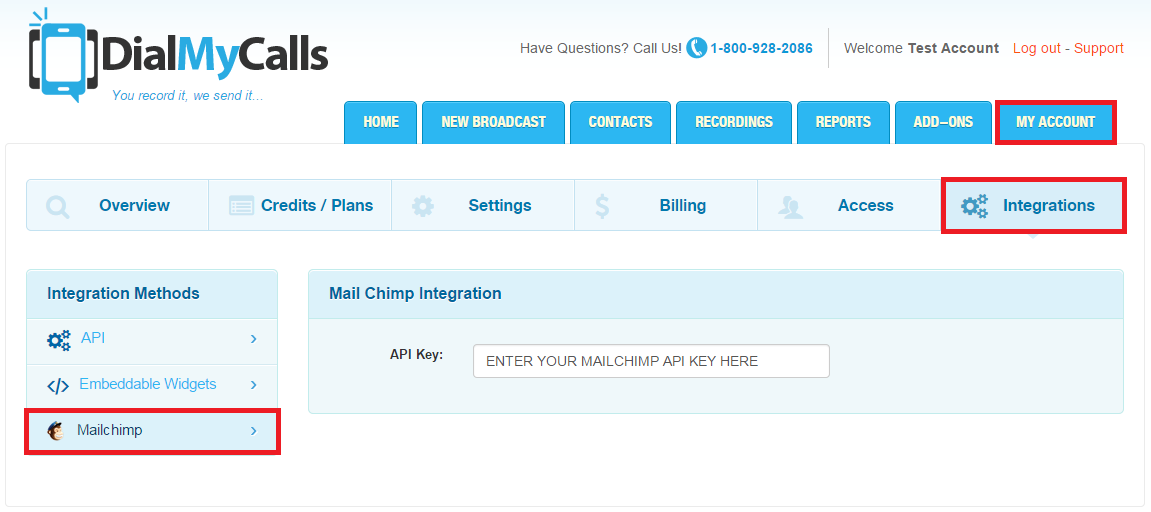 Upon pasting your API Key into the form field, your MailChimp lists will immediately appear below. At this point in time you are able to select which lists you want to sync with DialMyCalls. Please choose the phone number, first name and last name fields from the dropdown menus. Once you have checked off the lists you want to sync, click on "Save". Please note that you must have collected 10-digit phone numbers from the folks that have opted in to your MailChimp list – if there is no phone number associated with a contact it will not be imported into DialMyCalls.
*If you update your MailChimp lists you will need to log back into DialMyCalls and hit "Save" again which will re-sync your contacts.

Navigate to your "Contacts" tab and then click on "Contact Groups" to see your newly synced MailChimp list(s). If you choose to delete one of the MailChimp groups it will automatically unsync that particular list and the contacts will be removed from your DialMyCalls account.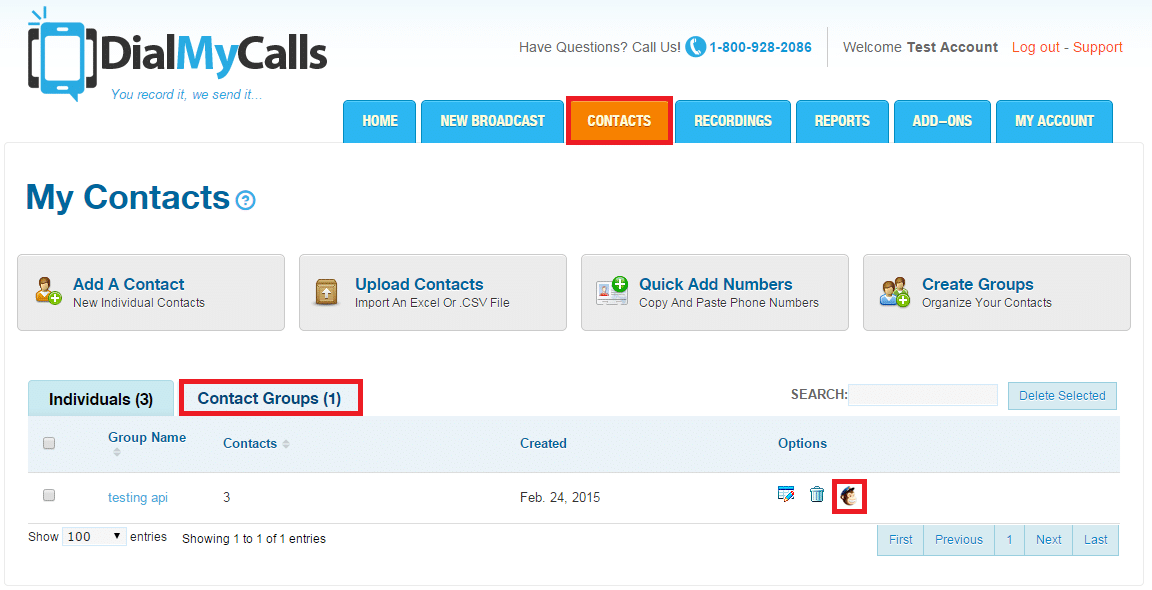 Under "Individuals" on the "Contacts" tab you will be able to view all of the contacts that have been synced to your account via MailChimp – a MailChimp icon next to a contact indicates that it belongs to a synced list. You are not able to delete individual contacts that have been synced – if you wish to remove them from your DialMyCalls account you will need to go into MailChimp, delete them and then sync the accounts again.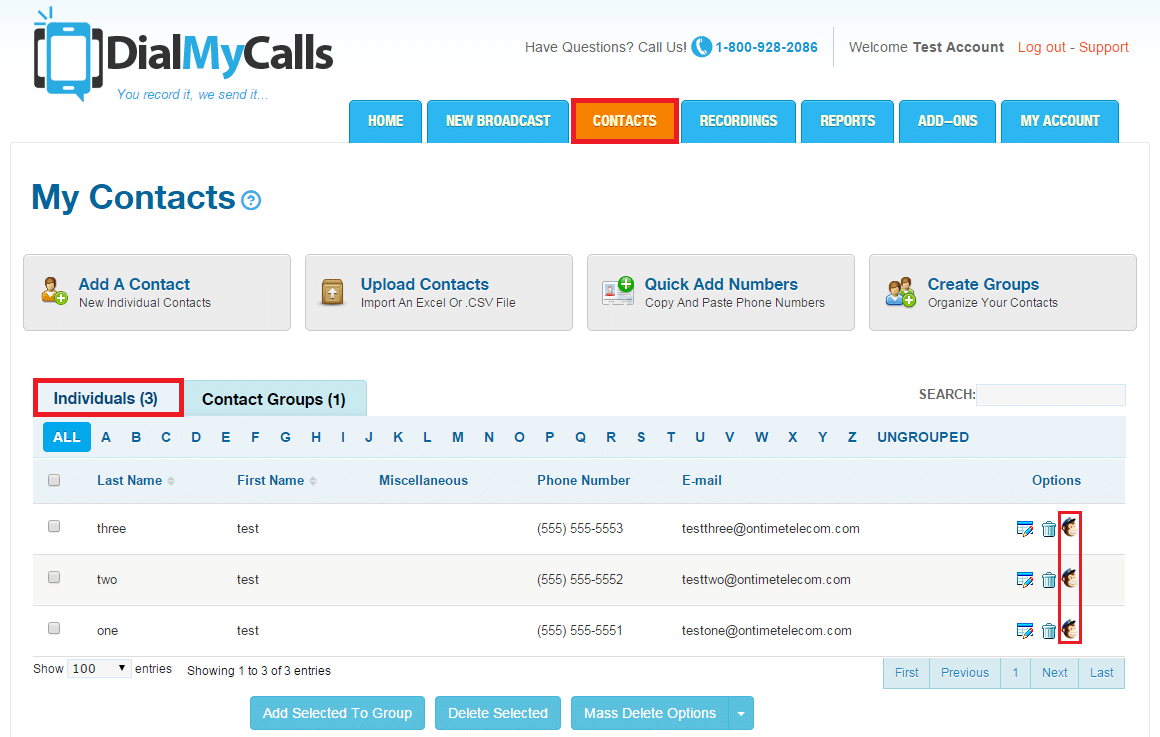 Integrating MailChimp's world class emailing platform with DialMyCalls' industry-leading voice broadcasting and SMS text message service is a no-brainer. Customers now have the ability to sync up their MailChimp list(s) with a DialMyCalls account to send their contacts messages via phone call or text message.
If you have any additional questions on how to integrate your MailChimp list(s) with DialMyCalls, please contact us.