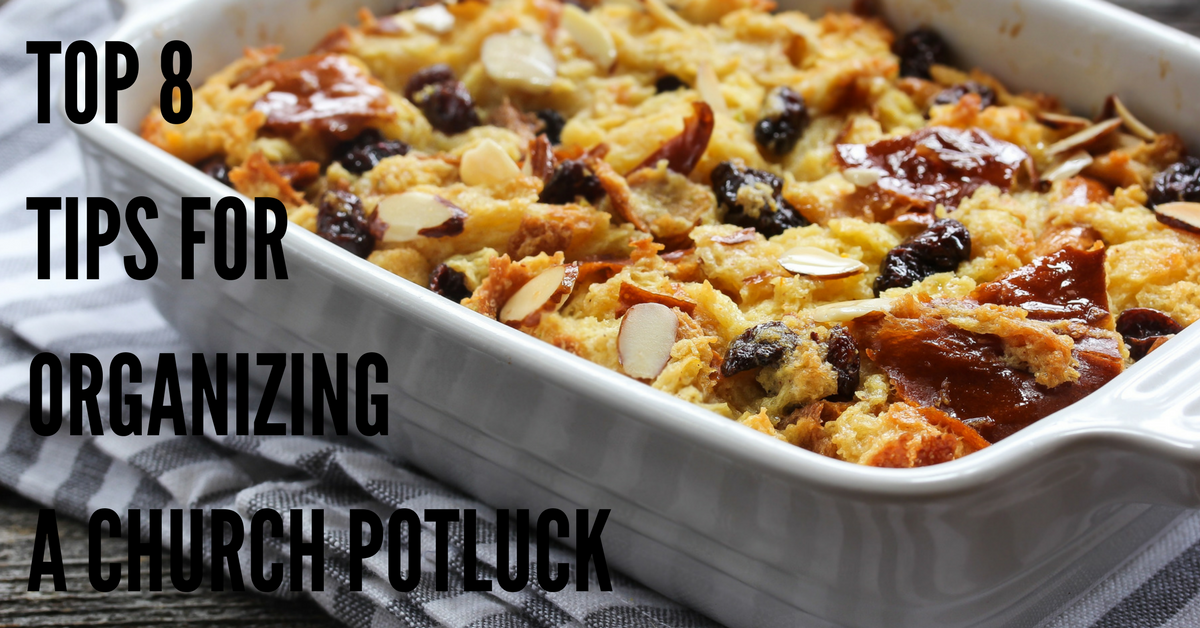 A potluck is a great event that brings your community and your church together. Best of all, you can have one for just about any reason – maybe it's Pastor Appreciation Day at your church, or you're celebrating Memorial day – or you just feel like having a fun event that anyone can enjoy!
But potlucks don't just "happen". To host a successful potluck (and make sure you have enough food), you have to put in quite a bit of work – even though each attendee is bringing a dish of their own.
So if you've had trouble organizing potlucks in the past, or are simply looking for some great tips to make your church potluck even better, you're in the right place. Read on, and see our top tips for potluck organization!

1. Start Planning as Early as You Can
Church potlucks should usually be planned a month in advance, at least – that way, you'll be able to announce the potluck several times during church services, and make sure that everyone knows about the event.
Awareness is one of the biggest factors in the success of a church potluck. If nobody knows about it, nobody will bring any food! So you should also consider sending out an email to your congregation.
DialMyCalls is a great automated church phone tree to use when planning potlucks. You can create a list of everyone attending, and send out SMS and voice message reminders about the event – ensuring that they remember to attend and bring the dish they said they would bring.

2. Send out a Sign-Up Sheet
A sign-up sheet is a great way to make sure that you'll have plenty of attendees – and to learn what dishes they plan to bring.
Put a sign-up sheet out in the foyer of your church, and make sure to tell people to sign up, so that you'll be able to understand what kinds of dishes will be present, and how many people are attending.
You can also consider sending out a "digital" sign-up sheet. You can use the physical sheet to create a document in Excel or Google Sheets, listing who plans to attend, their number, and the dishes they plan to bring. You can update this sheet regularly based on the physical sheet, and send it out to people who have not yet signed up on the paper sheet.

3. Make Sure Guests Bring the Right Kinds of Dishes
Of course, there are no "rules" as to what you should bring to a potluck. But there are some guidelines!
Dishes should be ready-to-eat, requiring (at maximum) reheating in an oven or microwave for a brief period of time
Dishes in Crock-Pots, which can be kept warm without chafing dishes and other appliances, are recommended
If a guest is attending, they must bring a dish, with few exceptions.
Beyond this, guests can choose what they want to bring – pasta salads, casseroles, chili, fried chicken – the choice is theirs. However…

4. Encourage Different Varieties of Food
We've all been there – the potluck where you have 5 different kinds of chili, or 3 different green bean casseroles. The unfortunate truth is that some potluck standbys, while great, are often overused.
The best way to encourage a diversity of foods is by keeping your sign-up sheet updated, and making sure that attendees note the kind of food that they are bringing.
If someone sees that there is already a family bringing chili, for example, they're likely to change what they bring, ensuring a variety of food is available.
You can consider an alphabetical method – folks with a last name from A-G, for example, may bring appetizers and salads, H-M can bring entrees and main dishes while N-Z will be responsible for dessert!

5. Store-Bought Food Is Welcome – and Sometimes Encouraged!
Not everyone has time to make a dish at home for a potluck, and that's okay! Store-bought cookies and desserts, in particular, are usually delicious and popular at potlucks, and items like rotisserie chickens, chips and dip, and other such store-bought foods are perfect for your potluck.
Some folks may even choose to buy food from restaurants! Make sure that attendees know they're welcome to buy food from a store or restaurant, if they must.

6. Provide Drinks at the Potluck
You don't have to get fancy! Just provide a few drinks like water, lemonade, coffee, or soft drinks, if you want. Set up self-serve stations with ice and drink dispensers, so that attendees can serve up their own beverages after getting their food.

7. Don't Forget About the Basics (Plates, Napkins, And Utensils!)
You can ask people to bring paper plates, napkins, and utensils of their own – but it's usually better to just invest in a bunch of disposable dinnerware and napkins. This will ensure that there is enough dinnerware for everyone.
It's also a good idea to have some spare serving utensils and dishes available. Usually, guests will bring their own serving utensils, bowls, and other dishes – but there are always exceptions, so it's nice to have some extras on-hand.

8. Make Sure You Have Enough Volunteers
For the most part, your potluck will run itself. But there is still some pre-production and breakdown work you'll need to do. You will need help setting up tables, setting out garbage cans, organizing and displaying the food, and quite a few other tasks.
Recruit a few other people from your church to help you. If you still don't have enough people on the day of the event, don't panic – just ask some of the attendees, and you're sure to get the help you need.
Follow These Tips – and Run a Great Church Potluck!
Whether you're a novice potluck host, or you've seen more Crock-Pots than a Bed, Bath, and Beyond, these tips will help you organize and run a fantastic potluck.